Prince Harry interviewed Barack Obama, and here's the first sneak peek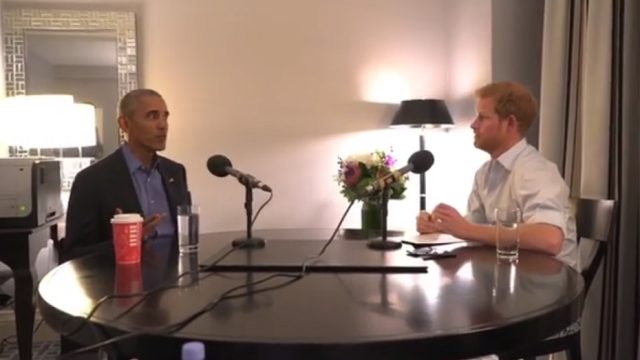 If you're looking for a way to help redeem 2017, look no further. Prince Harry interviewed Barack Obama for a BBC News feature, and from the looks of it, the footage is amazing. (Of course, anything that involves Prince Harry and Obama being in the same room together is bound to be delightful.)
The two sat down together during the Invictus Games in Toronto back in September, and while they acted a lot like old friends — which they technically are, as Obama was invited to Kensington Palace back in May of the year — they also talked about serious issues. For one, both want to help build platforms for the future leaders of the world.
The sneak peek, which was shared by the official Kensington Palace Instagram account, begins with lighthearted tone, proving that even important, influential change-makers can have a solid sense of humor. You can tell the interview is funny because, right after he sits down, Obama asks Prince Harry if he should talk faster, quickly adding, "Do I have to put on a British accent?" Prince Harry's response back is perfect.
"No, but if you start using long pauses between answers you're going to get 'the face,'" he said, which is apparently a stern scowl.
Even without seeing the whole thing, we can safely say that these two should consider starting their own podcast.
Here's the full sneak peek:
You should note that Obama does offer to interview Prince Harry, which would be a great way to keep the momentum going. We mean, we thought that Obama paired well with Joe Biden, but Prince Harry is another incredible best friend choice. (But who are we kidding. Even though this sneak peek is fun, nothing will beat the Biden and Obama memes.)
The full interview will air on December 27th, thus serving as the perfect thing to help us bring in the new year.