Snapchat has a Sia filter now, so it turns out the world isn't entirely terrible
If you always wondered what you'd look like wearing a vision-obscuring, black and white wig complemented by a pair of sexy red lips, then the new Sia Snapchat filter is precisely what you need if you don't think you have the chops to pull off the look IRL. Introduced on Thursday, Snapchat rolled out the new filter, which features a few of the elusive singer's notable characteristics. Yep, the wig/lip combo and a black-and-white bow are all there. They even threw in Sia's "Cheap Thrills" as hilariously fitting background music. It's all magic.
No word on whether the app's new update will be as thirst trap-worthy as the flower crown queen filter, but on the fun meter, it definitely ranks right up there with some of our favorite Snapchat filters.
For those days when you're sporting some rather gnarly PMS-induced acne, paired with a tattered head wrap and your favorite beloved tank but for some godforsaken reason, still feel the urge to snap (bless you), this face-shielding Sia filter is definitely the way to go.
Exhibit A: my brief encounter with Sia filter (which I've affectionately dubbed "the Silter"):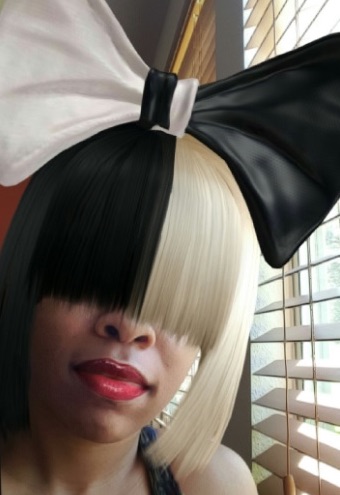 Other than the lack of lipstick coverage for my luscious lips, the only thing missing from this Sia-fication is a Maddie Ziegler cameo.