This s'mores sushi recipe will completely transform your snack game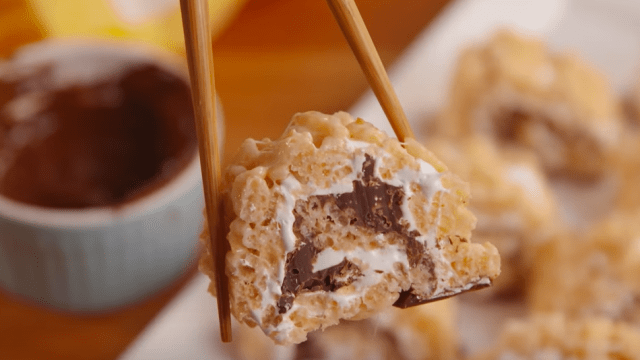 If you're like us, dinner just gets in the way of what really feeds your soul: dessert! So, when we learned that the dreamweavers over at Delish had whipped up a quick and easy recipe mixing a first-date dinner favorite and a warm, gooey fireside treat — sushi and s'mores, oh my! — our mouths were watering.
So, how do you make this magical mash-up at home?
First, channel your grandma and whip up a simple Rice Krispie treat mixture on the stove top, stirring up some butter, marshmallows, and Rice Krispies goodness. Then, press the sticky, sweet substance into a wax paper-lined cookie sheet, and top with a dollop of marshmallow fluff, graham cracker crumblies, and melted chocolate.
Here's the fun part! Put on your sushi chef hat, grab your Ginsu, and slice up your s'mores slab into two halves. Roll each strip longways into little logs. Refrigerate for an hour (it will feel like an eternity) and cut into rolls. Serve with a side of chocolate dipping sauce and chopsticks, if you're fancy.
 S'mores not your taste? No worries! The kitchen of the internet accepts substitutions and is happy to accommodate your requests. Feast your eyes, friends, on frushi, tiramisushi, Snickers sushi, marshmallow Peeps sushi, and many more!
Twisting traditional sushi on its head actually has a fairly long culinary history. In the 1970s, nearly a decade after the fishy dish crossed the Pacific and set up shop in California, a Los Angeles-based sushi chef substituted avocado for the then out-of-season fat belly tuna and created what we know and love today as the California Roll. More cross-cultural cuisine innovations, like mango cream cheese rolls, deep-fried tempura rolls, and "inside out" rolls (with the seaweed hidden in the middle), have graced America's tables, but few — save the California Roll — have been embraced by sushi purists.
Learn how to make Delish's s'mores sushi in the video below.
https://www.youtube.com/watch?v=uy9GE-4gqgo?feature=oembed
Let's hope this dessert sushi thing catches on!