Text this "slutbot" if you want help practicing your sexting skills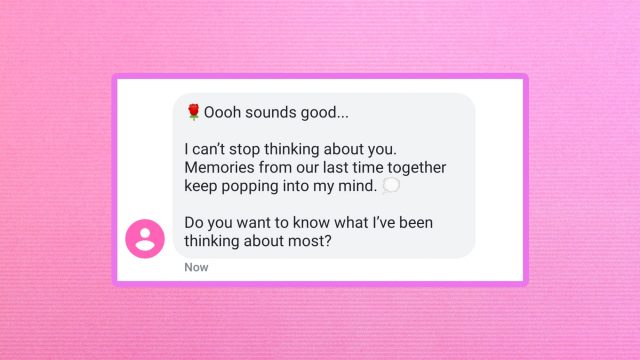 Picture this: You swiped right on a potential new boo and have had a couple of great dates. You've made out, maybe you've slept together, and you're happy with how things are progressing. One night while they're out of town, they start sending suggestive messages "reminiscing" about sexy times you've had together, then asking if you liked those experiences, too. Suddenly, you realize you're sexting—but oh shit, do you even know how?
Sexting can be a fun, relatively stress-free way to explore your sexuality, your likes and dislikes, what turns you on, and even consent. But if you've never done it before, the idea of sexting might stress you TF out. If that sounds familiar, then "slutbot" might be for you.
Slutbot is a new, free service from the creators of Juicebox, the sex and relationship coaching app, that helps people over 18 learn to sext by texting with a robot created by sex educators and erotic fiction writers. To use it, you text "slutbot" to (415) 650-0395, and then the app will prompt you from there.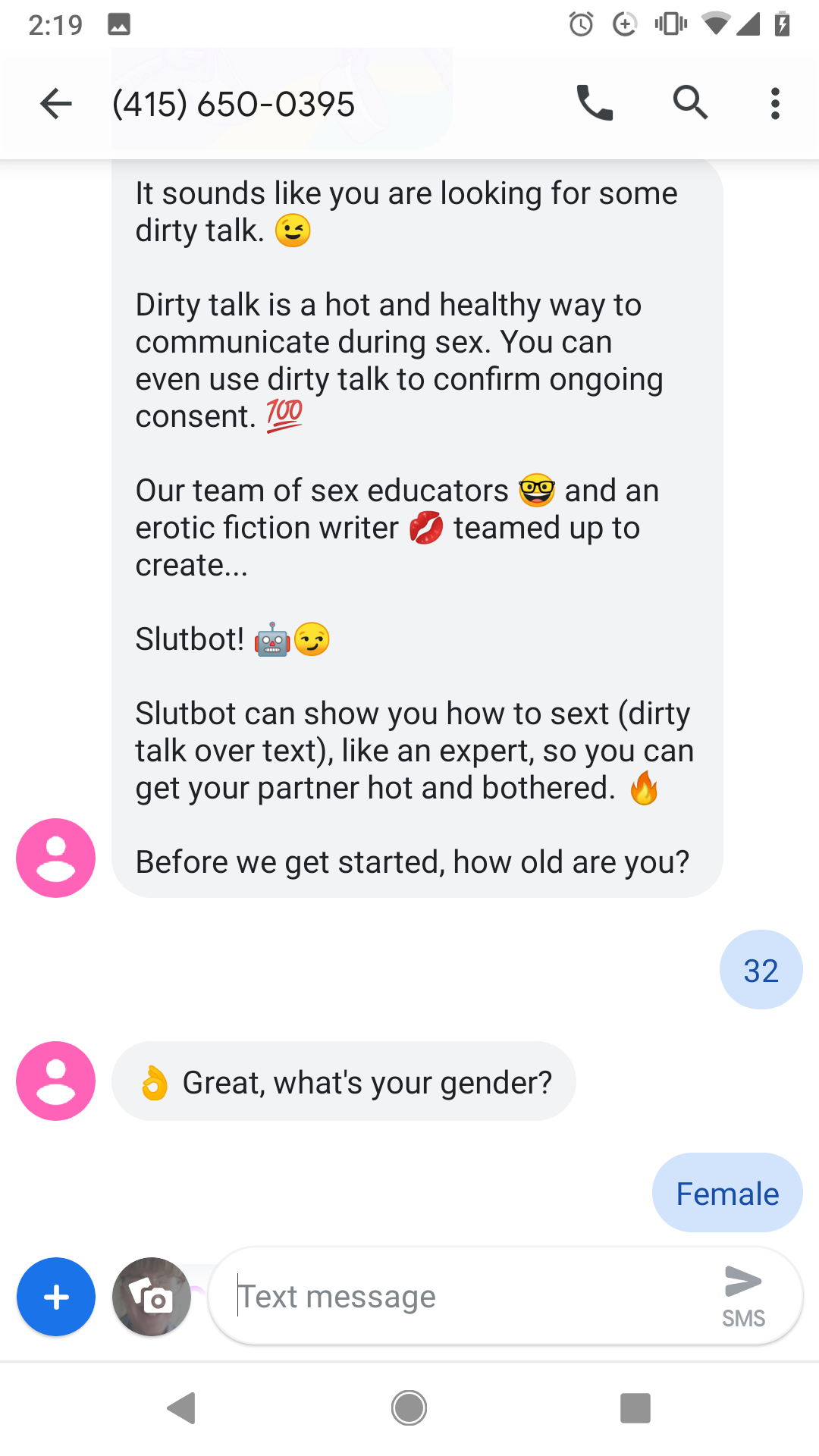 The app will start by asking you your age and gender, and then the gender of the "person" you'd like to practice sexting with. Slutbot offers a range of pairings: female user, male bot; male user, female bot; female user, female bot; male user, male bot; non-binary user, penis-owning bot; and non-binary user, vagina-owning bot. After that, you'll choose between "slow & gentle" and "hot & sexy," and then things will be off and running. You can text almost anything, which gives you a lot of leeway to get comfortable using "sexy" language over text.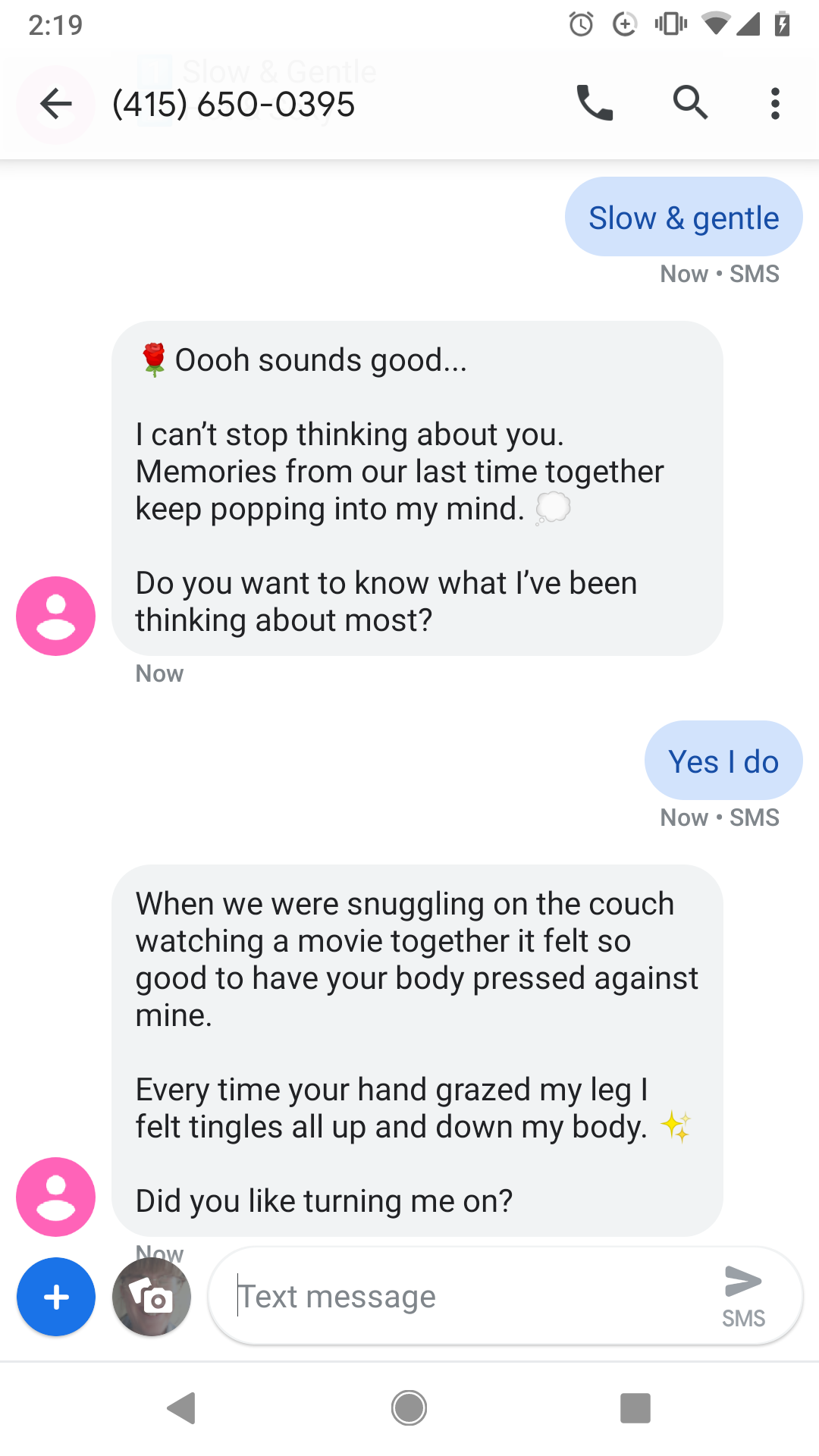 There are some built-in safety features that Slutbot's creators hope will make users feel comfortable. There's a safe word, "pineapple," that you can text at any time to end the conversation, and texting "slutbot" will take you to the beginning of a new session. Plus, the bot asks for your consent to start sexting at the start of the session, and will respond "appropriately," according to the company, if you express discomfort.
Sexting definitely isn't a niche activity—a 2013 survey found that about 49% of Americans have sexted, and among those 18 to 24, the number jumps up to 70%. But Juicebox founder Brianna Rader said that help with sexting was one of the biggest requests among Juicebox users.
"We believe the best way to learn is by doing, which is what inspired us to create an interactive experience that mirrors real life to help people talk about sex," she said. "We've also gotten feedback from testers that Slutbot has turned them on, so that's always an added plus! It's almost like interactive erotica."

There are a few things you can't do with Slutbot—like send dick pics, for one. If the bot gets a dick pic from a male user, it'll write back, "Dick pics don't really do much for me. If you're good, maybe I'll send you a photo later. ?" And you can't use derogatory gendered words like "bitch" or "whore" either. As for that photo the bot will send later? That will actually happen. Once you get to the end of the session, Slutbot will ask if you want a sexy pic to help you get off. If you consent, the bot will send you a "special image." 
Sounds like a worthwhile Friday night to us.