If anyone can pull off slippers, jeans, and a corset — it's Kristen Bell
Everybody has some questionable fashion days. Trying to match a leopard print coat with a tropical button down shirt was one of ours. But what should have been a questionable fashion choice for Kristen Bell, ended up being a fashion choice that we wouldn't mind trying out in the future. Outside of Jimmy Kimmel Live, Bell pulled off slippers, jeans, and a corset top. And yes, that combo was worn together.
The outfit is something we could find in an early 2000s issue of Vogue or Us Weekly. Bell wore a lace-up corset over a white t-shirt with boyfriend jeans. And to tie the look together, she threw on a pair of comfy black Ugg slip-ons.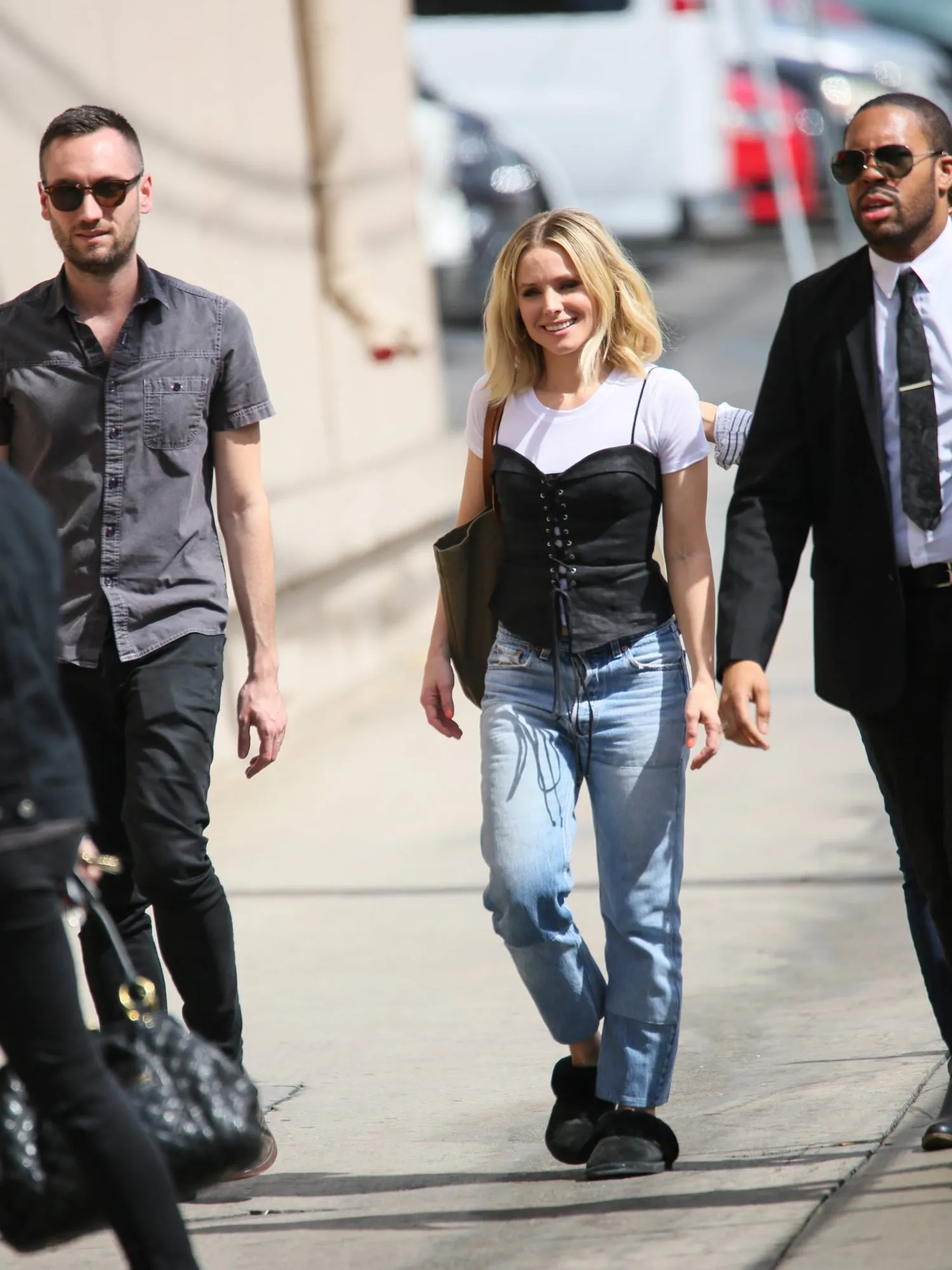 As weird as it all sounds, we're actually kind of into it!
The corset top is an interesting accessory to an outfit that would have been just fine without it. But if you've got it, why not show it off, right?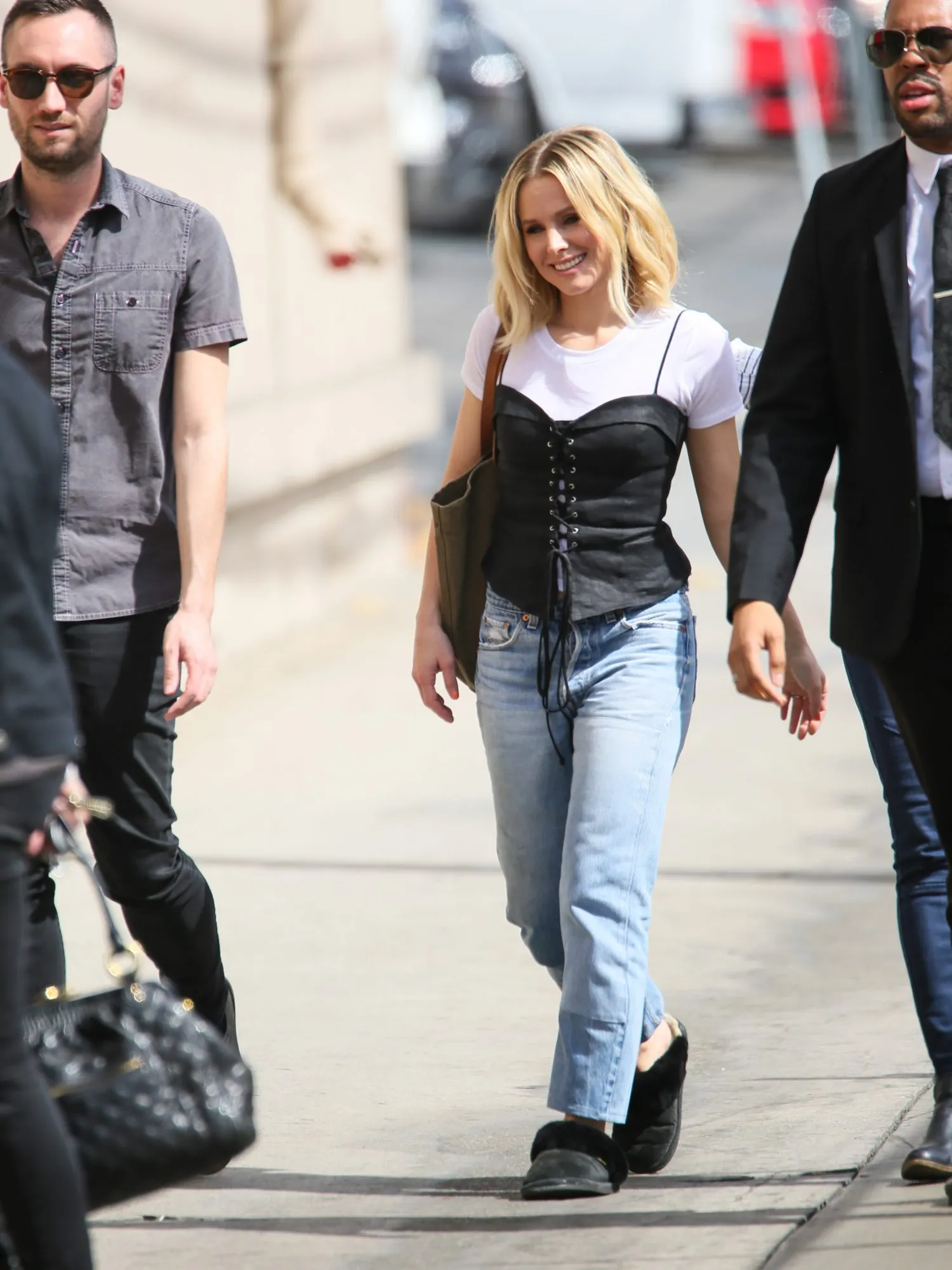 We're really into the fact that Bell wore a corset top as a casual shirt. This specific corset works well for that because of the fact that it doesn't look like straight-up lingerie. Notice how there isn't any lace to be seen. The straps are regular spaghetti straps rather than anything adjustable. And the entire piece is one subdued color.
Want to try this look for yourself? We've found a couple of corsets that can definitely be flaunted outside during the daytime.
This Boohoo Velvet Corset Top ($35) from ASOS is half-belt, half-corset. If you're not ready to dive head-in to the corset shirt trend, this is a great starter option.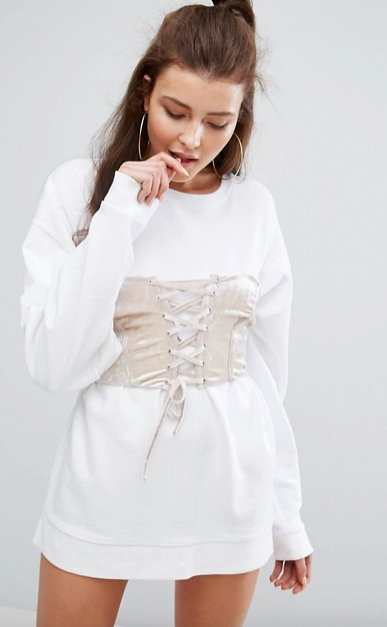 This embroidered corset from Forever 21 ($24.50) stays simple and uniform in the front and leaves the lace-up detail for the back. (Plus, it also comes in red for those of you that like a little spice in your wardrobe).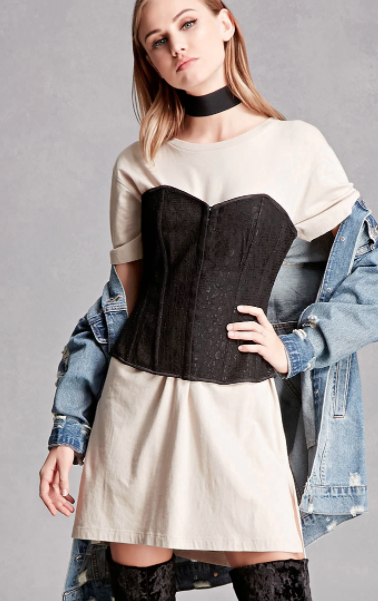 And finally, this underbust, front-hooking corset from Forever 21 ($35) is super flattering and has a Victorian feel to it.
Now all you need is to throw on your slippers and you're good to go! Perhaps your Mickey Mouse head slips won't be as fashion-forward as Bell's Uggs. But hey, at least you're trying out the trend!