Slip skirts are shaping up to be the next street style trend
Chokers, lace-up necklines, and crushed velvet fabrics are all fine and swell, but as the most hallowed fashion time of the year looms closer, it's time to start predicting what *new* street style trends will crop up next. Because with September comes the onset of fashion month, when the biggest, boldest new styles hit the runways courtesy of our favorite designers. And this year, we're calling one major trend ahead of the runway shows: satin slip skirts.
Just think of these babies as a new twist on those slinky, satin slip dresses that have been all the rage the past year. As an updated take on the classic silhouette, these slip skirts are infinitely more versatile. A variety of tops, sweaters, and jackets can be styled to dress them up or down with ease.
Feel free to get a jump-start on the trend before it ignites by perusing the following high-fashion (yet mostly wallet-friendly) options.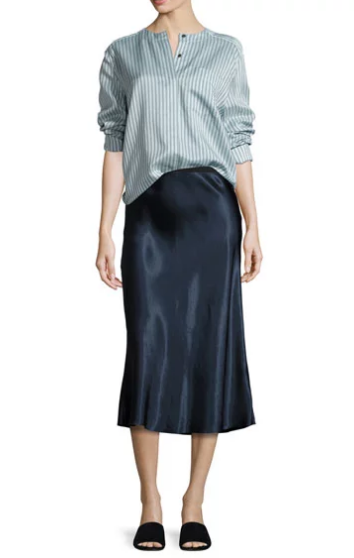 We're ready for you, Fashion Week.