Slime colored hair is perfect for women who ain't afraid of no trend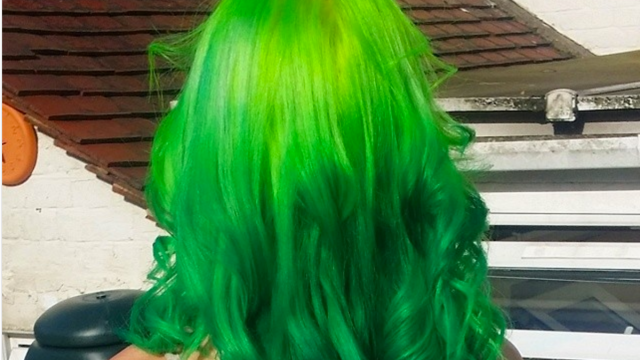 Brightly colored hair trends aren't going away anytime soon. It seems like every day there's a new creative combination of bold colors people are painting on their locks. And this slime-inspired hair color is certainly one of the most unique and playful trends we've seen yet.
Of course, Gwen can basically get away with anything since she always brings all her confidence and charisma to every look.
And – maybe inspired by Gwen's hint of green – people started going all-out green.
https://www.instagram.com/p/BD_d1vQHAst
Then again, maybe people just wanted to channel their favorite Ghostbusters ghost, Slimer.
Whatever the reason is, slime hair is actually pretty fun.
https://www.instagram.com/p/BEKKW1enfPQ
Plus, it looks rad on any length, cut, or style.
https://www.instagram.com/p/BP3f8uKg-Lw
And, TBH, there are a ton more ways to wear it than we originally expected.
It looks great down and styled.
https://www.instagram.com/p/qmaoBJj1s1
Or it adds some playfulness to any updo.
And if you're headed to a music festival, the green will make your braids look out-of-this-world.
https://www.instagram.com/p/BLtAx1QDHUS
Obviously if you don't want to go all-out green, you can add just a hint of slime like Gwen did, and get the same delightful feeling.
https://www.instagram.com/p/7EKbp5Mm04
Some people are even creating a double-slime effect.
Rather than making the hair one simple shade of green, they're doing an ombre-style green.
It clearly adds some dimension. But it also makes it look like the top of your head was slimed and it slowly oozed its way down the rest of your mane – but, like, in a cool way.
https://www.instagram.com/p/BSeGSyUl0-O
So for any of you wanting to represent your favorite green character like Slimer, Kermit, or even Elphaba, the slime hair trend is just for you!