Slick Woods, Rihanna's favorite Fenty girl, is pregnant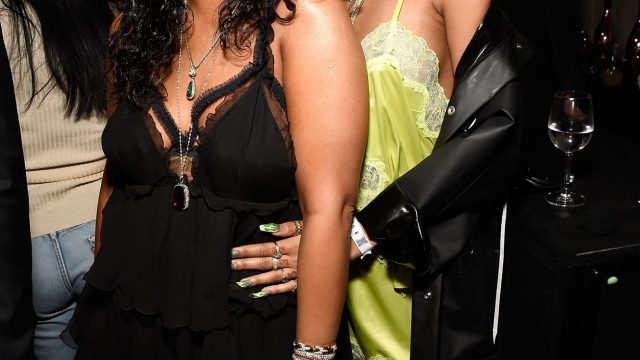 Major congratulations are in order for Slick Woods. The model (and Rihanna muse) just announced she's pregnant with her first child by sharing a baby bump Instagram post, which seems to confirm the news.
Woods, a 21-year-old model originally from Minneapolis, Minnesota, famously got her start modeling for Kanye West's Yeezy line, but it's her partnership with Rihanna's Fenty Beauty that has cemented her as one of the most sought-after models in the industry today. Woods has modeled for all of Rihanna's lines, including walking the runway in her Fenty x Puma show, before modeling for both Fenty Beauty campaigns and Savage x Fenty lingerie, proving that she's a forced to be reckoned with both in both the fashion and beauty worlds.
Her life outside of modeling for Kanye and Rihanna (and a slew of other top name designers) has been anything but boring, and her journey to where she is now is pretty extraordinary. She's been candid about her history of drug use and time spent in jail in her teenage years. It seems like she is embarking on a new chapter now with motherhood, and we have a feeling her first pregnancy announcement is only the first of gorgeous pregnancy Instagram shots ahead.
She is also outspoken about the importance of inclusivity in beauty and fashion, redefining what it means to be perceived as beautiful. Earlier this year she thanked Rihanna in a heartfelt post on Instagram for "reminding every little black girl she is and came from royalty and that all women are beautiful in their own damn way" …and we say yes to all of this.
We're sending all our congratulations to Woods, and here's hoping that Rihanna blesses us with a Fenty maternity line ASAP.