This line of sleepwear was designed for women with big boobs
In the world, there exists a great paradox: That bras were built to give your breasts support but are simultaneously uncomfortable. And that makes sleeping with big breasts a problem. But the new company Boost has designed sleepwear for women with full chests to solve this exact issue. If this sounds like a dream come true to you for your sleepwear needs, then keep on reading.
Created by Sandra Mimran Smith, Boost is focused on creating loungewear that's specifically made for women with big boobs and small frames. As she explains in the below video, her soft garments are designed to give you comfort while you're sleeping and support when you're awake, so you don't have to put on a bra first thing in the morning to feel at ease in your own home.
https://www.youtube.com/watch?v=VBrH11k5ZoY?feature=oembed
Since the company is new and was funded by a Kickstarter campaign, Smith is really focused on people with bodies like hers right now, and the size ranges are limited. But if you have a smaller body and wear a bra size ranging from 30C to 36G, then Boost is definitely a dream come true.
The products are a combination of spandex and modal, but are jersey knit soft. And don't expect Boost's nightie or cami to be binding, as the Kickstarter page explains:
"BOOSTwear™ is not a bra but has been technically engineered to provide the comforting, caressing support without the binding, bandaging, and compression of a sports bra."
And a major bonus is the fact that the straps are adjustable in the front, so you can easily have a secure fit — GENIUS!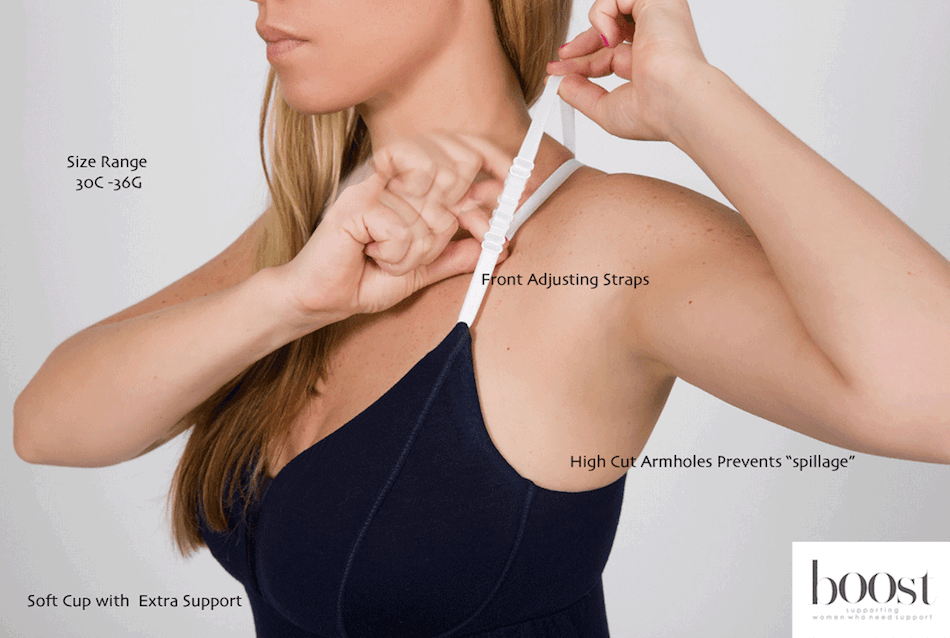 There are only three Boost products available right now to order — the nightie, cami, and tank — and along with them not being available until later in the year, they cost more than $100. But if you've been looking for the ultimate loungewear and these fit your body type, we're pretty sure your boobs will thank you for investing in Boost.