These Eye Patches Make Me Look Like I Got Fillers After Just One Use
They're formulated with hyaluronic acid and peptides to address signs of stress and aging.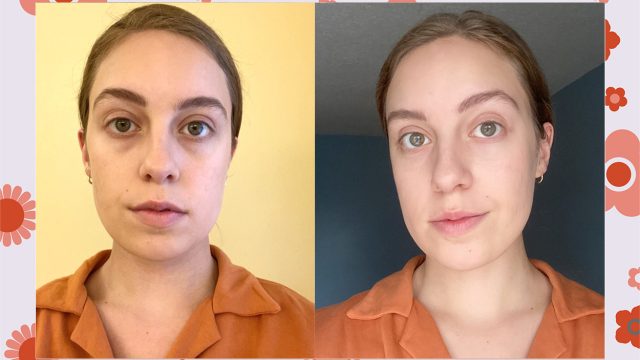 Welcome to Game Changers, a weekly series in which we reveal the holy grail beauty products we're loving now—the ones that saved our hair, cleared our skin, and, in some way, changed our lives.
The first time I used under-eye concealer, I didn't recognize myself. I always thought the dark circles and heavy bags were a built-in part of my face, so when I looked in the mirror and saw them gone, I was shocked. This is the same impression I had after using the Skyn Iceland Dissolving Microneedle Eye Patches, except this time I wasn't looking at makeup, but instead at my bare and transformed skin.
The Skyn Iceland Dissolving Microneedle Eye Patches (a 2021 Beauty Crush Award-winner) are designed to address under-eye signs of stress and aging—two things that seem to be happening in a constant and accelerated fashion during this pandemic. The main power-player ingredients in the patches include hyaluronic acid, which hydrates dry skin, and a combination of peptides, which firm and smooth fine lines, wrinkles, and creases. Though I'm in my mid-20s and my skin is relatively youthful, my eyes are the first and most obvious place that show my stress and, yes, my aging too. After a night with these on, though, my eyes look like I'm getting over eight hours of sleep, which is often far from true.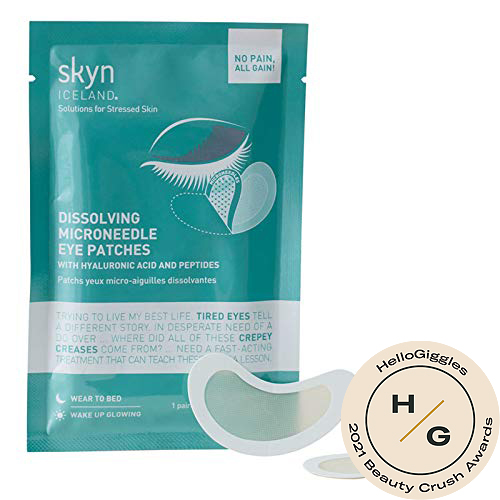 Skyn Iceland Dissolving Microneedle Eye Patches with Hyaluronic Acid and Peptides
Shop it
Amazon
In case you're stuck on the whole "tiny needles in your face" part, don't worry; there's a solid explanation. Microneedling is a noninvasive cosmetic procedure that involves puncturing the skin with tiny needles to firm and tone it. The "needles" in these eye patches are actually just hydrogels infused with the skin-firming ingredients, which penetrate and dissolve into the pores. They don't hurt at all.
"Each microscopic 'needle' provides a channel for the ingredients to enter the stratum corneum as they dissolve," Heidi A. Waldorf, M.D., a dermatologist in New York, says about the product in a brand statement. "The occlusive pad delivery reduces loss of the product overnight so more can be absorbed."
As someone who gets faint at the mere thought of needles, trust me, there's nothing to fear with these eye patches. They feel a bit prickly when applying—like the rough side of velcro—but the sensation goes away after less than a minute. To maximize the benefits, I first apply a thin layer of Skyn Iceland's Brightening Eye Serum—which helps reduce dark circles—and sleep with the patches on overnight. When I wake up in the morning, my under-eyes look unrecognizably refreshed, firm, toned, and years younger (enough to make me a bright-eyed teen again).