Skyn Iceland's newest skincare product kinda looks like a panty liner for your neck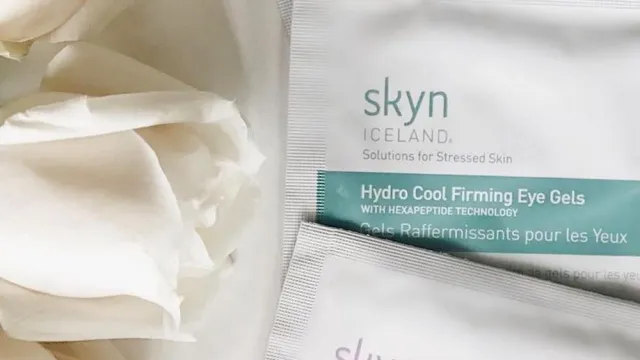 This new neck gel treatment from Skyn Iceland is certainly intriguing!
Tbh, the skin of the neck is often overlooked in beauty routines. The sensitive skin in this region shows signs of stress, but we usually ignore it while attending to our faces. Never fear, Skyn Iceland is here to help protect ya neck!
The brand's focus is on counteracting the effects stress can have on the skin, so it's no surprise that their masks, balms, and gels have garnered a cult following. Taking inspiration (and ingredients) from the epic natural resources of the magical island nation, Skyn Iceland's products promise to soothe irritation, dryness, and help combat other skin issues.
One of two brand new products is a Brightening Eye Serum ($35), which, as the name suggests, brightens your under-eye area. It will help with de-puffing and line-smoothing. It also has eye-brightening benefits of the cult fave Hydro Cool Firming Eye Gels ($30).
However, there's a new item that has totally piqued our interest! The Hydro Cool Firming Neck Gels slightly resembles a panty liner but it claims to brighten and restore elasticity to the delicate skin of your neck. You'll feel like as comfortable in your skin as a confident Miss Iceland in no time!
Okay, the choker trend is getting out of control. (JK, JK.)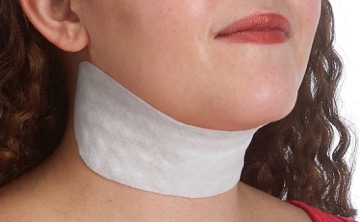 The 10-minute single use patches can be used once a week to blur fine lines and help firm crepey skin. The Hydro Cool Firming Neck Gels retail for $35 for a pack of four. That's half the cost of a plane ticket to Iceland! (Wait, what? You heard us.) If you can't make it to Reykjavík for a relaxing vacay, at least you can put on a Björk album and chill out with one of these babies!
Your skin will feel as fresh as an Icelandic river.
Skyn Iceland products are available on Ulta.com for $7 to $65!