Watch Yvette Nicole Brown and Gillian Jacobs hang out together for a *very* good cause
"Porsche! And another Porsche!" someone yells in the studio of Skybound Entertainment in Los Angeles. No, I'm not at a car auction, I'm watching Yvette Nicole Brown (Community, The Odd Couple) host the final livestream of a four-part charity series on Diversity in Media.
I found out later that the yelling of "Porsche" and "flowers" meant that another donation had been made to charity — it didn't mean that an actual Porsche has been donated, unfortunately. The charity being supported by these livestreams (in partnership with Live.me) is Donors Choose— an organization that helps teachers get the resources they need for their students and classrooms.
A cause that is very close to Yvette's heart she told us:
"My love for teachers and students is how I discovered Donors Choose and I was basically one of their little champions on Twitter for a few years," she explains. They then asked her to join their board, to which she enthusiastically said, "Yes! Because I just feel like it's such a good organization to help the babies, as I say.
So every week for the past month, Yvette has invited guests to join her for the hour-long livestream on the Live.me app where viewers can stream content and donate gifts — all in the name of raising money for these teachers. Today's guest is Gillian Jacobs (Love). The two appeared together on Community (as Shirley and Britta) and obviously have a close relationship. They chat about everything over the course of their hour on the stream — from Gillian's piece in Good Housekeeping about what she learned from her mom (it's Mother's Day) to what teachers inspired them.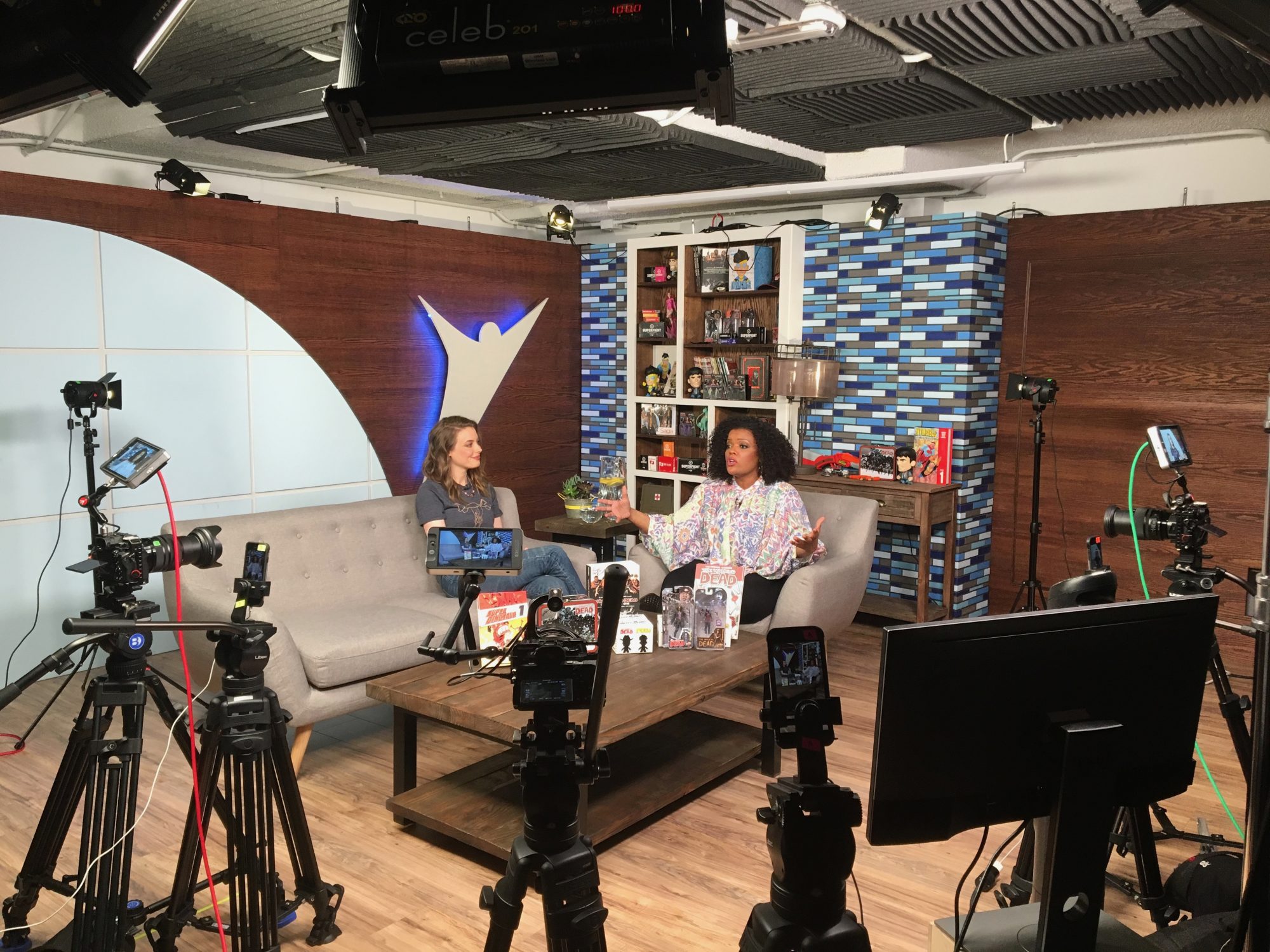 And of course, they cover their memories from Community — lamenting on the long hours but clearly fondly remembering their time on the show and how they both knew that Donald Glover would be a huge star. Gillian talks about collecting screenshots of Community-related trending topics on Twitter in case she ever needed to prove the case for the show. And Yvette recounts the story of Gillian finding out at the first table read that she got the part of Britta on Community. She wishes she had captured the moment on camera — and we totally do too!
But let's not get distracted by these adorable stories from Community. The real point of this joyous reunion is for charity. When Yvette first began working with Skybound to bring the series of streams to life, she knew it had to mean something.
"At first they were like, 'We'll pay you a certain amount of money, we'll pay your guests a certain amount of money,' explains Brown. "And I was like 'Ehhhh, if I'm gonna do it, I want it to go somewhere. So, can we figure out a way to make it matter?'"
And it has. Guests over the course of the four weeks — Kelly McCreary (Grey's Anatomy), Rowan Blanchard (Girl Meets World), Kyla Kenedy (The Walking Dead), Malcolm Barrett (Preacher), and of course, Gillian, have all donated their time in order to raise thousands of dollars for Donors Choose.
In addition to raising money for charity, the chats were themed around the topic of diversity in media, which Gillian says is an important conversation to keep having even though small improvements have happened.
"People are talking about it more and obviously there's a long way to go. But I think it's really exciting when you see a show like Queen Sugar that has an all-female directing lineup."
For Yvette, talking about diversity is nothing new.
"Diversity is getting its moment in the sun but as an African-American woman, I'm a double-minority so diversity has always been on the forefront of my mind. I just think everything should be equal for everybody."
It becomes obvious after spending a few hours with these women, that they not only care a great deal about each other but for others as well. Both are dedicated to philanthropic and activist causes. Gillian is even wearing a Rachel Antonoff uterus t-shirt (of which a percentage of proceeds are donated to Planned Parenthood). It's not a surprise when after our interview is over Gillian comes back into the room to double-check I have all of the info I need about Donors Choose. She makes sure to tell me that "as of September 2016, donors have contributed over $400 million to fund more than 750,000 classroom projects" which have reached "19 million students in public schools across the United States."
(See Gillian, I did include it!)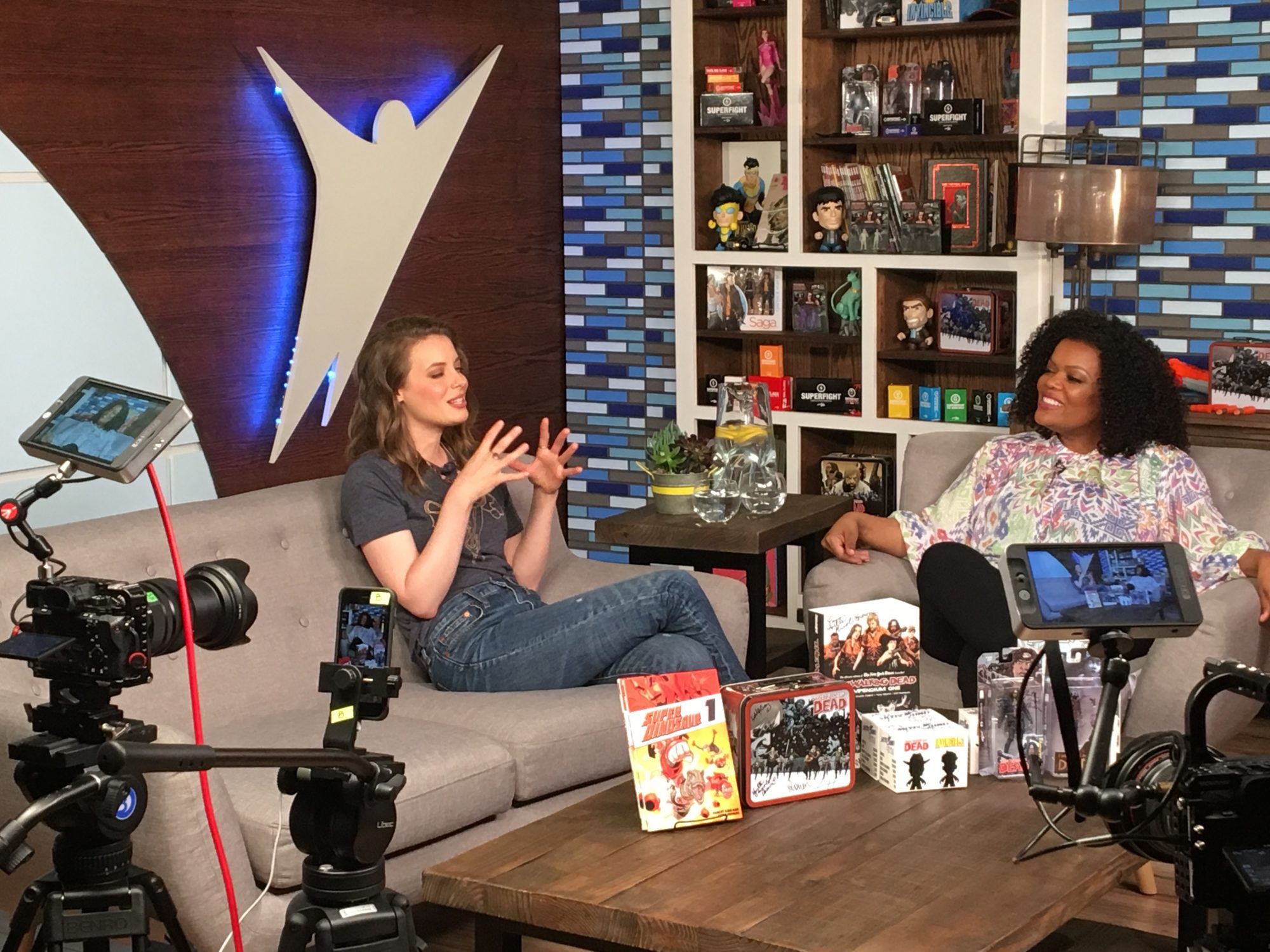 When it comes to the end of the final stream, they say goodbye to the thousands of viewers — thanking them for their donations over the past few weeks — during which, Yvette got to know the dedicated viewers and repeat donors. She reflected on the endeavor after it was over:
"Everything we made is going to Donors Choose. Every Porsche and bowl of noodles that was given in the app--that's all being turned into money that's going to go to Donors Choose as well. So, I think this is four weekends well spent.
And a virtual Porsche well-donated.
Watch highlights from Yvette and Gillian's chat here:
https://www.youtube.com/watch?v=TV28i3iEOXc?feature=oembed