A beauty writer details her obsession with a $10 drugstore hand cream
Working in the beauty industry as a practitioner and writer, I'm #blessed to have a decent stream of samples and goodies coming into my possession. My most recent crush comes in a little silver tube. Skinfix Inc.'s Ultra Rich Hand Cream is one of the only products to ever truly treat and help heal a particularly troublesome and recurring cracked spot on my hand. (Yeah, it's kinda gross, sorry.) But it's true — they make the only hand cream that soothes my stubborn dry skin without leaving my hands feeling like I just soaked them in a pan of bacon grease.
Between winter dryness, summer humidity, frequent hand washing, and using various nail products in my work as a manicurist, my hands definitely take a beating. Enter Skinfix Ultra Rich Skin Cream.
Hello, my darling.
https://www.instagram.com/p/BLUhddAhNbw
Ultra Rich gets right to work on my paws. If the skin is broken, I'll apply an antibiotic bacitracin like Neosporin to the spot first to avoid any infection. It's practically magical how quickly my skin is soothed. It's great for the cuticles too — less mess than cuticle oil and just moisturizing enough to tame any raggedy bits.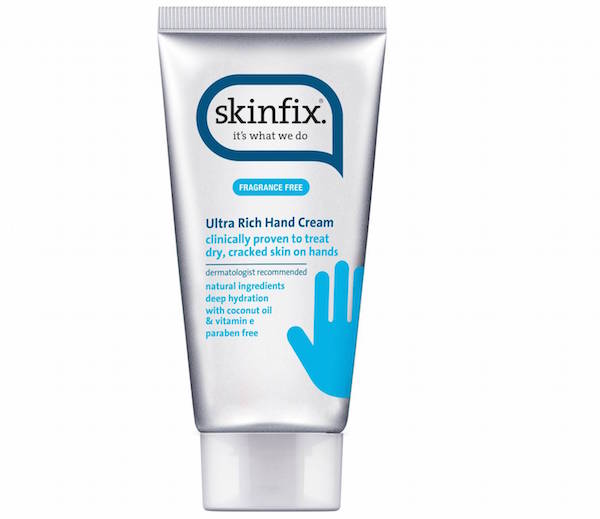 The award-winning, dermatologist-recommended lotion is non-greasy with the delightful scent of cucumber. It smells like the real thing, like a grown and sexy cousin of cucumber melon (which I adore, don't get me wrong.) Ultra Rich contains oils like Vitamin E, sunflower, and coconut, which leaves a slight summery scent that perfectly compliments the cucumber essence.
My skin and I are in love.
https://www.instagram.com/p/BQcAj33AHoQ
Natural ingredients like aloe, chamomile, and calendula take the place of synthetic fragrances, silicones, and parabens. Skinfix products are cruelty-free, too. Could it get any better?
This is definitely not a paid promotion but if Skinfix wants to send me a lifetime supply, I won't be mad.
https://www.instagram.com/p/BKq5hUwjBsX
You can get Skinfix Ultra Rich Hand Cream here for $9.99.