These 10 Skin-Positive Influencers Help Us Feel Confident
Give them a follow to receive daily reminders that real skin is beautiful.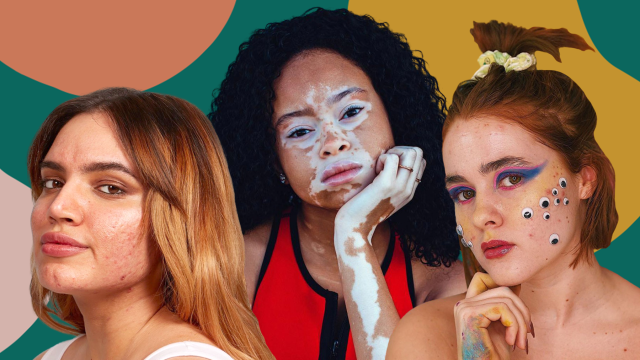 Fact: There is no such thing as perfect skin. Pores are normal. Pimples are normal. Redness is normal. So then why do our social media feeds often make it seem like they're not?
The idea that airbrushed skin is not only achievable but also something we should strive for was first flaunted by glossy magazine covers decades ago, and since then, it's been perpetuated by apps like FaceTune and Photoshop. With these tools at our fingertips, it can be tempting to cover up so-called blemishes with a single tap, but doing so can make us feel less confident about our IRL skin. That's why it's so refreshing to see women on social media forgo the filters and Photoshop, the ones who go bare-faced in honor of the #skinpositivity movement, and share their skin journeys, raw insecurities, and their words of encouragement for others looking to do the same.
Add some much-needed realness to your feed with these skin positive influencers who choose not to see their skin blemishes and conditions as something to hide, but rather as something to embrace.
@alexandra_breeze
Showing off her skin through gorgeous, brightly lit photos, Breeze's profile shows the reality of living with cystic acne. She addresses her 18,000 followers as fellow "cysters"—a clever play-on-words—and writes uplifting captions about seeing beauty beyond the breakouts. From raw images of oozing, active pustules to ones of Breeze touting message boards of positive notes, she's committed to normalizing freckles and acne, one makeup-free photo at a time.
@redefinedmybeauty
Fifteen-year-old April Star is a model and YouTuber whose face has graced billboards and advertisements for brands like Gap and Justice, but beyond modeling, her ultimate goal is to spread more awareness about vitiligo. Through her Instagram page and Youtube channel, the inspiring teen gives advice to her young followers about beating to their own drum and being happy in their own skin.
@talontedlex
Having suffered from rosacea for over 15 years, Lex shares expert-backed advice for how to deal with the condition, hoping that sharing her experience will help others with rosacea feel less alone (after all, rosacea affects 14 million people in the U.S. or around five percent of the population). She's passionate about sensitive skincare, skin positivity, makeup, and beauty in all its forms.
@roycie
Roycie Wong is the creator of Project Naked and Safe Space, which both aim to raise awareness for the autoimmune disease known as psoriasis. She's a self-identified "pso-fighter," and after living with the disease for 13 years, strives to use her platform to have open, honest conversations about skin and its tie to our self-confidence. She is candid about the ups and downs in her journey of self-acceptance and believes in the importance of rebuilding our identities beyond our skin.
@emeraldxbeauty
Perhaps one of the most well-known acne influencers is Kadeeja Sel Khan, who made headlines in 2018 for being dropped by big a beauty brand due to her "skin issues." She celebrates the ups and downs of her skin journey on her page and hopes to normalize uneven texture and red bumps. She's also super passionate about makeup, and while she shares tons of tutorials on her page, Khan always keeps it real with before and after photos. Additionally, she also shows what her photos would look like with airbrushed editing, versus their raw, unfiltered forms.
@myfacestory
Kali Kushner has been a proponent of #skinpositivity since before it was cool. The 25-year-old struggled heavily with cystic acne and uses her page to talk openly about how her relationship with imperfect skin still impacts her life. Her entire Instagram page is unapologetically real and refreshing, featuring bare-faced selfies, creative makeup looks (she's an ambassador for Sephora), and free-spirited dance videos that show the power of positivity. Kushner's uplifting words and relatable videos show incredible acceptance and self-love.
@sarageurts
Sara Geurts is a 29-year-old model with Ehlers Danlos Syndrome, a rare condition that affects connective tissue and slows down collagen production, making the skin much more fragile, wrinkled, and less elastic at an earlier age. Through her photos, Geurts is working towards becoming the face of EDS in hopes of raising awareness for the condition while also encouraging people to love what makes them unique.
@getyourskinout
Holly Dillon founded Get Your Skin Out as a way to raise positive awareness for psoriasis as well as lobby for change when it comes to treating various skin disorders in the healthcare system. The account is entirely inclusive and supportive, and features intimate images of Holly's own psoriasis along with curated photos from her followers. The 29-year-old shares her own psoriasis triggers and treatments, empowering others to see themselves beyond their imperfections while illuminating the experience of what it's like to live with psoriasis in a positive, progressive way.
@thoughtsofhealing
Acne looks different on each skin tone, which is why it's BS that most acne ads use fair-skinned models. That's why we love this account by New Jersey businesswoman Haniya, which shows unfiltered photos of her experience with acne as a Black woman. Her captions express positivity, but they also shed light on the psychological effects that acne can have on a person—namely depression and anxiety. Her page was created to enable others to find comfort in their own skin, and her images and kind words do just that.
@vitiligoqueen
Tanesha Brown has had vitiligo her whole life, but it wasn't until her 20s that she started truly embracing it. The LA-based makeup artist, public activist, model, mentor, and mom of three has amassed quite the following. Her page includes both photos of herself and others with vitiligo and other skin conditions, proving her motto that everyone should embrace their uniqueness and accept themselves for who they are—perfectly imperfect skin and all.