I Tried Kim Kardashian's Skims Cozy Collection and I Want to Live in These Clothes Forever
They're the comfiest items I own, hands down.
As a barely-5'2″ woman who prefers flats to heels and Ben & Jerry's to waist trainers, I long ago came to terms with the fact that unless I make some drastic life changes (and get a serious influx of cash), I will never look like a Kardashian. But, it turns out, I can feel as comfortable as one—and, really, isn't that better? It's all thanks to Kim Kardashian West's Skims Cozy Collection, which is made up of loungewear so warm and, yes, cozy that I plan to live in them pretty much all the damn time.
When I'm hanging out around the house (which is pretty much always these days, thanks to a little thing called a pandemic), I tend to wear clothes that are slightly fancier than pajamas, because #work, but still casual enough that I can fall asleep in them later that night if I'm feeling particularly lazy (which is also pretty much always). Most of the time, these outfits consist of old T-shirts and gym shorts or, if we're being totally honest, sometimes just a sports bra and bike shorts on days with no Zoom calls. So when I was sent a few samples of the Skims Cozy Collection, I was pumped to try them out, as they're basically just elevated versions of the clothing I already wear every day.
The first item I tried was the Cozy Knit Tank, which I got in two colors: Aqua and Stone. The top has a scoop neck and is made of super soft, stretchy yarn, designed (according to Skims's website) "to offer warmth, coziness, and the perfect fit." And indeed it does. It's incredibly comfortable and a good length, too; it's a crop top, but since I'm pretty short, the tank only shows off a tiny bit of my stomach.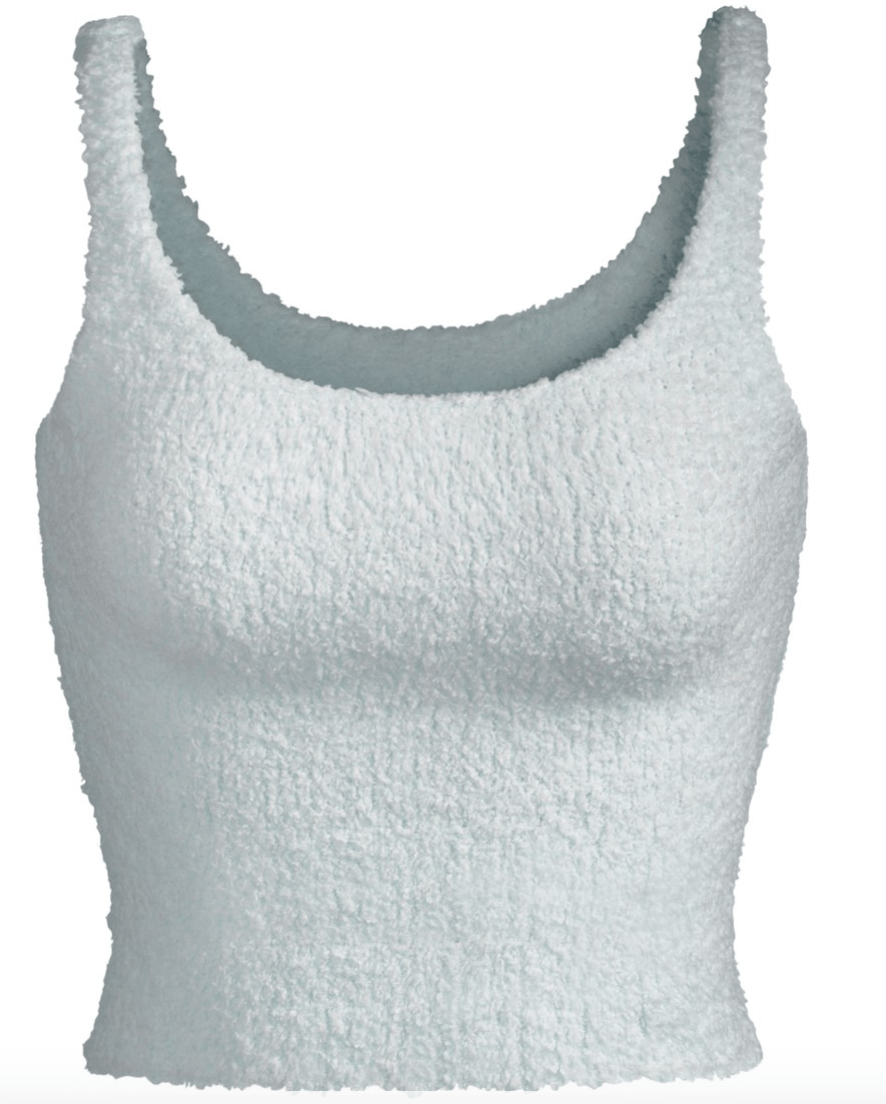 The matching Cozy Knit Short is also as soft as can be, made of the same material as the Tank. I don't love the fit of these bottoms quite as much; they're high-waisted, which works for the crop top, but the elastic waistband is really thick and makes for an odd look. Still, it's ridiculously comfortable, and I'm definitely a fan of the set worn together.
All in all, I'm a big fan of these items and would definitely wear more from the Skims Cozy Collection. They're a little pricey, but for the level of comfort they provide the splurge feels worth it, in my eyes. Who doesn't want to constantly feel like they're wrapped up in Kardashian-approved clouds?