This scary AF ski lift malfunction video will make you swear off winter sports forever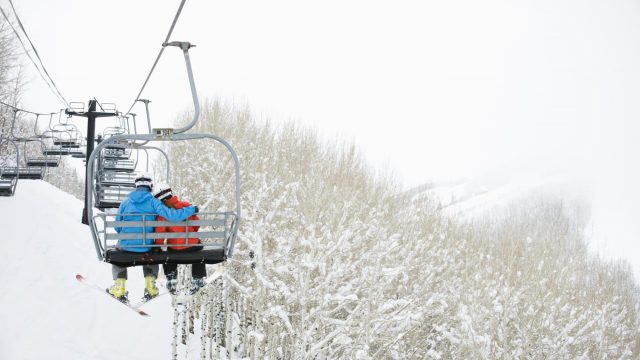 Okay, this is terrifying. A ski lift malfunction video is currently circulating the internet, and we're pretty sure skiing is no longer on the agenda. According to ABC News, a ski lift at the Gudauri resort in the country of Georgia malfunctioned Friday, March 16th, injuring 11 people.
The alarming footage shows the ski lift moving backwards at a ridiculously fast speed as people using the lift jump off to avoid an accident. At the bottom of the lift, a pile of broken chairs continued to grow as they crashed into one another.
Thankfully, no one sustained serious or life-threatening injuries. Of the 11 people injured, eight were taken to the hospital for treatment.
"Three of us were on a ski lift when it stopped. Two minutes later [the] ski lift began hurtling us backwards toward the bottom at a high speed, double the normal," Yuri Leontiev, a snowboarder who experienced the freakish accident, told ABC News. "We had to jump from the ski lift onto the mountain as our chair sped backwards toward the meat grinder at the bottom of the ski lift. It was like a nightmare!"
After he jumped, the 32-year-old snowboarder took a video of other people jumping to safety as the faulty ski left hurled others to the ground.
You can watch the ski lift malfunction video here:
false
And here's Leontiev's perspective of the accident:
https://www.instagram.com/p/BgYeCk7loCM
According to ABC News, the Mountain Resorts Development Company, part of the Georgian Ministry of Economy, said on Facebook that a problem with the rope caused the malfunction. They've contacted the manufacturer to identify the cause and launched an investigation into the accident.
We're grateful no one was seriously hurt. However, between this and that one guy who accidentally skied off a cliff in 2017, we definitely won't be taking to the slopes anytime soon. How about you?