Amber Tamblyn is doing "The Sisterhood of the Traveling Baby Jeggings," and we're here for this sequel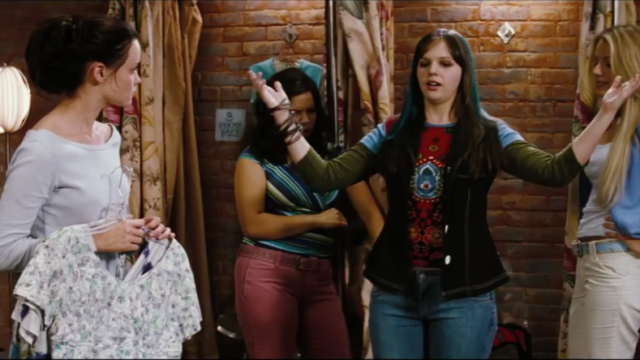 Hollywood is always riddled with rumors of co-stars having beef with each other behind the camera, but that absolutely cannot be said for Alexis Bledel, America Ferrera, Blake Lively and Amber Tamblyn. 13 years ago, the quartet met on the set of The Sisterhood of the Traveling Pants, and like their on-screen characters, they have been a tight-knit group ever since.
But they're not your typical celebrity friend group who only see each other during sporadic reunions and special occasions. The Sisterhood of the Traveling Pants ladies maintain their close bond through group texts! Plus, they even organize playdates for their kids! That's the true definition of #friendshipgoals, amirite?
"It's not all the time. It's usually sharing old pictures of ourselves, like from the first movie when I had like purple streaks in my hair and Blake used to crimp her hair and like Alexis looks exactly the same. She hasn't changed at all," Tamblyn told US Weekly. "Just us looking at it going, 'Oh my God, terrifying how much we've all changed.'"
And that's not all!
Now that they're having babies of their own, the actresses want to make sure that the magic of the traveling pants will be passed down to their children.
"We'll have to get the tiniest pants you've ever seen in your whole life," she said. "I actually did buy my daughter her first pair of jeggings. She's only one but I did think about that. The pants are happening all over again, another generation."
Who knows? Maybe their youngsters will have a movie of their own someday! The Sisterhood of the Traveling Baby Jeggings does sound appealing!
Also exciting? The kids will soon welcome a new member to their playdates!
Ferrera is currently expecting her first child with hubby Ryan Piers Williams, while Lively and Ryan Reynolds share two daughters, Ines and James. Bledel has a baby boy with Mad Men actor Vincent Kartheiser, and Tamblyn and husband David Cross share a daughter.
And should we be expecting a third The Sisterhood of the Traveling Pants movie soon? While Amber didn't confirm, she did say that if they could do movies together for the rest of their lives, they totally would.
"It's a very special bond that we have," Tamblyn said. "We're very proud to be friends and if we could do movies together for the rest of our lives I think we would."
That sounds like a yes to us!