Here's what you probably never noticed about the "Sister Sister" theme song
We don't know about you, but we sometimes forget about the absolute nineties gem that was Sister Sister. Starring Tia and Tamara Mowry as twins who only meet one another as teens, it was filled with our fav high school hi-jinx PLUS the most amazing nineties fashion you could ever hope for. Recently, though, Seventeen not only reminded us that this show existed and that we need to figure out where to catch some reruns stat, but informed us that the Mowry sisters sang their own theme song. WE NEVER EVEN KNEW. Even now we can basically sing the theme song in our sleep, but we're totally shocked by this revelation.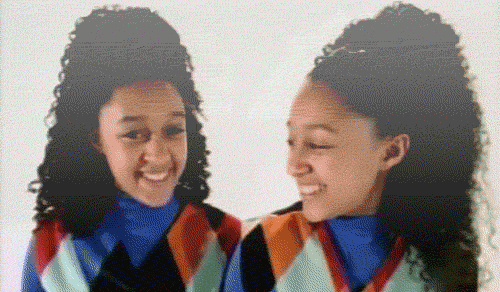 Originally, the theme song was less of a theme song and more of a retelling of the pilot episode. This version was NOT performed by Tia and Tamara.
https://www.youtube.com/watch?v=T4JcOZJi5JQ?feature=oembed
But then, going into the fifth season, they changed up the theme song. We always assumed Tia and Tamara were just lip syncing, because that's what it looks like, but now that we know, we can totally tell it's them.
https://www.youtube.com/watch?v=REwyapFHbeQ?feature=oembed
Sooooo basically Tia and Tamara Mowry are like some of the most talented people ever. We can barely walk and talk at the same time, so the idea that these ladies both won our hearts with their acting AND killed it on the musical front without us even realizing just isn't fair, ya know?
In other news, it looks like a reboot might be in the works… so maybe we're going to get ANOTHER version of the theme song. And THIS time, we'll know who's behind it.