This Sister, Sister reunion will make you scream, "Go home, Roger!"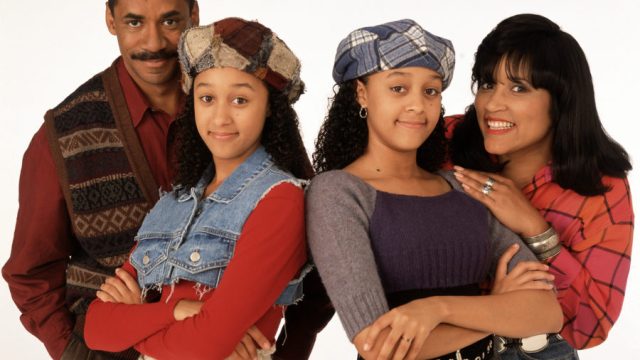 Calling all '90s kids: A Sister, Sister reunion just happened, and it will leave you screaming, "Go home, Roger!" Actor Tim Reid, who played Tamera's orderly father Ray Campbell, took to Instagram on September 13th to tease a new project. In the nostalgic photo, Reid poses alongside none other than Tia Mowry and Jackee Harry. Reid captioned the photo,"It only took 18 years, but what great fun to once again work with Jackee and Tia. Missing Tamera. Shooting in Salt Lake City."
In the caption, Reid also revealed the trio is working on an upcoming film titled Family and Faith. So, it looks like this iconic reunion does not, in fact, have anything to do with a Sister, Sister reboot. We are so sorry to be the bearer of bad news. The thee actors starred together in the '90s sitcom, which followed Tia and Tamera, twin sisters separated at birth; Sister, Sister ran from 1994 to 1999.
Earlier this year, news broke that a Sister, Sister reboot would be returning to TV. But not many details have been released yet. In January of this year, Mowry assured fans that the sitcom is still in the works.
"The thing that I can tell you is we're trying everything that we can possibly do to make everybody happy and the fans happy,"Mowry told Us Weekly. "The thing is there's no new news that I can report to you, but it's not dead.
She added, "There's a hurdle that we have to jump. There's only one other hurdle and once we jump this hurdle, it's on and cracking. We just have to wait until that kind of fleshes itself out."
Harry also confirmed the reboot in a January 16th interview with Steve Harvey. She said, "It's happening. I'm excited. Tia and Tamara are my babies. They won't leave me alone. I can't get rid of none of these women!"
We'll be waiting anxiously for updates.