We tried 10 single-serve rosés so you can find your perfect pink drink for National Rosé Day
Let's face it, rosé all day is the only way to spend summer 2018. Really, rosé isn't just a wine, it's a lifestyle, so you should honor it as such. And since June 9th is National Rosé Day, it's the perfect time to check out this summer's best choices. Of course, during the summer you're more on-the-go than the rest of the year, since all you want to do when it's cold outside is climb into bed immediately after work. In the summer, though, your calendar is packed with picnics, beach days, and outdoor concerts, and to make them better (and boozier), here are the best single-serve rosés for you to choose from.
All rosé is good, but canned rosé is more fun — and it's quite easy to find these days. Now, there's no reason to walk around with a hefty cooler of wine when gathering outdoors. All you have to do is throw a few cans (or mini plastic bottles) into your backpack and set off for a spontaneous adventure. That's what summer's all about, right?
Check out these 10 single-serve rosés, and find the one that's perfect for your National Rosé Day celebration.
1 Underwood Canned Rosé
This rosé is the perfect shade of millennial pink. It's drier than some other rosés, but it stays light. It finishes on your tongue with a zest, and a subtle hit of citrus. That finish makes the wine taste more sophisticated than many of the other single-serve rosé choices out there, and it would pair well with a main course (or just a fruit salad and cheese in the park).
The high alcohol content — 12% — doesn't hurt either. You can get a pack of four for $28.
2 Barefoot Refresh Rosé Spritzer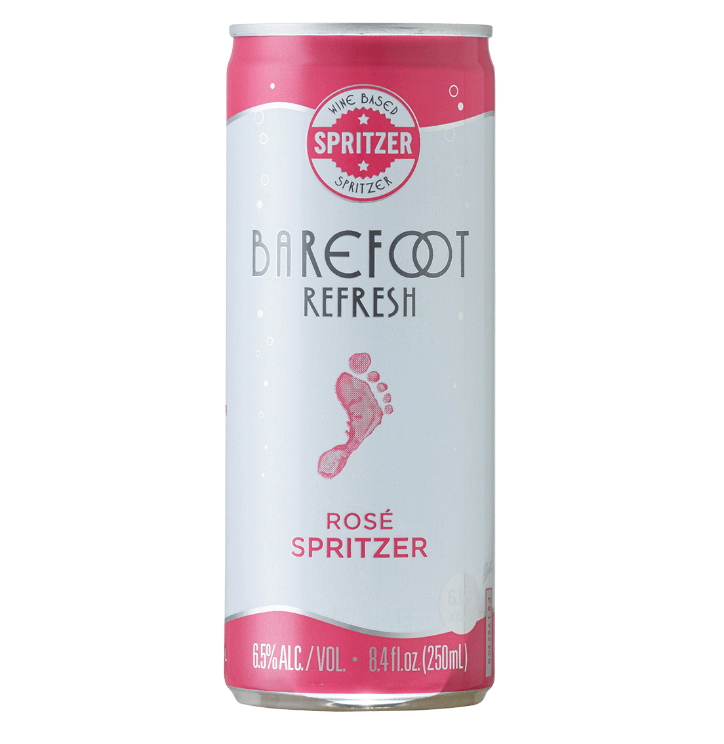 As the name states, this single-serve rosé is a spritzer rather than a full wine, but it basically tastes the same — the added bubbles make it a little lighter, though. This one tastes pretty dry, almost sour at times, but it's light enough that it's still enjoyable and it comes in 250 mL cans, which is a good size. Really, at $7.99 for a four-pack, you can't go wrong.
3 Underwood Rosé Bubbles 
With its pretty pink can, this one might be the most Instagram-worthy pick. It's a very fizzy choice, with a floral scent. It actually smells like roses, and that's pretty awesome. That doesn't mean it tastes like roses, though, because the flavor is a lot like a fruity champagne. You might think it has white peaches mixed in because it's sweet, but not overbearingly so. It's actually more dry than sweet, so it would pair well with a dessert to balance the meal.
Since it's not so light, you might not want to drink it with your main course, but you can definitely enjoy it with an appetizer or breakfast — it'd make a great substitute for champagne in a mimosa. You can buy a four-pack for $28.
4 Sutter Home Mini Bottles Of Rosé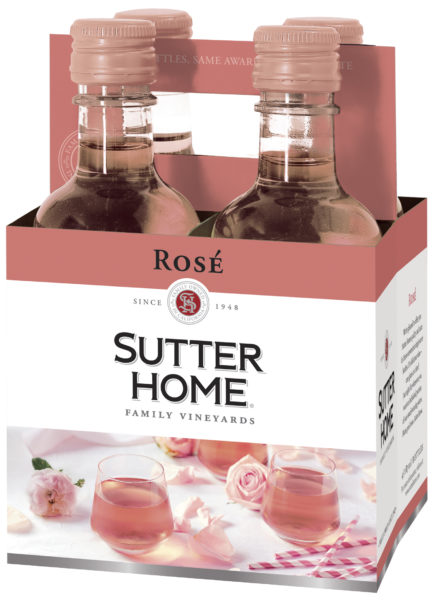 Sutter Home has long been known for its awesome mini bottles, and finally you can get a mini bottle of rosé. The bottle is made out of plastic, so this single-serve rosé is even more durable than a can. It has a light pink color — much lighter than millennial pink — but it still has a distinct pinkish hue. It starts with a dry, fruity flavor, which is followed (pleasantly!) by a sweet aftertaste.
You could pair this with any meal, whether it's heavy barbecue or a light snack. If you live in California, you can easily find this rosé in stores for $8. Yes, that's $8 for a four-pack.
5 Babe Rosé With Bubbles 
This one was actually a bit of a disappointment, but only because it's been so hyped up. The taste resembles champagne more than a bubbly rosé — it's even more champagne-like than Underwood's Rosé Bubbles. That doesn't necessarily mean it tastes bad, it's still quite delicious with a hint of fruitiness. But it just doesn't taste like a true rosé.
Looks-wise, however, it's a beautiful peachy pink and it would look great in any poolside Instagram. You can get a four-pack for $16.99. At 12% alcohol, it's a great deal if you're looking for some tipsy fun, but it's only 250 mL per can.
6 Eufloria Aromatic Rosé Wine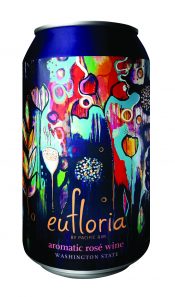 Besides Underwood's canned wines, this is one of the few other options on this list that's 375 mL of liquid — which is half a bottle of wine. It's also one of the prettiest options, because this wine is a darker shade than millennial pink, almost a bubblegum. The idea of bubblegum wine is a little bit sickening, though, so don't make that association because Euphoria's canned rosé tastes like a flowery dream.
If there were ever a rosé that tastes like roses, this would be it. It's made in Washington state by Pacific Rim, and you can get it in select stores and online for $6 per can.
7 Trader Joe's Simpler Wines Sparkling Rosé 
First off, this one comes in 187mL cans, which is slightly smaller than Barefoot and Babe Rosé's canned sizes. That doesn't really matter though, because with its fruity taste and dark pink color, this wine is a winner.
Even though this wine is sparkling, it doesn't taste anything like champagne — it has a solid, dry flavor with a sweeter aftertaste. Plus, considering you can get this on your next trip to Trader Joe's, this rosé is a solid choice. It costs just $3.99 for a pack of four cans, too, and you really can't beat that. Toss some cans in your bag and bring them to the park and you have the perfect, bubbly afternoon treat.
8 Lila Rosé
https://www.instagram.com/p/BXoVEStnWsZ
This rosé comes in a 250 mL can, and it has a delightfully fruity smell. Its taste is right in the middle of sweet and dry, and it's definitely not as light as many of the other canned rosés on this list. That makes it a great choice for pairing with a light summer salad or even a lunch. It's definitely a rosé in that it tastes like a fruitier version of a white wine, and it's a great choice for any summer event. Buy it online for around $10.20 for a four-pack.
9 Anyday Rosé Cider Blend
https://www.instagram.com/p/Bjs72k2l4A9
This is the wildcard option on this list. Technically, it's more of a cider (85%) than a rosé (15%), and it even includes hops. Still, it comes in a can, so we're including it. Live a little!
What's most fun about this beer is that its design looks very sporty, and it tastes really refreshing. If you're more of a beer person but you want to exclaim "rosé all day," then this is a great choice for you. Plus, this company accepts Venmo as a form of payment. Check it out on Anyday's website, where you can get a pack of eight 375 mL cans for $32.
10Bev Canned Rosé
https://www.instagram.com/p/BjqeB6FgPxK
As you can see, Bev is super Instagrammable, so that's a major upside. Plus, it's created entirely by women, and who doesn't want to support women-run businesses? As for its flavor, this wine is definitely on the sweeter side, so if you're looking for something crisp and dry, skip Bev. It does taste a little better poured out of a can and into a wine glass, though, so you could also drink this one at home on your balcony. Get a six-pack online for $32, shipping included.
The final rosé rundown
Top three rosés: Euphloria Aromatic Rosé Wine, Lila Rosé, and Sutter Home Mini Rosé.
Top three sparkling rosés: UnderwoodRosé Bubbles, Trader Joe's Simpler Wines, and Babe Rosé Bubbles.
That rounds up the best single-serve rosés for summer 2018. Now go forth and enjoy that rosé all day. (See what we did there?)