News stations are being forced to air a video that defends the use of tear gas at the border, and this is insanity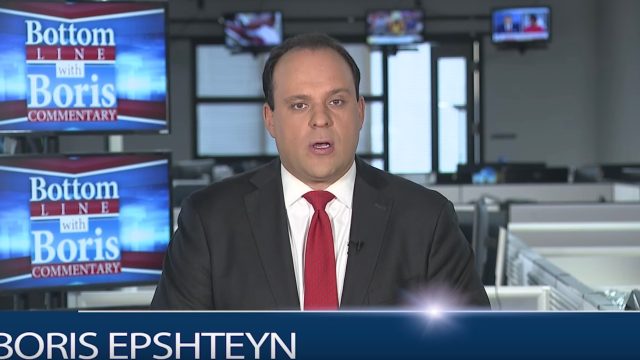 On Sunday, November 25th, tensions at the U.S.-Mexico border escalated when U.S. Border Patrol agents fired tear gas at migrants trying to enter the U.S. to seek asylum. Since then, the Trump administration and its allies have been defending this inhumane use of force. And perhaps one of the most unsettling examples comes from Sinclair Broadcast Group, which forced its affiliated local news stations to run a segment defending the use of tear gas on migrants.
Media Matters for America reported that on November 26th, Sinclair Broadcast Group's chief political analyst Boris Epshteyn (who's also a former Trump campaign and White House official, according to CNN) released a must-run segment in which he justified the gassing by saying that migrants had "attacked U.S. border enforcement by throwing rocks and bottles." In the segment, Epshteyn also referred to the group of migrants—many of whom were children—as "an attempted invasion of our country."
"It is not a partisan position to believe that our immigration system is broken and needs to be fixed," he declared. "However, it unfortunately appears that there are many on the left who believe it is wrong to defend our country and abide by the rule of law. I would bet that many of those same people live behind walls and locked doors but do not want to afford the same benefit to our country as a whole."
Epshteyn concluded his appearance by stating that the U.S. should not "be intimidated by those willing to use force to get into our country illegally."
You can watch the clip (of propaganda) in its entirety below.
https://www.youtube.com/watch?v=T_SldcBO8Xk?feature=oembed
In May 2017, The New York Times reported that Sinclair routinely requires its 173 affiliated stations to air these "must-runs," which often perpetuate a right-wing agenda. Past Sinclair "must-runs" have included updates from a "Terrorism Alert Desk" and one that claimed the mainstream media was publishing "fake news." Media Matters notes that the most recent segment has already aired in at least 24 states.
The bias and alarmist language in Sinclair's "must-runs" is concerning at best and Orwellian at worst. This is yet another reminder of how crucial it is to fact-check everything you hear or read in the news—especially under the Trump administration.