Since it's proposal season, here's a little about the history and evolution of the engagement ring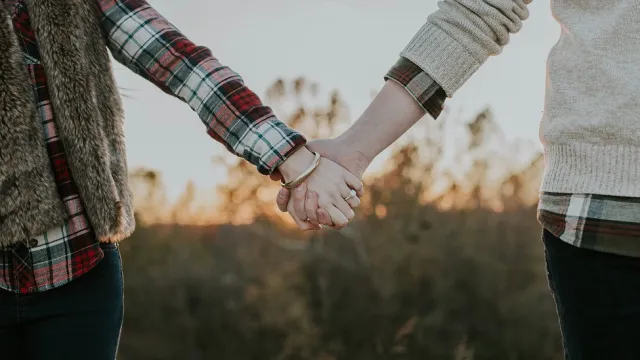 They say that diamonds are a girl's best friend. But, surely this isn't true — in fact, some women wouldn't mind receiving an onion ring, if it's a token of true love and affection. The history and evolution of the engagement ring is actually pretty interesting, and it's kind of cool to realize that while some traditions regarding the standard proposal are still in play today, others are changing up based on the times.
For example, let's think about that Gilmore Girls episode from the original run, where Lorelai proposed to Luke — while we, as fans, totally loved it, the townies of Stars Hollow were a bit shocked that Lorelai took the initiative herself.
https://www.youtube.com/watch?v=bk9qt-x4hEM?feature=oembed
This episode, called "A House Is Not A Home," aired on May 17th, 2005. So — well over ten years ago. These days, a proposal like that is seen as empowering. Still rare, sure, but empowering nonetheless.
 In 2015, Glamour found that 4% of men thought that a woman should propose in an opposite-sex couple. Over 33% said that "whoever has the guts" should be the one to propose, and about 70% of men admitted they wouldn't be bummed if they were relieved of the duty. Huh.
Meredith Bodgas from Glamour found that same-sex couples often figure it all out based on good old-fashioned communication before the moment occurs. Really, that's probably the best technique for all couples.
Speaking of engagements, here's some history: The engagement ring became a "thing" back in 1477, when Archduke Maximillian of Austria presented one to Mary of Burgundy after making it clear that he wanted to spend his life with her. Like many trends, others took note — after all, it was a sign of wealth and luxury.
These days, according to popular wedding-based website WeddingWire, 50% of women go to the store to browse for a ring before the question is even popped. In that same study, only 31% of the group brought their partner along.
When those women are looking at rings, only 60% of them are eyeing up the diamonds. WeddingWire found out that 19% of women today actually prefer a gemstone as their main stone in their engagement ring, which proves that a ring doesn't have to have a particular "look" to it. Does it make you happy? Did someone you love give it to you? Hey, it's an engagement ring.
But, let's go back to the proposal itself for a bit.
 While you might assume it's a little old fashioned when the man asks a woman's father for approval prior to marriage, more and more millennials are embracing the custom. Today, a whopping 71% of parents are approached about the engagement prior to the engagement happening.
(And, hey — a tip. If your dad loves tradition, it'd mean a lot to him if he was included within that 71%. We're pretty sure that everyone involved knows that your dad doesn't own you, nor can he sell you to the highest bidder — it's just nice for parents to be included in such a big life step.)
In fact, if you sense an engagement coming your way, you might want to pull your guy aside and let him know this beforehand. Typically, a proposal just happens once.
 Based on the ring shopping stats, it's obvious that proposals aren't as "surprising" as they were before, and you might be presented with a ring sooner than you think.
WeddingWire reports that a whopping 40% of engagements occur between Thanksgiving and Valentine's Day. That's right — 40% of all engagements occur between the very end of November and the middle of February. That's not a lot of time.
All in all, when you get engaged — whether it be in front of your family on Christmas morning, or on a random Wednesday night in the mist of an uneventful week — just know that your wedding doesn't have to be anything you don't want it to be. If the engagement facts taught us anything, it's that it's totally okay to break tradition every once in awhile.