These are the beauty products an NYC-based sports writer swears by (including a $50 bubble bath)
Welcome to The Beauty Files, where HelloGiggles editors and contributors share what exactly they put on their faces, and why. We want to take you on this voyeuristic journey because we believe makeup means something different for every single person — applying makeup is a conscious, intimate decision we make almost every single day, and there's usually a method behind the madness. Join us every week as we spill the beans on beauty products, and feel free to submit your own Beauty File. E-mail us at pitc[email protected]!
Hi there! I'm Driadonna Roland, a New York-based writer who writes a lot about sports and pop culture. Since so much of my job consists of interviewing celebs and going to events, you'd think I'd be way more into makeup. Alas, I have incredibly sensitive, oily skin, so I try to avoid stressing it out. My beauty routine is based on the question: How can I look as put together as possible using as few products as possible? Let's get into it!
5:45 a.m. — It's time to get up:
My first alarm goes off. I dismiss it. The next one will terrorize me at 6.
6:30 a.m. — Time to really get up: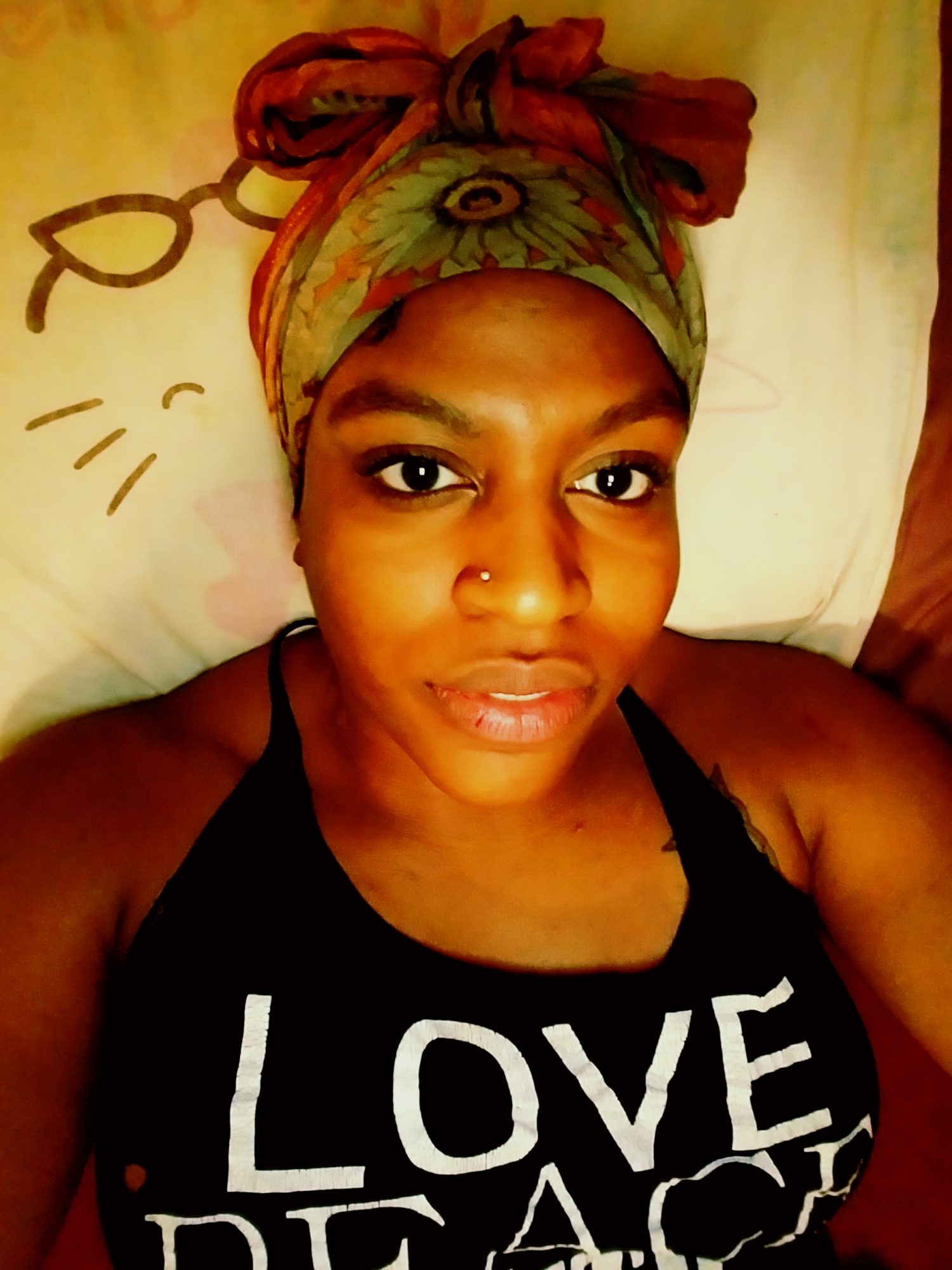 I have it down: I can snooze three times because it's the absolute latest I can wake up and still stand a chance of being on time for work — factoring in getting beautified, feeding my cat, and commuting from Brooklyn to Times Square. I have an event after work, and I just relaxed and cut my hair. These two things mean I'll need extra time and effort today.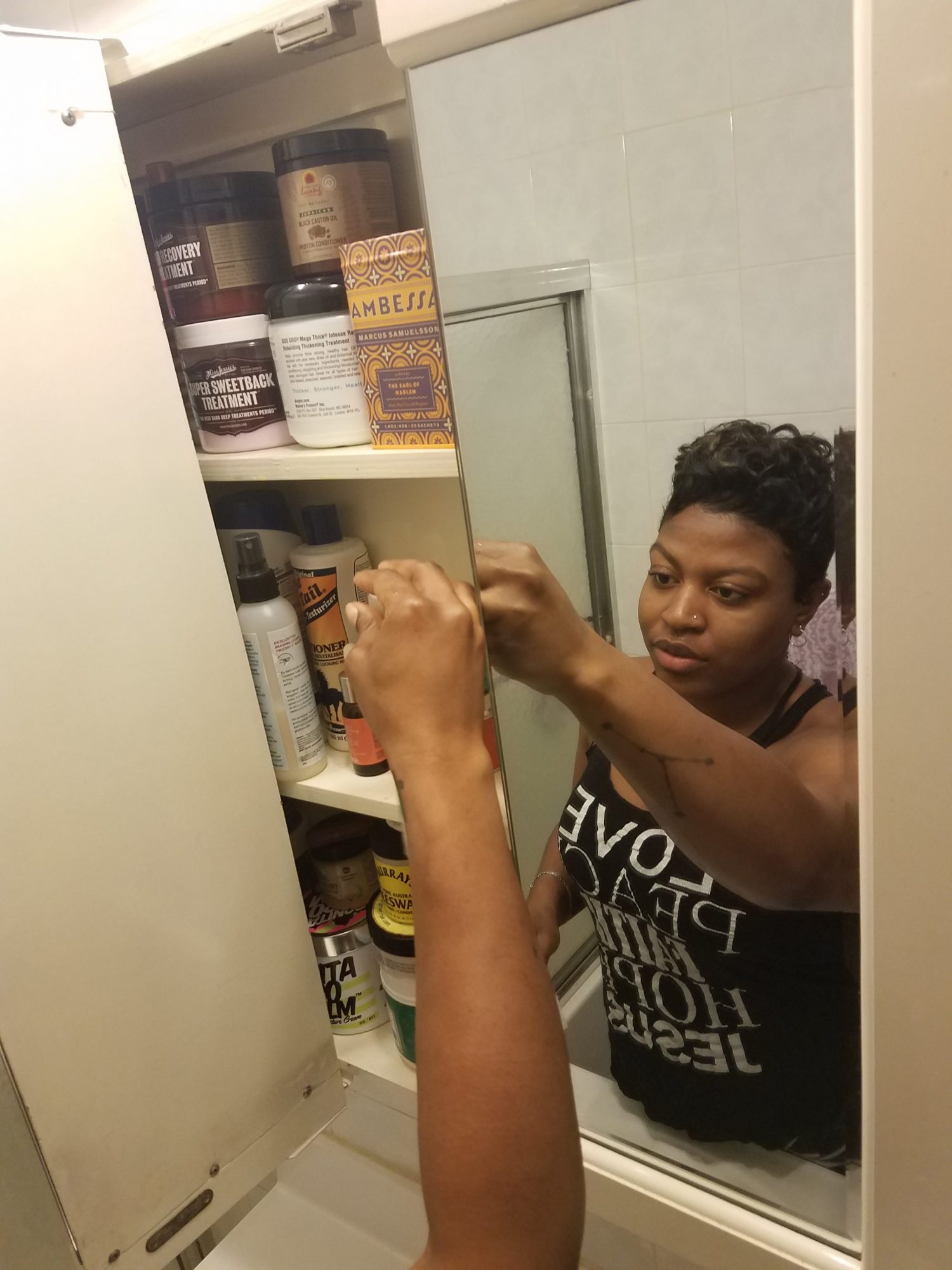 Operation: Banish dark marks.
Right now, I'm aggressively trying to combat hyperpigmentation. Exfoliation helps, so I use Crystal Peel's Microdermabrasion Exfoliating Crème ($44). It's so gentle, it makes my face feel brand new right after. I do this twice a week because it was recommended to me by an esthetician who said it was for "professional use." I'm a real rebel, guys!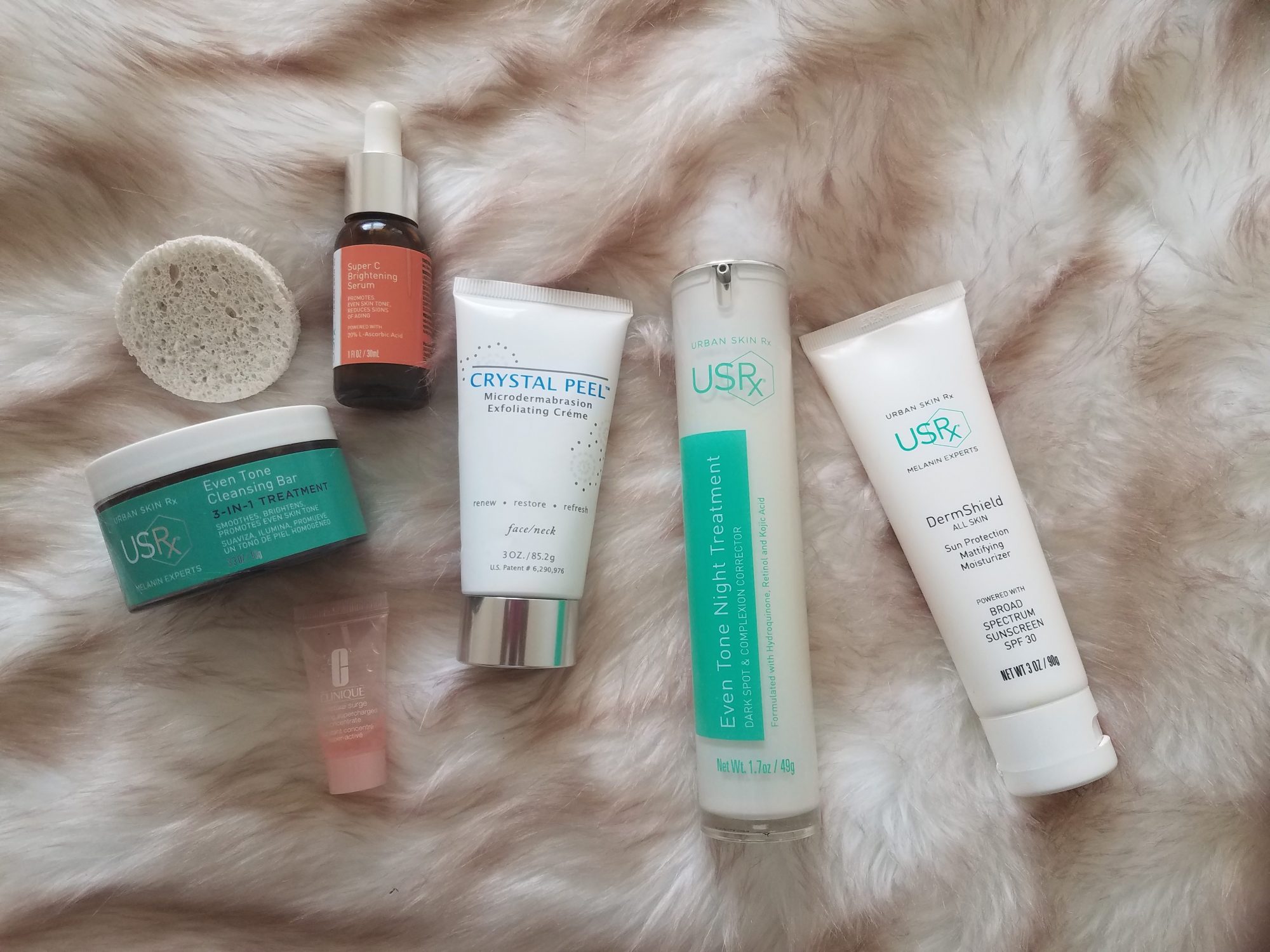 It's a fact that deeper skin tones struggle with pretty stubborn dark marks, so I did some research on skin care lines that were rated favorably by women of color. I came across Urban Skin Rx and immediately purchased the Dark Spot Corrector Even Tone Package ($149). (This is the closest set to the one I use, which I bought at Christmas and don't see anymore.) Being loyal to products is not my thing — aren't we all product lovers here? — but this is supposed to be a 90-day supply, and I've been seeing great results since I started using it consistently in January.
The set consists of: the Dermshield All Skin Sun Protection Daily Moisturizer with SPF 30 (it left my skin pale and ashy, so I'll revisit this one in the summertime when my oily skin goes into overdrive.), the Even Tone Night Treatment (I like it, but like, how does your skin know whether it's night time or not? Sometimes I wear it in the daytime. *Kanye shrug*), the Even Tone Cleansing Bar (I'll be honest, Teyana Taylor used this on Instagram. When your hair is short like ours, your skin has to be flawless, so her post definitely influenced me.), and lastly, the Super C Brightening Serum.
The cleansing bar comes in a jar but it's actually a solid soap that you lather up with a cute little sponge, like this:
I tend to follow up the cleanser with the Yes to Tomatoes Charcoal Micellar Water ($8.09), which I don't love but had to try because of the hype, or I'll use toner, which I swear by. The Thayers Alcohol-Free Rose Petal Witch Hazel Toner ($6.99) is the one I cannot live without!
I think toner is important because cleanser alone usually leaves some residue behind. But with the Urban Skin Rx Cleansing Bar, my cotton pad is clear after! This boosted my trust.
See: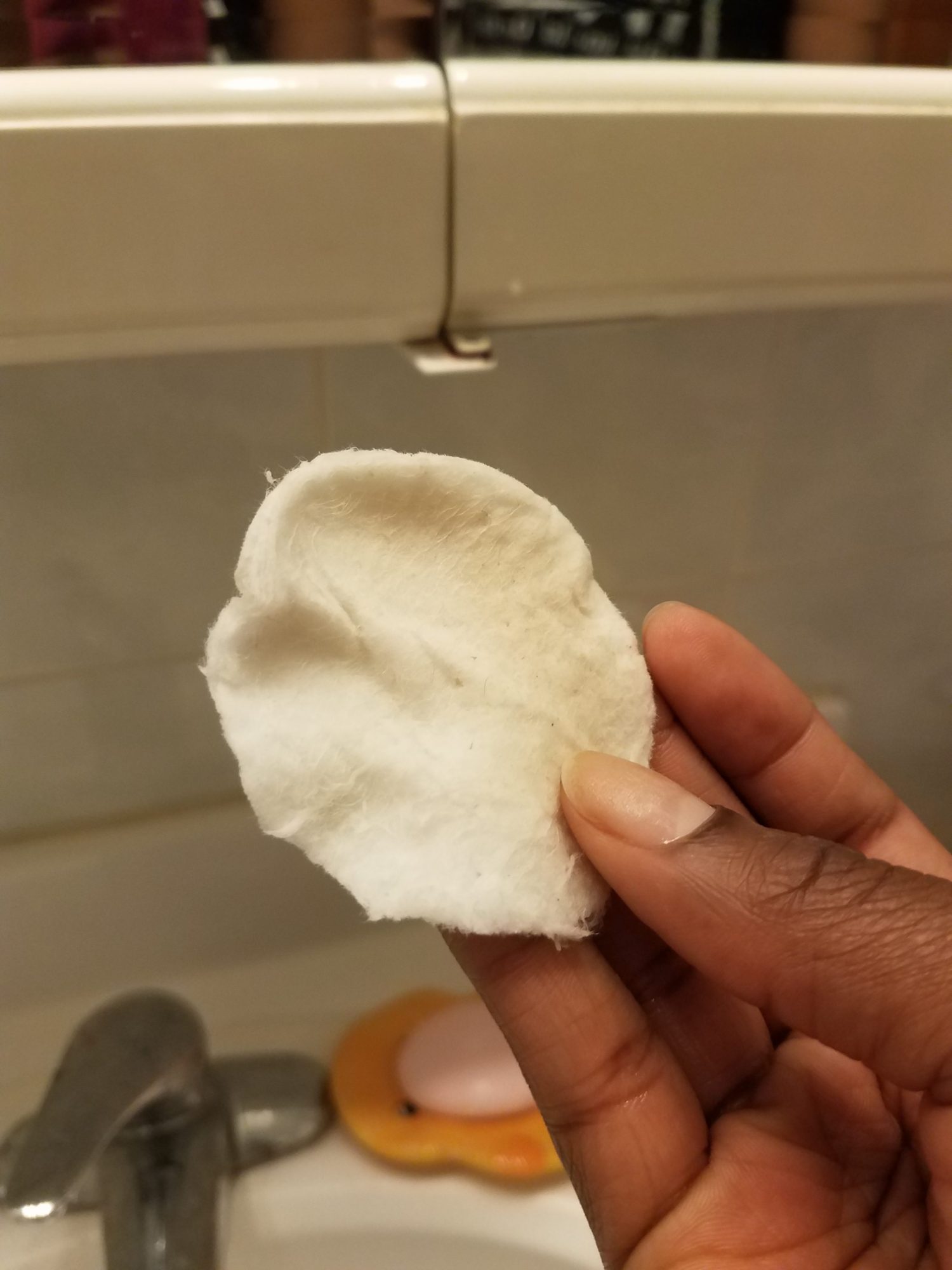 After the toner, I apply the brightening serum, which was my favorite item in the Urban Skin Rx package. Why did I use past tense? Well, it gave me such a nice glow, and I felt like it was having the most effect on my dark spots until I noticed a chemical burn from my forehead and my left cheek a couple days ago. I was using it twice a day as suggested, but now I'll use it once and only apply it to the spots instead of all over.
Next, I usually apply a gel-based moisturizer, like this awesome, lightweight one by Clinique called Moisture Surge Extended Thirst Relief ($52.50). Since I have an event today, I get ~jazzy~ and apply a tinted moisturizer. The Maybelline Dream Fresh BB Cream ($8.99) is SO hard to find in stores in my tone. (Maybelline, what's good?) And then, because those dark marks are really pronounced, or maybe I'm so self-conscious about them that I think they're really pronounced, I hit them with the Matte Skinstick by Fenty Beauty ($25) in the shade Truffle. It's the perfect match for my complexion, but it still leaves me oily, so I use it sparingly.
Getting glam-ish: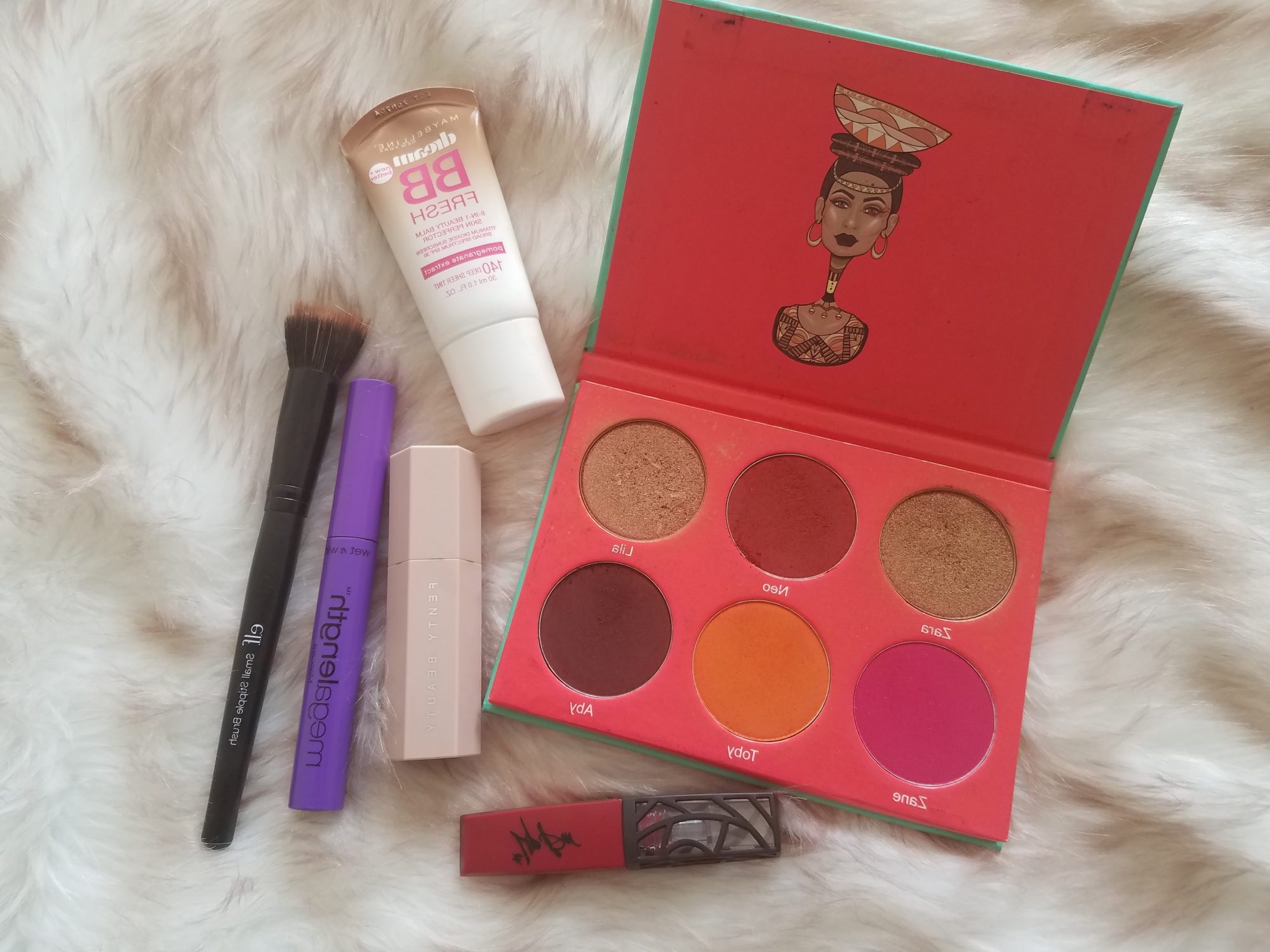 I am trash at putting on makeup. I don't care how many tutorials I watch, I can't do it and don't want to suffocate my skin anyway. When I'm rich, I plan to wear eyelash extensions every day, cutting this step even shorter. But for today, I'm doing mascara, blush, and highlighter from the Juvia's Place Saharan Blush Palette ($18). (It's created by a lovely black-owned brand.) I also plan on doing a bold lip. If I get stranded on a desert island, I will still apply lipstick every day — and it will be bright! Seriously, I feel butt naked without a strong lip. But because I'm not into having to do a bunch of touch-ups, I'm all about a good matte. This black-owned brand called The Lip Bar makes an excellent, classy matte red called Bawse Lady ($13). Sadly, it's currently sold out.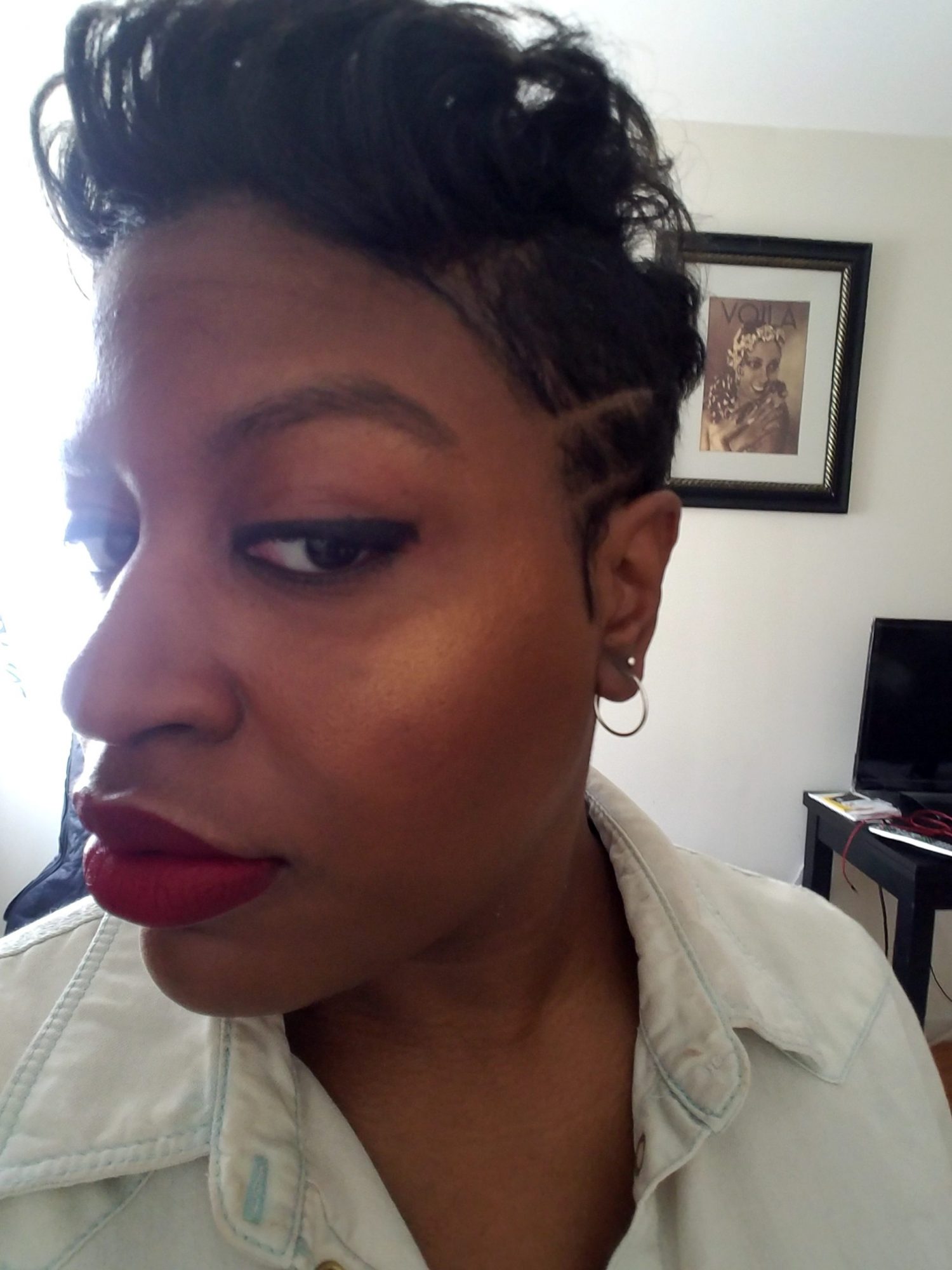 Drink in that blush and highlight.
7:45 a.m. — Almost done y'all!
Understand this: I am not done unless my hair is perfect. My friends will tell you that I change it every month. Drastically. The cut I have now was impulsive and it will take a lifetime to grow out, but we're here. Because I slept with a hair net on last night, I don't have to do much but fluff it out. (Thank goodness, because I have to leave by 8 a.m. and I still don't know what I'm wearing!)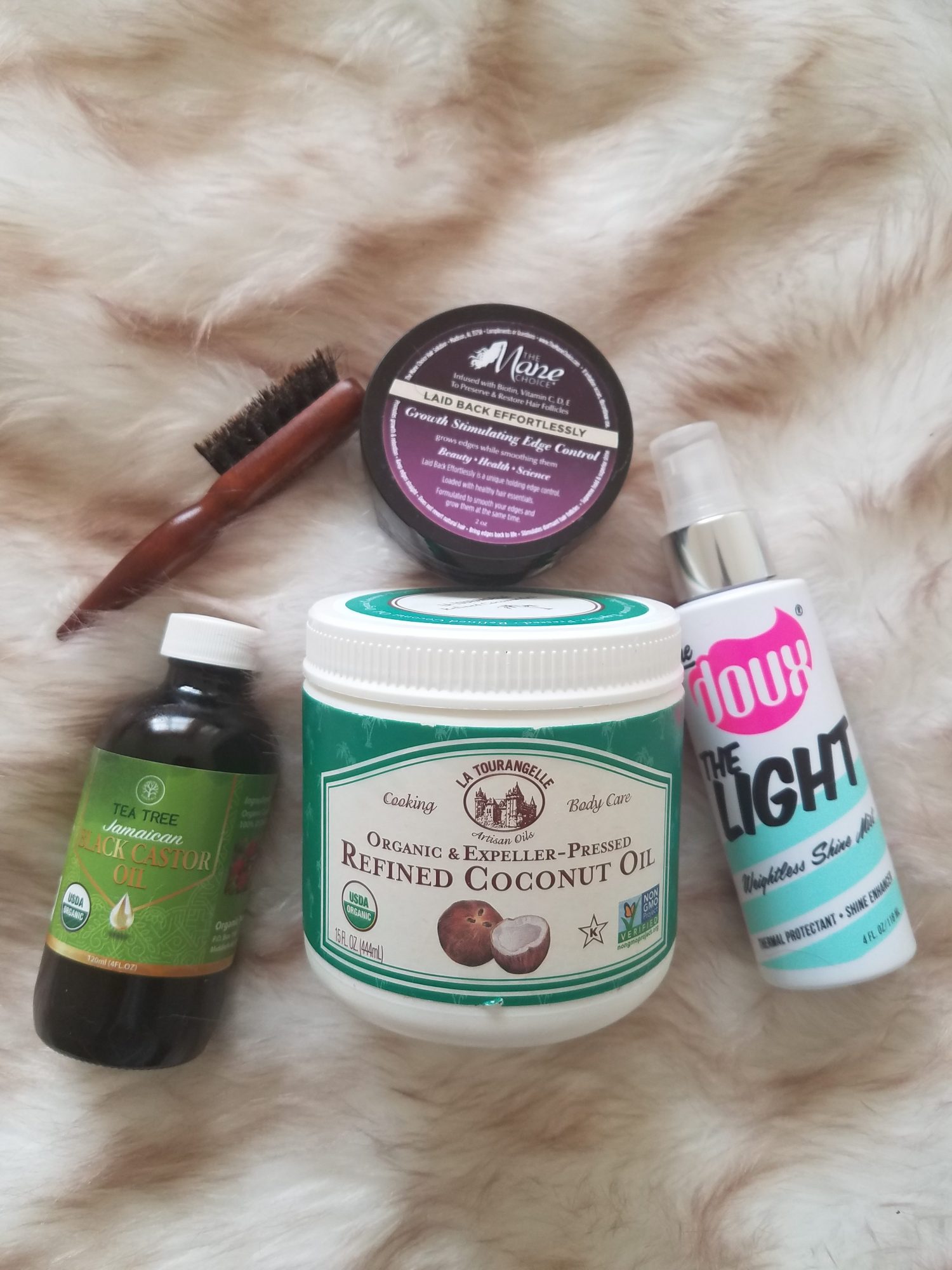 My hair needs moisture, moisture, moisture. So I hit it with some oil (usually either olive, castor, or coconut) and I apply The Light Weightless Shine Mist ($14.99) from this cheeky haircare line called The Doux. Then I run to the closet and piece a 'fit together. I guarantee you I did not leave the house by 8 a.m. Oh well.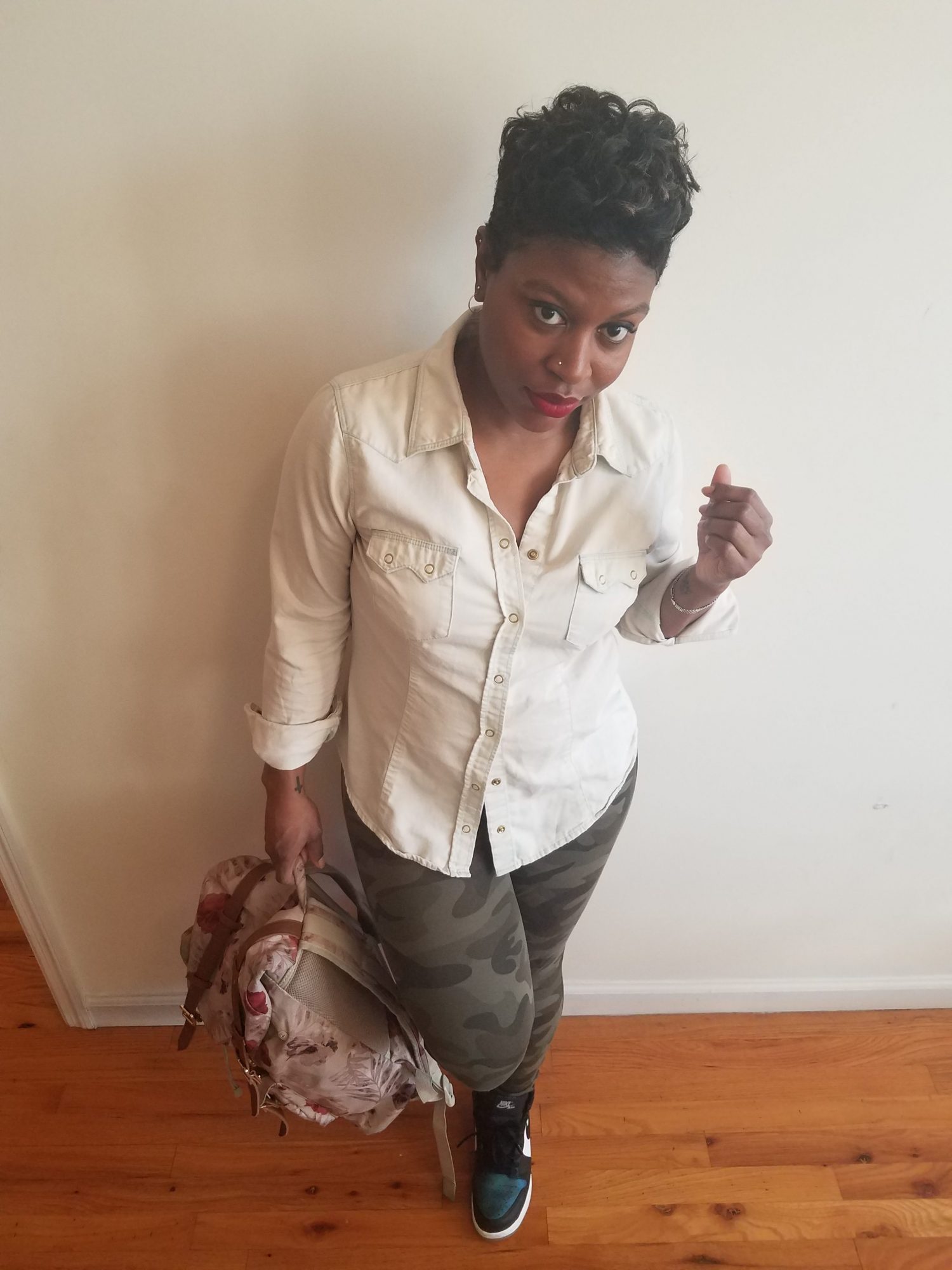 10:00 p.m. — Back at home after a long day.
After three trains, I've made it home and can't wait to take my face off! I start with a good old-fashioned baby wipe. Then cleanser, toner, and the Urban Skin Rx night cream.
Treat yo' self!
I decide to end my night with some #selfcare, so I crack open the exact bubble bath used by Oprah Winfrey. This white tea & honeysuckle potion by Lollia is so bourgeois it's not even called bubble bath, it's "bubbling bath," thankyouverymuch. It's a whole $50. Thankfully, O had a discount code because it's one of her favorite things. It fills my little bathroom with a gorgeous scent, and the bubbles remain perfect even after I'm done washing up!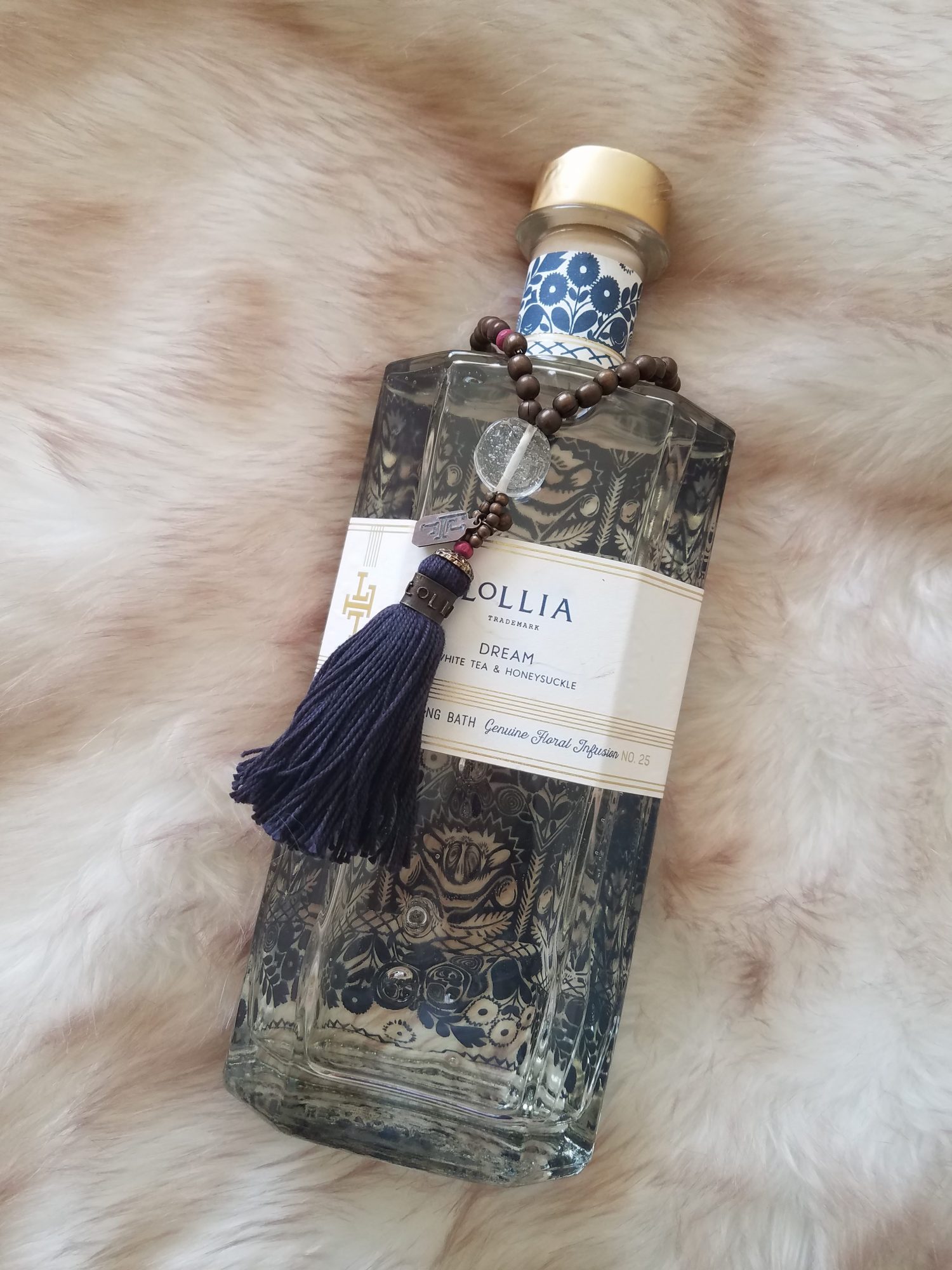 I'm not sure this technically counts as a beauty product, but I am sure that living like Oprah, even for the length of a good soak, has made me feel beautiful, inside and out.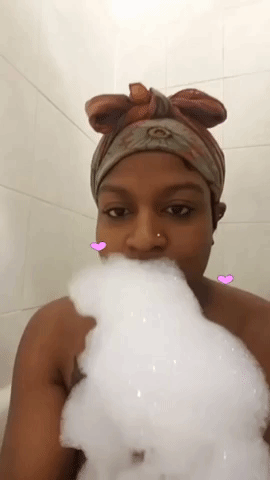 The most important step in my bedtime routine is securing my hair. Once this silk scarf is on, it's officially a wrap.
Good night!
Indulge in beauty-themed voyeurism by reading all of our past Beauty Files, here.