4 simple cauliflower bites recipes that will seriously make your mouth water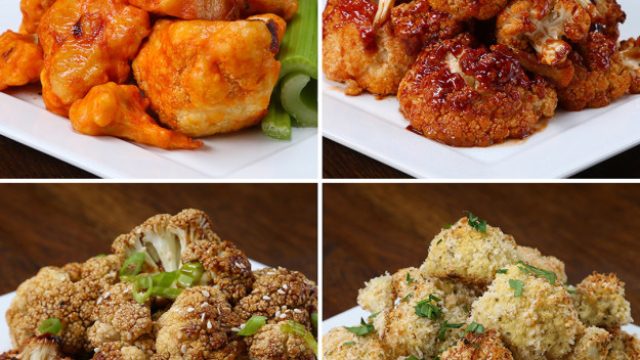 Cauliflower, we feel confident saying, is the new kale. The white, cabbagey-brocolli-esque veggie is incredibly versatile and packed with vitamin C, and contains significant amounts of vitamins K and B6, as well as lots of fiber. It's also chock-full of phytonutrients like glucosinolates and flavonoids, neither of which we actually know anything about but sound super power-inducing.
Also, the French name for cauliflower is chouxfleurs, a single of utterance of which certainly significantly increases our charm.
The mild flavor of chouxfleurs makes it a perfect vehicle for other flavors. It can be used as a substitute for rice, meat, potato, egg, dough. A culinary chameleon, it can constitute the main ingredient of a dish, or serve as a mere snack.
To show its adaptability, BuzzFeed listed four simple recipes for cauliflower bites, or as we say, les morceaux de chouxfleur.
Buffalo Cauliflower Bites are a chicken-free version of buffalo wings. Basically, you bake some battered chouxfleur florets.
BBQ Cauliflower Bites are non-battered, and simply tossed with BBQ sauce instead of buffalo sauce.
Teriyaki Cauliflower Bites are basically the same thing, but tossed in teriyaki sauce.
Garlic Parmesan Cauliflower Bites are battered with egg and then a garlic parmesan mixture.
All four recipes are incredibly simple, and take a total of 20 – 30 minutes to make.
So, if you're wanting to reduce your carb intake, increase your veggie intake, or just eat more deliciousness, go ahead. The choice is yours; the choux is fleurs.