Simone Biles has a life-size Zac Efron cutout and we're losing it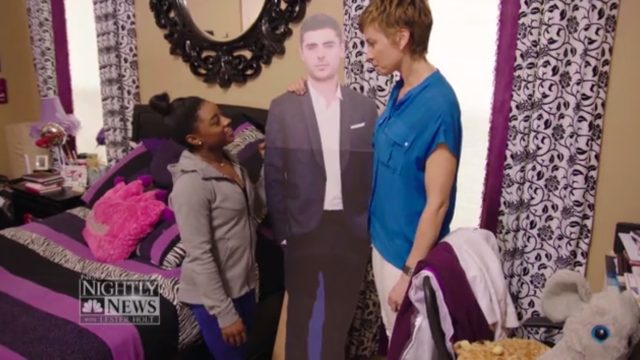 It's no secret that we're total fangirls when it comes to Olympic gymnast Simone Biles. She's talented, relatable, and she trades casual Twitter convo with the likes of Kim Kardashian (no big deal).
And just when we thought we couldn't love her any more, she hits us with the fact that she has a life-size cardboard cutout of Zac Efron in her bedroom. OMG. WE'RE FEELING ALL THE FEELS RIGHT NOW.
That's right. In a segment with NBC Nightly News, she gave a tour of her room, which contained her many medals, a ton of purple, and an (extremely quiet) Zac. Simone confessed that sometimes she even kisses the cutout on the mouth.
She is all of us right now!
And if this story couldn't get any sweeter, think again. Because it turns out Zac caught wind of the fact that Simone is his number one fan, and sent her this congratulatory Tweet when she qualified for the Olympic finals.
Normally, we'd say that anyone should be beyond thrilled to get a personal shout out via the Twittersphere from one of their idols. But honestly, in this particular case, while it was super sweet of Zac to reach out, we think HE'S the one who should feel flattered.