Guys, Simone Biles and Zac Efron *finally* met and #Befron is REAL!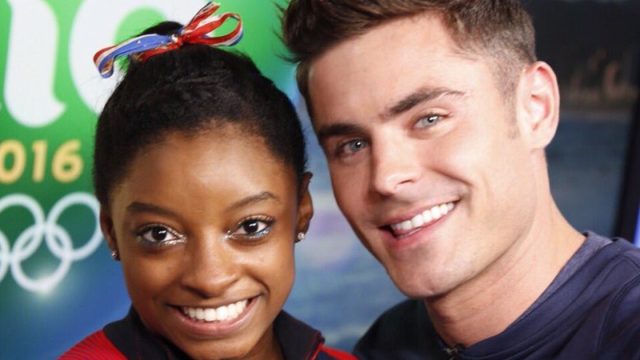 Simone Biles has completely stolen our hearts. When ever we watch the Olympic gymnast perform, we get massive smiles on our faces, not to mention that she's actually the best gymnast in the whole entire world, after she took home five (!) gold medals at the Rio Olympics this year all at just age 19.
Another reason we love Simone is because, like us, she completely fangirls over Zac Efron. Not only does she have a huge cut out of Efron at home (we're not gonna lie, so do we), but when she dropped by The Ellen Show, the TV host gave her a leotard covered with the hunky Hollywood actor's face to wear while competing at this year's event.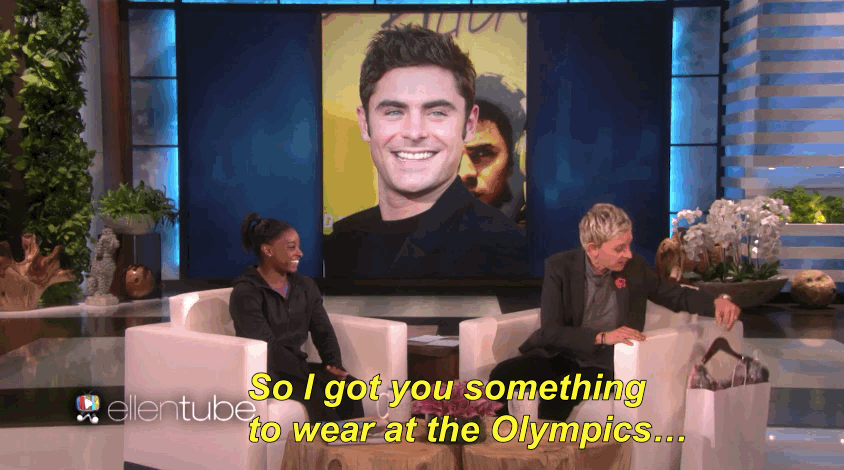 It seems that the feeling is mutual, too. Over the past few weeks Simone and Zac have been exchanging flirtatious tweets, and we've been shipping #Befron ever since.
Now Simone Biles and Zac Efron have actually met and OMG it's the greatest thing EVER.
Here's what went down…
After tweeting that he was supporting the #FinalFive, Zac decided to head to Rio for a special surprise.
Literally, look how cute this is.
Can you see the look on Simone's face? Literally all of us if we were to meet Zac Efron.
It seems that Zac was also super psyched to be meeting the #FinalFive.
Of course, Simone needed to get a selfie with Zac, and they are just the sweetest pictures.
"he kissed me on the cheek just letting y'all know @ZacEfron ?," Simone wrote on Twitter.
However, in an attempt to make the entire world jealous, Simone decided that she needed to show PROOF of the kiss.
WE ARE GREEN WITH ENVY RIGHT NOW.
"Just call me Mrs. Efron already." 
SCREAM.
Zac also took a pic with Alexandra Raisman, too!
Basically, we're now 100% officially totally and utterly obsessed with Simone Biles and Zac Efron.
Of course, the internet reacted hilariously to the pair meeting.
false
https://twitter.com/udfredirect/status/765793435672535040
https://twitter.com/udfredirect/status/765814728778276864
false
LOL
What this shows is that you should never give up on those dreams of meeting your ultimate crush, because one day you might win a load of medals at the Olympics and they might fly to a different country to come and meet you, and then you might go for pizza with them.
This is likely, right?