Simone Biles just pulled off *another* never-before-seen move—because of course she did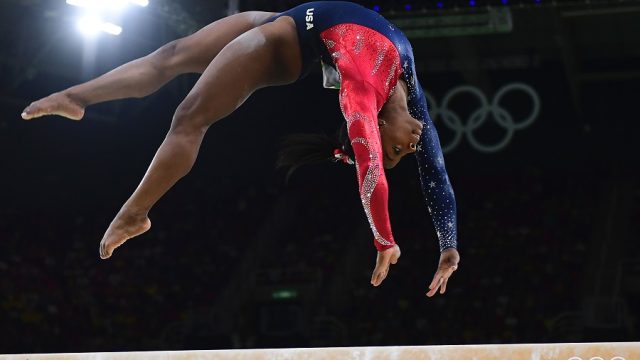 Oh, what's that? Simone Biles just made gymnastics history again? Yeah, we're not surprised. Biles just pulled off yet another never-done-before gymnastics move a mere four weeks back into training, and girl just can't stop making history.
The move, according to Olympic Channel, is "a triple-twisting, double back off the balance beam," which Biles shortened to "triple double" on her Instagram account.
The five-time World all-around champion posted video evidence of her historic move on June 16th, and her fellow gymnasts are beyond impressed.
Olympic gold medalist Nastia Liukin commented, "Whatttttttttttt" and five crown emojis. Cheer's Gabi Butler wrote, "Literally the best." "OH MY GOD SIMONE," one follower wrote on Instagram. Another added, "BEAST MODE." And someone asked, "how is that possible?"
She's Simone Biles, people. She, and the rest of the team, may not be headed to the Tokyo Olympic Games this year (the 2020 games were postponed to 2021 due to the coronavirus), but she's not going to let that stop her from proving her greatness.
https://www.instagram.com/p/CBgYa9dlu8x
Biles has made history with other moves, including landing her triple-double floor move, which has been dubbed the Biles II, and her double-double dismount off the balance beam, dubbed Biles I. She performed both at the 2019 gymnastics world championships.
However, even though her new move (perhaps we can call it the Biles III?) is beyond incredible, Biles will not be showing it off at the 2021 Games next summer. According to Prevention, the triple double was ruled too risky by the International Olympic Committee, and therefore can not be done during Olympic sets.
Leave it to Simone Biles to pull off such a "risky" move and make it look so dang casual.
https://twitter.com/udfredirect/status/1272960231182602241
This video of the triple double is the first training footage Biles has posted to social media since before the pandemic hit. Now that she is able to get back to business, we can expect to see a lot more flipping, twisting, and jumping that surely will make our heads spin.