Simone Biles says she used to get bullied because of her arms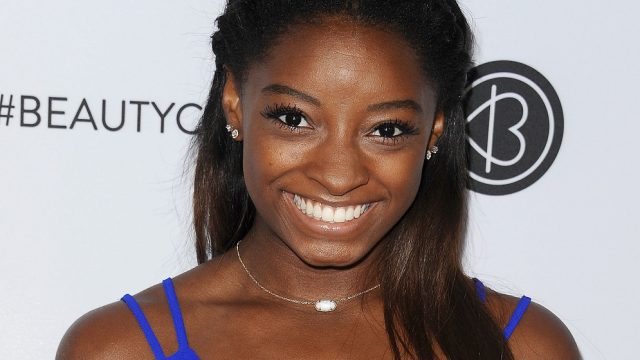 It's never a good thing to get bullied — but when we hear that celebrities have also gone through the hurtful teasing and cruelty from others, it's at least a solid reminder that we're not alone, and we're strong enough to rise above the pain. One example is Simone Biles, who was bullied due to her arms. Y'know — the same arms that helped get her to the Olympics, otherwise known as the biggest sporting event in the world.
Biles chatted with Jordan Muto from Today to say that she dealt with a lot of bullying over her body at a young age. "They used to call me a 'swoldier,' which didn't make me feel the best," she said. "I wore sweaters or jackets all year long to cover my arms."
Luckily, Biles felt right at home in her gymnastics programs. She admitted that she even got a little bit of encouragement from Aly Raisman, who was also on Team USA. She's often referred to Raisman as her best friend, and a lot of that likely came from the fact that the two helped each other become more confident.
"Aly Raisman helped me a lot with my body-confidence issues and helped me learn to love how I look," Biles said. "She's taught me a lot along the way, but most of the time it's just the same message: love yourself. It doesn't matter if you don't want to wear makeup that day, if you don't want to do your hair that day or anything else. You're human, too, so do what you like."
https://www.instagram.com/p/BUhsyjbjYj_
Biles also talked about the best way to have a healthy body image.
"To me, healthy body image is when you feel confident with yourself — inside and out," she stated. "If you love your body, then that's all you can do. It doesn't matter what anybody else says."
We're so glad that Biles not only chooses to surround herself with such positive people, but has such a healthy approach to handling bullies. She refuses to let them bring her down.