Simone Biles and Aly Raisman are already owning the Rio Olympics in this hilarious Instagram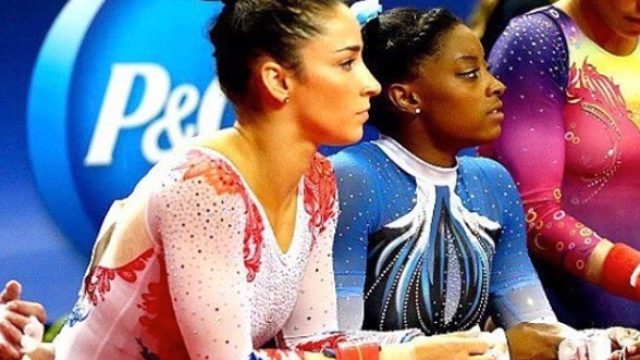 Gymnasts Simone Biles and Aly Raisman are already gearing up for the Rio Olympics — which makes total sense, considering the opening ceremony is happening on Friday August 5.
Biles and Raisman are both super intense, serious athletes who are on mission for gold.
They've been practicing basically very minute for as long as they can remember — which is exactly why they are two of the most elite gymnasts in the U.S. — and if all goes well, the entire world!
Aside from the blood, sweat and tears, the ladies seem to have so much fun together. It's very clear that they're not just teammates, they're also best friends (clear because they literally can't hold back their love for each other).
A few days ago, in between practices, the pals blew of some steam with a much needed (we assume) girls night. Sporting head wraps and face masks, Biles snapped an adorable selfie and posted it to Instagram.
Biles posted another photo comparing the amount of tape they use for their injured body parts.
They clearly are good at making fun of each other, but in the best way, of course.
Biles and Raisman even bantered with each other while talking to NBC Sports back in January.
"She's like our sleeping little grandma," Biles said of Raisman.
"She always says that I sleep a lot," Raisman shot back. "She looks at me like I'm the crazy one, but I think she's the crazy one, because it's normal to be tired when you work out a lot, but she's just never tired."
We love their friendship and can't wait to see them in action in Rio!