Simone Biles just broke a major world record—not that we're surprised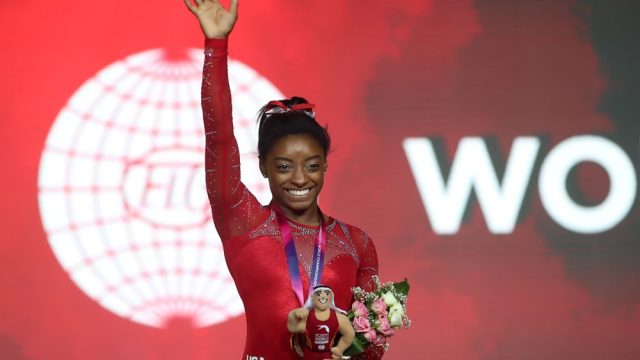 We already knew that Simone Biles was one of the greatest gymnasts of all time, but now it's official. After dominating the 2018 World Artistic Gymnastics Championships (with a kidney stone, no less), Biles has become the most decorated female gymnast in the competition's history.
According to NBC Sports, Biles took home four gold medals, one silver, and one bronze after the world championships in Doha, Qatar, which concluded on November 3rd. Factoring in these six awards, the 21-year-old gymnast has won 20 world championships medals over the course of her career—tying her with Russian gymnast Svetlana Khokrina. But when it comes to gold medals, Biles comes out on top. The U.S. gymnast has received an astounding 14 golds so far.
That wasn't the only record that Biles set at the 2018 world championships: Sports Illustrated notes that she became the first American to medal in all four events. The last gymnast to achieve the same feat was the Soviet Union's Yelena Shushunova in 1987.
"I think there's a lot to be proud [of], but I'm most proud of that I'm here, I made all the event finals, medaled in all of the events, and I survived," Biles told ESPN.
And fans had some suggestions about how she could display her hard-earned medals.
We're in awe of everything that Biles has accomplished so far, and we can't wait to see where she goes from here. Congratulations to her and to all the medalists at the 2018 World Artistic Gymnastics Championships.