If you haven't watched Simone Biles's TWO historic gymnastic routines, you need to now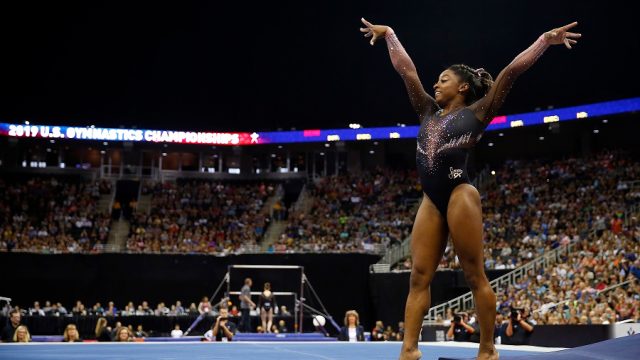 We are continually in awe of Simone Biles. She constantly breaks major gymnastics records and is the most decorated female gymnast in history, all at the ripe age of 22. Her latest gymnastic routines just broke even more records, and this is definitely the inspiration your Monday morning needs.
According to the United States Olympic Committee, Biles just became the first gymnast ever to attempt and land a double twisting, double somersault dismount from the balance beam, doing so at the 2019 U.S. Gymnastics Championships on Friday, August 9th. You must see this in action to believe it.
Earlier in the day, Biles became the first female athlete to attempt a triple-double—two flips and three twists in the air—in competition, but she missed the landing. She then tried it again on Sunday, August 11th and crushed it, winning her sixth national all-around title at the competition, which was held in Kansas City, Missouri. The triple-double was so groundbreaking that The Wall Street Journal reports the move is forcing judges to literally create a brand new category of scoring.
Gymnastics officially scores routines on a letter scale from A to I, but Biles's incredible performance was marked past that, at a J.
Check out both of her history-making gymnastic routines, and excuse us while we pick our jaws up off the floor because she is that good.
First, scope out her historic double-double dismount.
And then enjoy her triple-double, which only solidifies our belief that Biles is a real-life superhero and all-around badass athlete.
We won't blame you if you watch these on repeat all day long, because Biles is an inspiration to athletes (and people) everywhere.
Next up for the four-time Olympic and 14-time world champion is the 2020 Olympics in Tokyo next summer, which will be her last, as she told CNN earlier this year. As we not-so-patiently await 2020 to finally arrive, we're going to continue to be awestruck by Biles and her gymnastic talent. Bravo, lady!