Simone Biles reveals how she found body positivity after a coach called her fat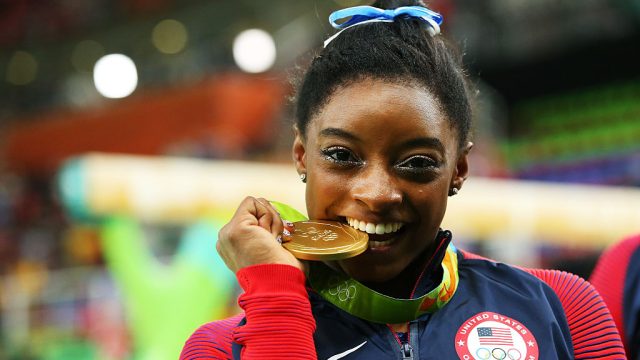 Even athletes have to deal with body image issues. Olympic powerhouse gymnast Simone Biles reveals how she found body positivity after a coach called her fat. While even the thought of that sounds ridiculous, it goes to show you that no one is safe from body-shaming. Because even athletes who have won gold medals for this country are subject to scrutiny.
Simone Biles revealed in an interview with Katie Couric that after a particular loss, she overheard a coach call her fat. The words really hurt her.
"No 15-year-old girl wants to hear that they're fat, especially in a sport where we only wear half of our clothes," she said.
In addition to working on her gymnastics career, Simone also had to fight the same fight all teenage girls have to face. Having self-confidence and not letting criticism effect her is one of the reasons Simone has gotten as far as she has. And it's not looking like she's stopping anytime soon.
She told Katie Couric:
"I think we've learned that muscle is beauty now. And, yes, we might look maybe a little bigger, because our muscles are bigger than, like, if we were a little bit more lean...God gave you your body for a reason. So you have to use it to your best advantage. And you have to love yourself.
Simone's fellow Olympian teammate Aly Raisman has also spoken out about body positivity. Because of her muscular figure, she was bullied in middle school. Now, she's speaking out.
Aly has a few choice words for the boys who used to make fun of her.
"Thanks for forcing me to learn to love myself and my body. My muscular arms that were considered weird and gross when I was younger have made me one of the best gymnasts on the planet. Don't ever let anyone tell you how you should or shouldn't look. There is no such thing as a perfect body type."
With both women so open about their struggles with body positivity, young girls everywhere have heroes to look up to. It does not hurt to know they are Olympic gold medal champions to boot!