This video shows why Simone Biles might just be the best gymnast in history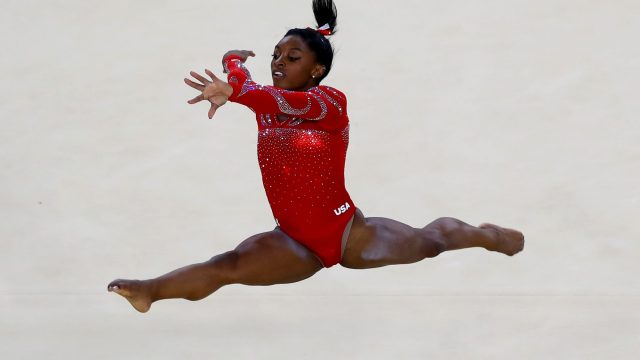 While some of us were still figuring out how to parallel park and properly apply top lid eyeliner at the age of 19, Simone Biles is predicted to win FIVE gold medals at the Rio Olympics this year, solidifying her spot as—no big deal, of course—the best gymnast in HISTORY.
And it's not like she isn't already SUPER successful. She has already, per the New York Times:
"won the most gold medals in the history of the world championships [and is] the first woman to win three consecutive all-around titles there."[subheader]
She also has a move—a double layout with a half twist and a blind landing—named "The Biles" after her. TBH, we feel exhausted just writing out that description.
It's amazing that she's only 4'8′, but she gets to double that height in her routine, and that she has such a powerful run that she needs to run less than most of her competitors and can therefore fit more moves into the mat space allowed.
In the video, Gold medalist Nastia Liukin mentions how Simone is KILLING the game, winning by much more than most gold medalists win by in normally very-close competitions, and Simone's coach mentions how she learns skills in a few days that other athletes take years learning.
It is so inspiring and surreal to see Simone casually mention that she is the only one in the world who does the dismount she does on beam.[subheader]
Like, seriously? If we could do something that literally no one else in the world could do, we would be posting a reminder on social media literally every 10 minutes. We wish her all the luck in the upcoming competitions!