Sigma Beauty's founder talks science, skincare secrets, and the indestructible brush they're launching next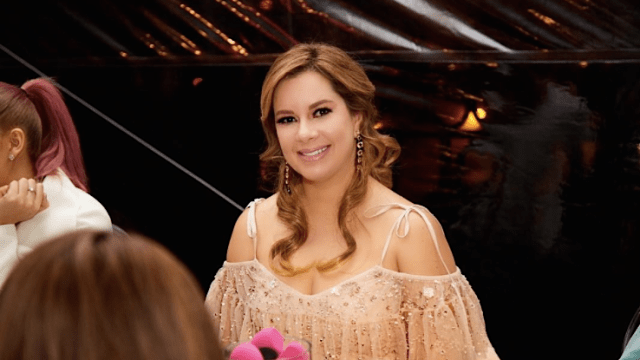 Having a Ph.D. in molecular biology and a background in veterinarian sciences may not seem like the most obvious precursor to running a beauty empire, but then again, neither Simone Xavier or Sigma Beauty are like other brands.
Simone and her husband Rene are the founders of Sigma Beauty, a new wave cosmetics brand merging technology, science, and makeup to create some of the best products out there. With a mission to innovate beauty, the brand is constantly developing new brushes, accessories, and product that explores uncharted territory. Whether it's their best-selling brush cleaning mat, their new 3DHD blending sponge, or the holographic Lip Switch glosses that broke the internet, every product in this line is held to the highest standards.
Fun fact: Simone and her husband came to the United States 18 years ago from Brazil, where Simone had finished her degree and Masters in veterinary science. She was originally working with vaccines and bacteria found in pigs. Simone and Rene would take yearly trips to Brazil, bringing many different items, like brushes and food, to family and friends when they visited. Instead of lugging around extra baggage, Simone and Rene decided to start an online store for people to order their highly requested items. This was the first incarnation of Sigma, known as Sigma Shopping at the time, and the rest is history.
https://www.instagram.com/p/BQN1q2PDj9V
We talked to Simone about how her knowledge in science has set Sigma apart from other beauty brands, what her favorite skincare product is, and the next big, indestructible brush that's headed our way.
Hello Giggles: Can you tell us a little bit about how and why you started Sigma beauty?
Simone Xavier: I would dedicate my 9 to 5 to university and I would come home and have dinner, and at that time I didn't have my son. I would sit on my computer and I would get on YouTube and see what people were using, like brushes, and how-to videos. I would contact bloggers in Brazil and let them know that Sigma Shopping was available, and then it started to grow. We grew for one year. Rene, who'd already been working with paint and brushes, started to see these brushes come to our house to be sent to Brazil. And he said, "I can make these cheaper and I can make them so much better and with higher quality" and then we started to develop the brushes. When we did our brush set, we changed it from Sigma Shopping to Sigma Makeup. We opened a website just for the brushes!
I was also on YouTube learning what people thought were the "holy grails" for foundation, powder, and brushes. So we put together a 12 brush kit and that was the only product we had, so I sent five to beauty gurus on YouTube. I messaged them and said, "Can you please just give me feedback on this product?" They were my favorite gurus, too! They were the ones that I watched, they were the ones I trusted, and I thought they knew more about makeup than I did. So I just wanted honest feedback, and to my surprise, when they received the products they started making videos about them.
https://www.instagram.com/p/BQyHEipD6lu
One of the bloggers, Tiffany D, made a very genuine video saying "Oh my god, I got these brushes and they're so good, they're so soft, they're better than any brushes I've touched." And she put the link to our site. We had 500 packs and we came home and they were all sold out. We had to open a waiting list, and 2,000 people got onto the waiting list. For two months we couldn't supply anything because our factory was really small. People thought the brushes were the holy grail but I thought, "I can do better than that."
https://www.instagram.com/p/BQRGORojELF
HG: How does your background in molecular biology and veterinary science impact the way you create your beauty products, if at all?
SX: It's interesting because I was getting a Ph.D., and when you're doing that, what you're taught is how to critically evaluate everything. I identified trends when I was working with vaccines, and that is still my line of thinking, even if I'm observing what the community is saying. To me, it's easy to identify makeup trends or what's coming next because it's how I was trained.
HG: What makes Sigma Beauty different than other brands?
SX: There is no product in our line that doesn't deliver what we promise, or that isn't going to provide an improvement on something that's already being done. I think it really fulfills our mission when we introduce something someone's never seen before, or a solve a problem that someone's really been struggling with like washing brushes or drying them faster. The company is 8 years old, and we've worked with brushes all along. We could have launched brush shampoo years ago, but we didn't because we didn't feel like we had the best product. Last year, when we launched SigMagic, Rene went personally to the Philippines and found the soap producers that would work with the natural resources and coconut oil and palm oil. Once we found a formula that was 100% natural then we felt that was a contribution.
HG: You're launching the 3DHD blender soon! Can you tell us a bit about the product and what makes it unique?
SX: So beauty blenders are all the same shape, all around. You pick up a blender and you use it on your face, how many times do you rotate it on its side? So I said, I'm going to introduce the same format that can be used for other functions. So as I was applying my foundation with the 3DHDbrush, which has a ridge in the middle. We have a utility patent on this brush and I developed this brush for a very specific reason, so I could reach the sides of my nose, between my lips and my chin, you know? Why don't I transfer that ridge into the sponge? So that was the first step of it, I wanted to put the ridge of the 3DHD into the sponge.
HG: What are some products you're obsessed with right now?
SX: Our Mother's Day makeup set, which comes with three items that were selected because I use them every day. There's a brush set that has the F82, a round kabuki brush, the P86, a precision tapered brush, and the E55, an eye shading brush. I know when someone gets these that they will love it.
https://www.instagram.com/p/BO4RucfD3Pw
HG: What are your skincare essentials?
SX: There are a few things that I do, and I don't want to brag, but I think I look younger than my age. Once a year, I do a laser on my face that's for sunspots, it's called BBL, BroadBand light. Once I discovered this I never went back. It breaks the melanin in your skin and eliminates sun spots. I also use "Benefiance" night cream and sun protection lotion.
HG: What's the one makeup product you think is worth investing in?
I think that the product that Sigma has introduced into the market that has completely changed the market are the brush cleaning products. I would definitely recommend the Brush Cleaning Express and Brush Cleaning Mat. I think that's something you can't get anywhere else.
https://www.instagram.com/p/BQk2PunjeyD
HG: What's next for Sigma?
SX: Rene developed a brush that is indestructible. It's going to be called The Titanium Brush for being indestructible and very resistant. The handles are not going to be made of wood, the way the handle attaches to the brush is unique and will never come apart. Rene developed the brush, and he has thrown them and put them underwater for so many months and we know we have the strongest brush in the market, so that's coming next. We also have a solid soap that's going to be great, because it has a twist to it and it's going to be from the SigMagic line. Brush care is our future and we want to secure that! Also, I just developed four new brush shapes that will be launched this year.
Keep your eyes peeled for Sigma's new brushes headed our way. In the meantime, you can check out their Instagram page for beauty inspo and browse their products on their site. While you're there, might as well treat yourself to Sigma's new 3DHD blender!