The best part of Netflix's Sierra Burgess Is A Loser has nothing to do with the actual romance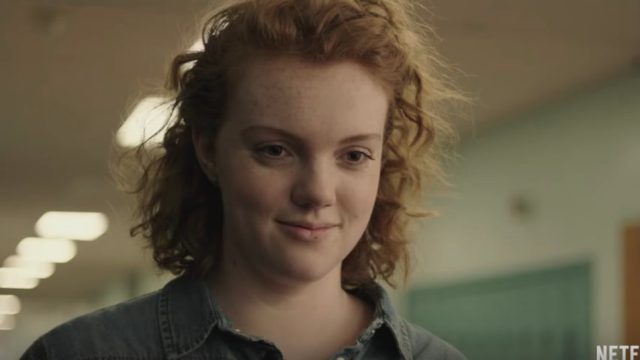 Netflix may be billing its latest teen movie, Sierra Burgess Is A Loser, as a rom-com, but we'd beg to differ: It's secretly a story—albeit, a messy one—about female friendship.
A loose adaptation of the classic play Cyrano de Bergerac, the movie follows the titular Sierra (Shannon Purser), a confident-but-"uncool" high schooler, who begins receiving texts from Jamey (Noah Centineo), the popular quarterback at a rival school…who in turn thinks he's texting Veronica (Kristine Froseth), a popular (and seemingly very mean) cheerleader at Sierra's school. In order to maintain the ruse, Sierra eventually bribes Veronica to pretend to be her during video chats with Jamey.
However, as their cat-fishing ploy takes off, Sierra and Veronica begin to develop a genuine friendship…and it's an unexpected highlight of the film (especially considering how uncomfortable and downright painful it is to watch them catfish the perfectly nice Jamey). At times it almost feels like the writers actually wanted to write a movie about the complexities of an unlikely female friendship—not a traditional romance.
https://www.youtube.com/watch?v=q9Pk_Eq4BUc?feature=oembed
While the plotting admittedly gets uneven (not to mention the inclusion of a number of dated and incredibly problematic homophobic and transphobic jokes), Sierra Burgess benefits from a great cast. Purser, whose non-Barb roles have largely been relegated to supporting characters thus far, shines as Sierra—even when she's making terrible life choices that are basically impossible to get behind. false
Meanwhile, Centineo makes for the perfect Jamey; he brings a sweetness and earnestness to what could have otherwise been a pretty dull role (and his chemistry with Purser definitely rivals his chemistry with Lana Condor in TATBILB…which we honestly didn't think was humanly possible). RJ Cyler makes for another standout as Sierra's best friend/voice-of-reason, Dan, and '80s-teen-movie fans will love the meta-casting of Alan Ruck and Lea Thompson as Sierra's parents.
While it doesn't pack nearly the same punch as To All The Boys I've Loved Before, or even Set It Up, the optimistic Sierra Burgess is worth a gander for the teen-movie obsessed.
Sierra Burgess is a Loser is streaming on Netflix now.