Sienna Miller opened up about the "crippling" responsibility of parenthood, and this is an important conversation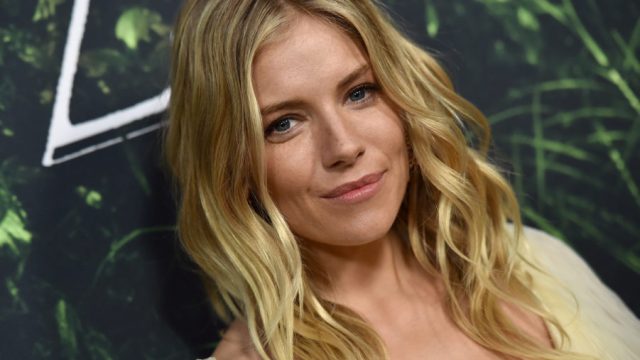 While there are many obviously amazing parts of parenthood, there are also many times when it's really freaking hard, and Sienna Miller opened up about those parenting moments in an interview with Allure. She recalled a time when her daughter was super sick, and she came to the rescue. And things ended up getting seriously messy.
"I had an amazing moment the other day where I just heard this 'Mama!' from upstairs," Miller shares with Allure. "I said, 'I'm coming, I'm coming.' And as I got to the landing I just smelled, like, puke. And she'd thrown up basically off the top bunk, so the splatters were like: Pow! Like all four walls. She had the norovirus or whatever."
And if you're a mom, you can't really look the other way! You gotta get in there and, you know, deal with it somehow.
via giphy"I was like, 'I'm coming, I'm coming!' And I skidded on the sick and fell. Whacked my head. Then I get her out of the bunk; she's crying, covered in sick. I take her to the bathroom, take all her clothes off, and then the dog comes up and starts eating the sick. And I get her in the bath and in my bed, and I'm just, like, literally naked, mopping, and crying at midnight. You know, and that's parenthood."
Yup, parenthood isn't rosy and beautiful and full of snap-worthy Instagram moments all the time! Most moms don't share these harder experiences because there's so much societal pressure to be (impossibly) perfect all the time, but we're so glad that Miller isn't afraid to tell it like it is.
She goes on to describe the rollercoaster of emotions that come with being a mom, and yup, sounds about right.
"You're so enriched by it and so fulfilled, but at the same time, I look at these people who just don't have any responsibility, and it feels like the responsibility is crippling."
But would she do the whole parenthood thing all over again? She admits she'd love to, so Marlowe might have a sibling at some point.
In the meantime, thanks for being unafraid to talk about skidding on vomit and feeling overwhelmed by the pressures of parenting, Sienna. It's definitely one of the hardest jobs out there, so kudos to all parents!
HelloGiggles has been nominated for the Webby Awards in FOUR categories! Yay! We would love it if you voted for us:
HelloGiggles in the Mobile Sites & Apps – Lifestyle category. Click here to vote
HelloGiggles in the Websites – Lifestyle category. Click here to vote
When You Suck At Eyeliner in the Social – Culture & Lifestyle (Video) category. Click here to vote
Relatable in the Social – Best Social Video Series category. Click here to vote
Thank you!