This fitness Instagrammer's side-by-side booty pics show that the perfect butt is an illusion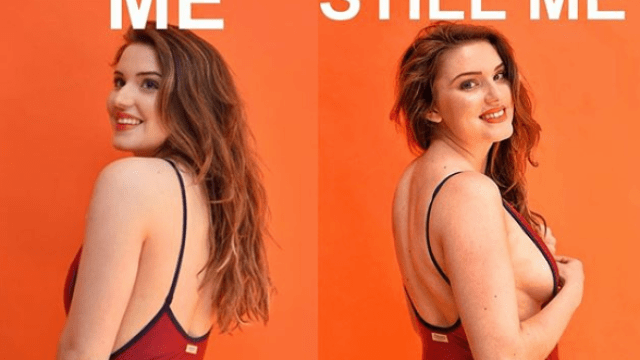 We all know we should take everything we see on social media with a grain of salt, but that can be hard when we're constantly bombarded with images of "perfect" bodies. Luckily, many social media influencers have chosen to be transparent with their followers — like Louise Aubery, a fitness blogger located in Paris, France. The Instagrammer recently posted side-by-side booty pics to show that sometimes (oftentimes) the appearance of perfection is just an illusion.
In her Instagram post, which has garnered over 13,000 likes in just seven days, Louise shows how a simple pose can drastically change the look of someone's backside. In one photo, Louise popped her booty out making it look the perfect "Instagram butt," and in the other, she clenched, which flattened her butt out and revealed her "imperfections."
"Yes, I workout. Yes, I eat healthy. No, I do not have a perfect body. And you know why? Because I stopped looking for it," Louise began the caption of her post.
The goal of this side-by-side was to remind her followers that "your body is NOT the enemy," as Louise wrote. No matter how much you work out to achieve what you think a perfect body looks like, your body might have other plans.
Happiness comes from accepting yourself for who you are and striving to be strong and healthy — physically, mentally, and emotionally — rather than perfect.
Louise told Cosmopolitan.com that when she reached her personal fitness goal, she hit a roadblock. She wrote in an email,
"When you achieve the body you want, and you realize it doesn't make you any happier, you realize there is so much more that comes into play — like truly accepting your body."
By posting this side-by-side, Louise hopes to "deconstruct the unreachable standards that have been set by social media," she told Cosmopolitan.com. Seeing someone's imperfections on social media has become shocking, and that's something Louise is trying to change.
We admire Louise for giving us a little reminder that everyone, even someone who seems flawless, is human.