Why Sia's age is hugely important in the music industry
Sia scored her first No. 1 hit on Billboard's Hot 100 with the new song, "Cheap Thrills." Finally!! It's hard to believe this is her only song to reach No. 1 so far, considering how iconic the Australian singer's artistic music and videos have become in recent pop culture history.
https://www.youtube.com/watch?v=nYh-n7EOtMA?feature=oembed
But success of the Caribbean tune — featuring Sean Paul and originally written for Rihanna — is not just a personal achievement for Sia, but a larger win for many women in the music industry.
Sia is the first woman over 40 years old to get a No. 1 hit in 16 years.
Sia, born in December 1975, is almost 41 years old. The last woman older than 40 to reach Billboard's top spot was Madonna, whose 2000 hit, "Music," went No. 1 when she was 42. The last time we even got close to a woman 40 years old or above scoring a No. 1 song was in 2008, when Mariah Carey's "Touch My Body" nagged the sought-after spot when she was 38.
https://www.youtube.com/watch?v=9b8erWuBA44?feature=oembed
It is certainly challenging for anybody of any gender to have a No. 1 song under their belt. And yes, men in the music industry can lose some of their star power when they age, too — but it's clear that they don't face the same career roadblocks as women. Just take a look at the men in their 40s (or older) to reach the spot that no woman in her 40s has been able to attain in 16 years.
Mark Ronson, Jay Z, Pharrell, and Santana (who actually scored some No. 1 songs in his 50s) are just a few of the older men to get to No. 1.
It is no secret that women are cruelly tossed aside by the entertainment industry when they can no longer be labeled as a young ingenue or as "attractive" by the straight male gaze.
It's worth considering, then, how Sia's rejection of the press, her use of other actors in her music videos, and her tendency to obstruct her appearance with grand wigs and costumes may have played a role in her ability to break through ageism against women.
Honestly, because she obscures her appearance and maintains a private persona, a lot of people probably didn't even realize Sia's age until this accomplishment became news.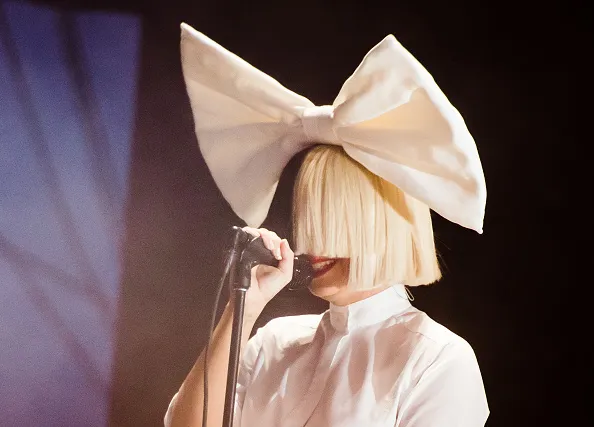 In a rare interview, Sia herself stated that she intentionally performs in those wigs and costumes to ensure that she is not judged on her physical appearance by our obsessive celebrity media and consumer culture.
Regardless of how a woman performs, her age should never be a factor in deciding if she is worthy of creating art. Women everywhere should celebrate Sia for proving that grown women can be and deserve to be successful in the face of a discriminatory culture. Now go listen to "Cheap Thrills" and hope that you will be as amazing when you're in your 40s.