Kristen Bell and Dax Shepard celebrate the holidays in Sia's retro "Santa's Coming For Us" video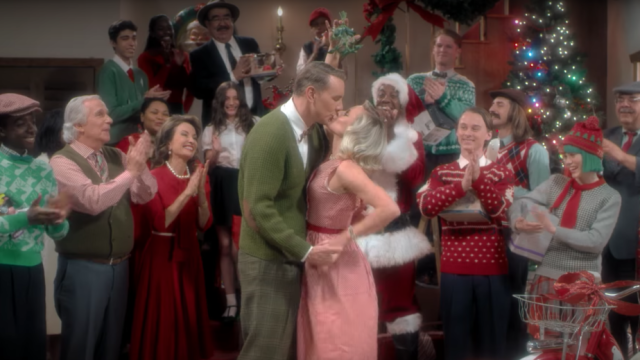 Sia just released the first music video from her new Christmas album, Everyday is Christmas. As if a Sia Christmas album isn't exciting enough, the video for the artist's "Santa's Coming For Us" stars Kristen Bell, Dax Shepherd, Maddie Ziegler, Caleb McLaughlin (aka Lucas from Stranger Things), and many more! Even better, the video is cute and kooky, and almost plays out like a '50s Christmas card — that's how perfect it all is.
Bell floats around the holiday scene, taking phone calls, feeding the adorable dog, and putting the finishing touches on everything. Can she come to our holiday parties? Or, can we get an invite to hers and Dax's?! (We'll babysit! We don't mind.)
The video starts off in black and white, but quickly switches over to the best, brightest Christmas colors. It's totally magical.
And the range of celebrities is amazing. Like, hi Henry Winkler (Happy Days) and Susan Lucci (Days of Our Lives)!
Oh, and hello Sophia Lillis and Wyatt Oleff from It, and comedian J.B. Smoove! It wouldn't be a Sia video without surprises, right?
The video is also just a teeny, tiny bit creepy, which is also extremely Sia. Bell seems almost too serene, if that can be a thing. And now that we're really watching it, it's lit kinda brightly. But we love it, ALL of it.
Honestly, leave it to Sia to make the perfectly lovely, perfectly quirky Christmas music video.