This 13-year-old overcame her social anxiety and blew the judges away with this epic America's Got Talent performance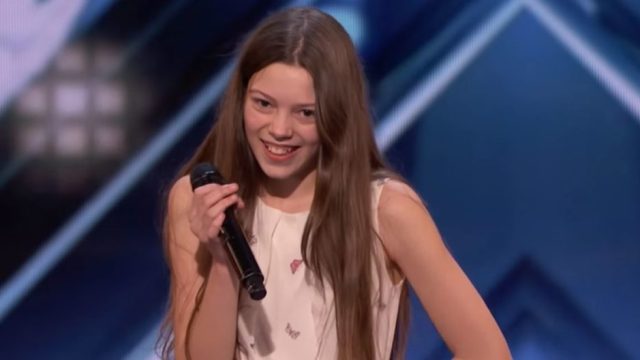 Anxiety in social situations is something countless people struggle with — and it can take a ton of (often really hard) work to get past it. Which is why we're completely blown away by 13-year-old singer Courtney Hadwin. On the June 12th episode of America's Got Talent, the teen shocked the judges with her larger-than-life singing voice…especially after she initially seemed so hesitant to perform.
According to ETonline, Courtney's father said that prior to her audition, Courtney struggled to make friends because she's so shy, and that she uses singing to ease her anxiety. Courtney was incredibly nervous when she took the stage, but she didn't let that stop her from crushing Otis Redding's "Hard to Handle." As soon as she opened her mouth, the bashful 13-year-old was transformed into a fearless performer, leaving the stage to a standing ovation.
The young singer even won praise from the infamously ruthless Simon Cowell, who compared her onstage persona to a "lion."
"Bloody hell, Courtney," Cowell said, clearly blown away. "You're like this shy little thing when you first came out. And then you sing, and you're like a lion. I mean, genuinely, incredible."
See Courtney slay for yourself.
https://www.youtube.com/watch?v=gPHVLxm8U-0?feature=oembed
Howie Mandel was especially impressed with her vocal transformation, noting that she seemed like she was "from a whole different era" before likening her to a young, undiscovered Janis Joplin (he even said he wished he could sign her to a record label right then and there).
"The only thing I can do for you, young lady, is give you...my golden buzzer!" Mandel declared, ensuring Courtney would go straight to the quarterfinals.
Courtney, for her part, was speechless. She tearfully hugged Mandel and later thanked him on Twitter.
The teen, who hails from Hartlepool, England, was also a finalist on The Voice Kids U.K., and she's definitely going places. We also have a feeling her performance will inspire so many others to overcome their fears and do the seemingly impossible.