I Strawberry-Tinted My Light Brown Hair With These Innovative Dye Drops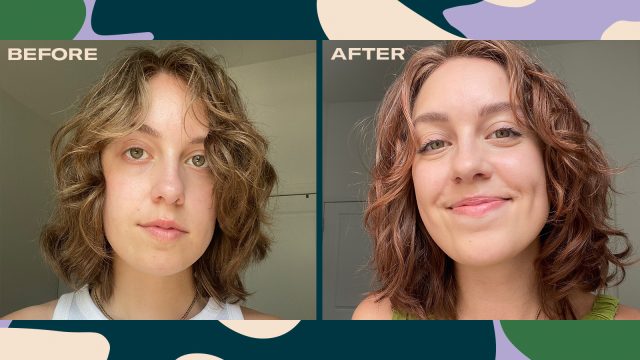 Welcome to Game-Changers, a weekly series in which we reveal the holy grail beauty products we're loving now—the ones that saved our hair, cleared our skin, and, in some way, changed our lives.
It's been over five years since I had bleached blonde hair, and I'd be lying if I said I didn't miss how effortlessly cool I felt with a platinum bob. More than that, though, I miss how having light hair made it possible to dye my hair whatever color I wanted. Since going back to my natural light brown shade, the opportunities to try new hair colors without using bleach are significantly reduced—but not impossible.
Listen up fellow non-blondes: I've found products that make semi-permanently dying your hair fun colors possible. The Moroccanoil Color Depositing Hair Masks helped me dye my hair Lady Bird-inspired pink, and the oVertone ginger coloring conditioner made me look like Julia Roberts in Pretty Woman (I mean, partially). My recent favorite hair dye product, however, is Shrine's Semi-Permanent Hair Dye Drops, which recently gave my hair a sweet strawberry tint.
The multi-use hair dye drops are the first of their kind on the market. For starters, each bottle contains 200 drops of color, which can be used to color your hair up to 30 times. Since they're less than $25, they're more cost-efficient than the cheapest drugstore box dyes. Plus, they're less wasteful too, with zero single-use plastic in any of its packagings. The streamlined coloring process is also easy to love—all you have to do is add the drops to your favorite conditioner, apply the mix to your hair for 10 minutes, then rinse it out. It's that simple.
Shrine Drop It Hair Dye - Red
$21
Shop it
ASOS
The number of drops you add to the conditioner depends on your starting hair color and desired result. Obviously, platinum blondes will have the most dye opportunities because of their base color, and they're able to use as little as four drops of dye for a pastel look. However, the Shrine hair dye drops can also be used to tone and tint darker hair colors. Rejoice!
To get my strawberry-brown shade, I followed one of the brand's Instagram tutorials and used 30 drops of the red dye. Since the product comes with a reusable silicone bowl and spoon, it was super easy to mix and apply. While the instructions say that you only need 10 minutes for coloring, I left the semi-permanent dye on for about 20. When my hair was all rinsed and dried, it felt super soft and looked rich, vibrant, and healthy.
I loved my experience so much that I told my friends to try the hair dye drops, too. My roommate, who has brown hair with balayage, used the pink treatment on her blonde strands and came out looking like a pop-punk goddess. It looked bomb, and her color lasted about three weeks before fading completely. Another friend, who has bleached blonde tips on their dark brunette hair, let me test out the aqua blue shade on them. Not only did it look great, but it also lasted them nearly a month before fading.
Though I've only had my color in for about a week and a half now, the brand says the color lasts anywhere from three to 30 washes, depending on how much dye you use. The best part, though, is that no matter how long it lasts, I have plenty of product left to keep freshening up my color as long as I want.
Shop more of Shrine's fun and customizable shades below: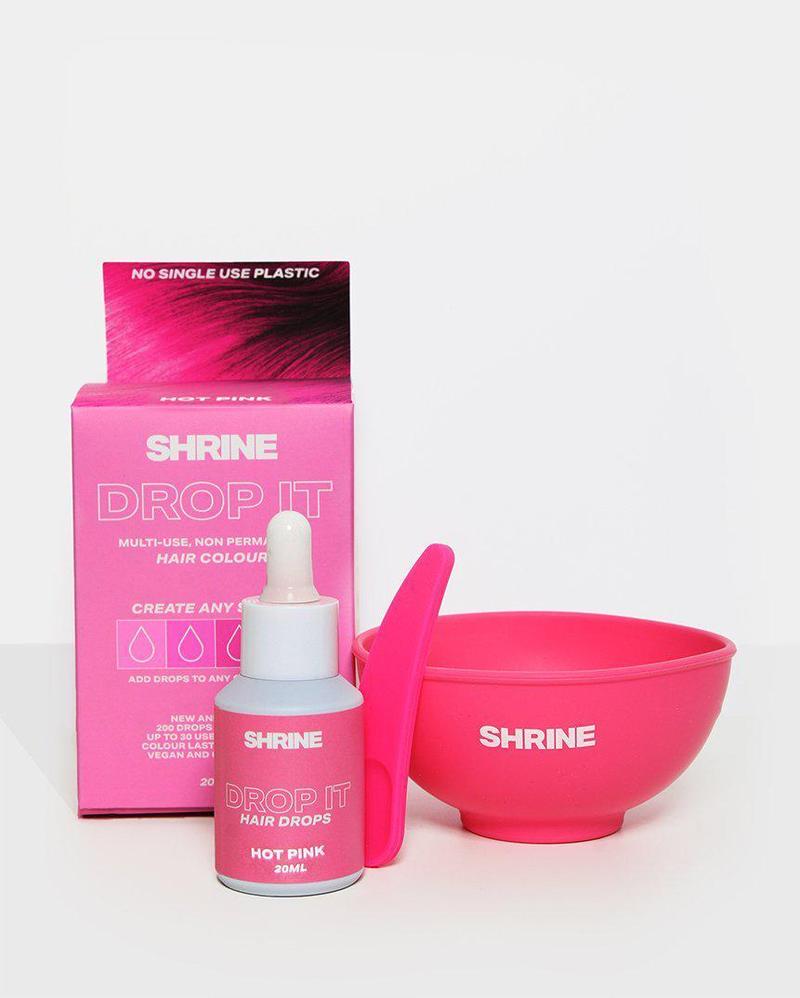 Shrine Drop It Hair Dye - Hot Pink
$21
Shop it
ASOS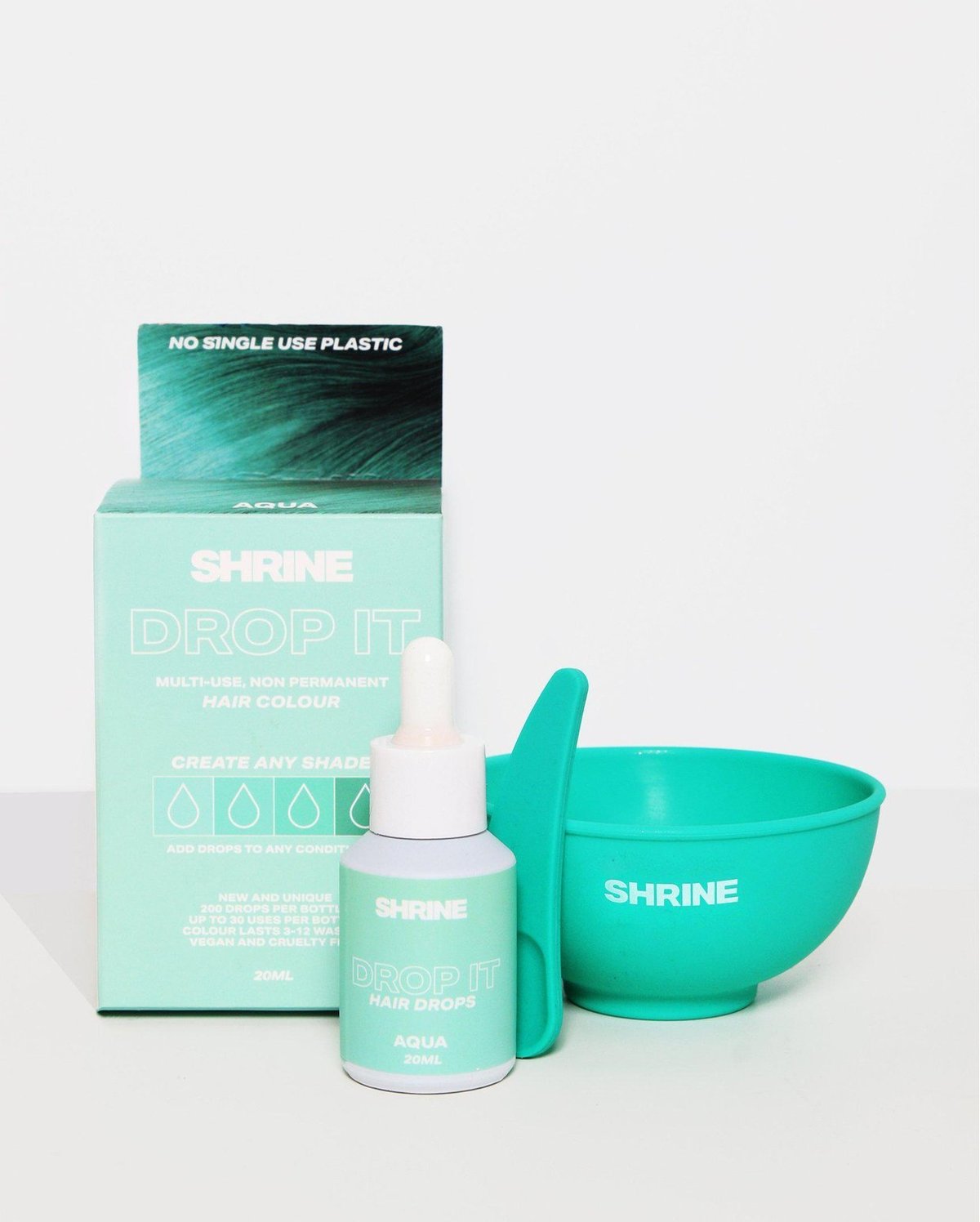 Shrine Drop It Hair Dye - Aqua
$21
Shop it
ASOS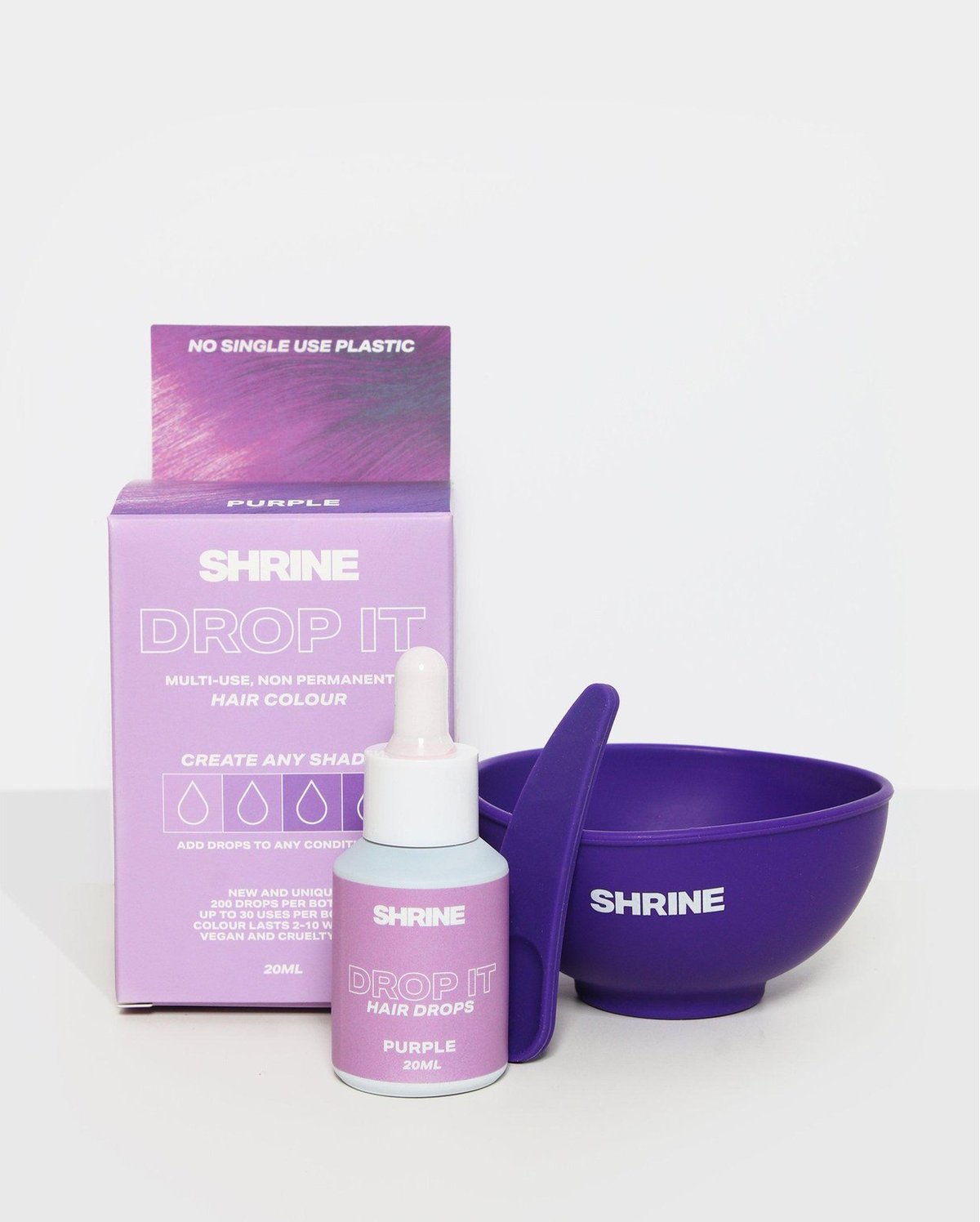 Shrine Drop It Hair Dye - Purple
$21
Shop it
ASOS
Whether you're blonde and want to add some fun color or have darker hair and want to add an extra dimension, I highly recommend playing around with these innovative hair dye drops. They're so much fun.