Shrill reminds us that fat women aren't punchlines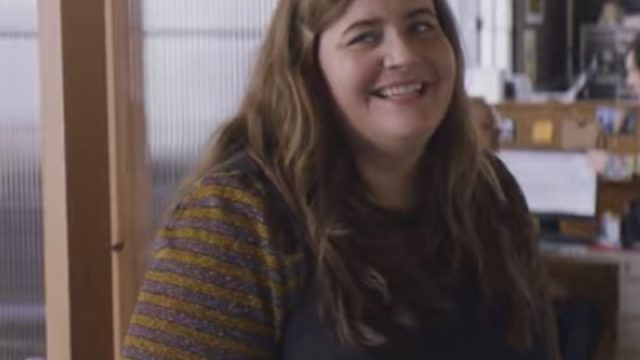 The very first scene in Hulu's new series, Shrill, based on Lindy West's memoir of the same name, shows something I have never seen on television before: A fat woman walking around in her underwear while she tries on different outfits. There are no artfully angled shots or close-ups that only reveal the main character's face. I saw a girl, her body, and the mundane morning struggle we all endure when looking for the right pair of pants.
Actress and Saturday Night Live comedian Aidy Bryant portrays Annie, an aspiring journalist trying to juggle ambitions, awkward romance, and the overwhelming task of discovering who you are in your twenties, all while showing us what inclusive and thoughtful television can be like. Let me tell you, it's amazing.
https://www.youtube.com/watch?v=JyUr_-jxWZA
Annie has reached a point where she is sick of being a quiet, shy pushover in every aspect of her life. Plenty of women have been there, and like West's book suggests, it's time for some notes from a loud woman.
Annie is a breath of fresh air compared to the tired television trope of women who are fat due to deep-rooted emotional trauma.
Shrill doesn't feature a flashback scene of an "improved" skinny woman reflecting on her fat days. Annie doesn't obsess over hurtful slurs or the first cheeseburger that pushed her over the edge into fatness, but instead starts to call out people on their behavior and the societal expectations that made them behave that way: "It's a fucking mind prison, you know, that every fucking woman everywhere has been programmed to believe."
It's not that the show is unrealistic about our experiences as plus-size women—there were plenty of moments when I found myself rolling my eyes at the subtle insults and horrible remarks disguised as helpfulness endured by Annie and plenty of fat women daily. But the humor with which she handles it is what makes Shrill so special.
When a thin fitness coach approaches Annie and sincerely tells her, "There is a small person inside of you just dying to get out, Annie responds, "Well, I hope that small person is okay in there!
She also faces this treatment at work when her health-obsessed (read: thin) boss, played by John Cameron Mitchell, refers to her as a "millennial dumpling" and writes about the obesity epidemic in America.
Annie isn't the token fat character in a sea of thin, white people either. There are a number of people in her life with different body types, skin tones, and sexual orientations. From Annie's equally hilarious best friend and roommate Fran, played by Lolly Adefope who helps her navigate these new, confident waters, to her work husband Amadi, it is clear that she has people supporting her.
In one of the most heartwarming depictions of body-acceptance I've ever seen on screen, Annie goes to a "body-acceptance pool party" because she wants to write about the event. There are women of all sizes lounging, dancing, floating, and enjoying each other's company, and it doesn't take long for Annie to embrace the positive feeling and jump into the pool.
This episode, titled "Pool" and written by author Samantha Irby, handles the important journey to self-love with nuance, soft colors, and a swimming scene featuring very real arm and leg jiggle.
From Annie's quips to the thoughtful way she addresses the stigmatization of fat women, it is clear that Shrill is not aiming to be a weight-loss narrative. Instead, it feels like any other 30-minute comedy—which one could take as both praise and critique. Annie idolizes her editor and boss even though he's harsh and, at times, cruel to her. She frequently falls into the arms and bed of her sloppy sex buddy, only to sneak out the back door when he doesn't want her to meet his friends. But even if Annie's life is at times a mess of comedy cliches, there is a fat woman making the jokes instead of being the jokes. That alone makes Shrill noteworthy.
For me, much of the show's greatness lies in the portrayal of its characters. The events are everyday and mundane (minus some internet trolls and a dog possibly getting into a bag of shrooms), but everyone is real, complex, and just a little bit weird—especially Annie. Free from all the tropes and cliches of a fat woman, she is a messy and dynamic character. She is prone to recklessness, outbursts, and an occasional selfish streak that more than one of her friends calls her out on.
We see Annie struggle with her self-worth in a relationship, in her career, and in her body. We see her fight with her parents and argue with her boss. In short, she is given the same complexities and occasionally questionable behavior of all the best characters on all the best shows. The key to Shrill's power as a series—and perhaps some of the saddest proof of how a fat woman character is typically portrayed—is that, finally, she's treated like a human being.