13 television shows you can binge, start to finish, over a weekend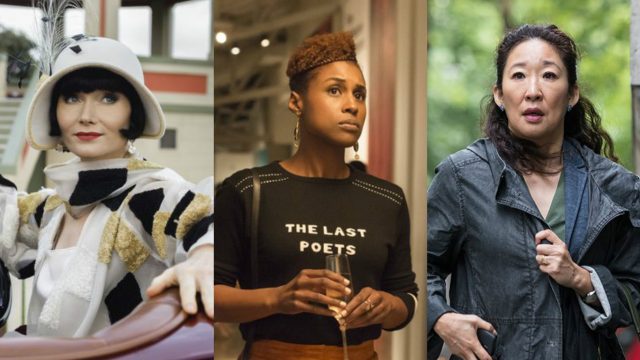 Friends are awesome. But do you know what's even better than spending a weekend out brunching with a massive group of people? Spending an entire weekend ordering takeout and watching an entire TV series from beginning to end of its latest season. Maybe two.
We're currently living in an era where new content is turning up at faster than our brains can process it. For every headline-stealing, award-winning series like Game of Thrones and Veep — both of which, admittedly, I watch addictively — there's a litany of other captivating shows worthy of our attention. And luckily, sometimes all it takes is one weekend to play catch-up.
Below is a smattering of currently-running television series — with one exception — that can be streamed in their entirety over the course of a single weekend. Because you don't need another person to tell you to watch Westworld, Handmaid's Tale, or Stranger Things, instead here are titles across various streaming platforms that may not have made it on your radar…yet.
Killing Eve
Two words: Sandra. Oh. One of the most addictive tropes on television is a murky cat and mouse game between law enforcement and a ruthless killer. But not all of them star the Grey's Anatomy alum, who joins Jodie Comer in this BBC America drama, adapted from a set of novellas by Phoebe Waller-Bridge. The series has already been picked up for a second season, is everyone's new obsession, and is sure to be nominated for a host of Emmys, so catch up now while you're already behind! Find it on BBC America.
Total Damage: Without commercial breaks, just under six hours.
The Marvelous Mrs. Maisel
It's the Amy Sherman-Palladino show that's taking over the nation, sorry Gilmore Girls. Rachel Brosnahan stars as Midge Maisel, a '50s housewife who stumbles into stand-up comedy after her picture-perfect marriage and Upper West Side life fall apart. If that's not enough for you, consider this: Tony Shalhoub. The actor plays Midge's father in the series and while it goes without saying, he is perfect.  Having already picked up two Golden Globes and another likely Emmy contender, the Amazon series has already been picked up for seasons two and three. Find it on Amazon.
Total Damage: Just about seven-and-a-half hours.
Barry
A contract killer who decides to become an actor after taking an acting class while on a job sounds either incredibly funny or really dark. Fortunately, this shoe does both — in a major way. Co-created by and starring Bill Hader, you'll probably never be able to look at the Saturday Night Live star in the same goofy way ever again. And as always, Henry Winkler is a revelation. Find it on HBO.
Total Damage: Just over four hours.
Dear White People
Based on the 2014 film of the same name — elaborating on the stories and characters introduced in the film — the series follows a group of black students at a Winchester University, a fictional, Harvard-esque Ivy League liberal arts college. Opening on the aftermath of a blackface party held on campus, the series is a biting, funny, complex, and emotional look at the experiences of students of color on Winchester's self-proclaimed "post-racial" campus. Featuring a dynamic ensemble, led by Logan Browning, the series was just picked up for a third season. Find it on Netflix.
Total Damage: About 10 hours.
Peaky Blinders
So, why do you want to watch a dark and often violent series about a crime family in post-WWI Birmingham, England? For starters, Cillian Murphy. The series follows the rise of the Shelby family as they make their way up the criminal ladder — and occasionally their legitimate businesses. Murphy is both enchanting and terrifying as Tommy Shelby, middle brother and leader of the Peaky Blinders. But while Tommy is the leader of the bunch, the entire Shelby clan is ruthless, unpredictable, and packing a often-surprising amount emotional weight. If that's not already enough, Tom Hardy is bonkers (in the best way possible) as a fellow gangster and top frenemy. As my cousin Jack so succinctly put it, Peaky Blinders is "completely badass." Find it on Netflix.
Total Damage: About 23 hours. You can do it.
Fleabag
Am I including two Phoebe Waller-Bridge shows on this list? In a big way! Also starring Waller-Bridge, this dry and darkly funny series follows Fleabag, a boisterous cafe owner in London attempting to live her best life while grieving the loss of her best friend. I kid you not, this series contains one of the most bizarrely funny sequences I've seen on TV in a very long time. Plus, future Queen Olivia Colman appears as Fleabag's bizarre and mostly terrible Godmother. Find it on Amazon.
Total Damage: About two-and-a-half hours.
Younger
The series follows Liza (Sutton Foster), a 40-year-old divorcée who, after struggling to land a job due to her age, finds herself working in publishing while passing herself off as a 26-year-old. The fake millennial must now rebuild her life around this lie — and *maybe* find love — in the hopes that it doesn't all come crashing down around her. This is the best show you didn't even know you needed and it turns out, it was on TV Land all along. Even better, Hilary Duff is also in this!! Find the first four seasons on Hulu.
Total Damage: Just under 18 hours.
Jessica Jones
Krysten Ritter is forever underrated. That being said, she's unsurprisingly amazing as the titular Jessica Jones, the former superhero-turned-private detective suffering from PTSD caused by Killgrave, a man with mind-control abilities who once held her captive in an abusive relationship. From my Jessica Jones-obsessed sister, "It's incredibly satisfying to see a unapologetically flawed woman kick ass smashing the patriarchy and her demons." The series, which is full of complex supporting female characters, is the undoubtedly the strongest of Marvel's Netflix universe and we cannot wait for Season 3. Find it on Netflix.
Total Damage: A little over 22 hours.
Schitt's Creek
The sitcom about a ridiculous, wealthy family who loses everything — except for the small town they once bought as a joke — resembles another particular sitcom on face value, but beneath the surface, they diverge in a *big* way. The series reunites Eugene Levy and Catherine O'Hara, former SCTV alums and frequent Christopher Guest collaborators, and is co-created by Levy and his son Dan. The Canadian series, which has gotten better every season, is still a bit niche in the States — likely because its U.S. home is on Pop — but has started to gain traction on Netflix, where Seasons 1 – 3 are currently streaming, with recently released Season 4 hopefully being added soon. Oh, and yes you pronounce it like "shit." Find it on Netflix and Pop.
Total Damage: Watching only what's available on Netflix will come in at just under 13 hours. Factor in the Pop episodes and you're looking at just over 18 hours of TV.
Lovesick
The sitcom formerly known as Scrotal Recall — changed by Netflix after acquiring it from UK's Channel 4 — the series begins on the premise of a British twenty-something who, upon being diagnosed with Chlamydia, revisits all his former lovers to caution them of his diagnosis. In revisiting his many failed romantic endeavors, the series also devolves into a deeply funny series about a group of friends in Glasgow trying to sort out their lives. Find it on Netflix.
Total Damage: Just under nine-and-a-half hours.
Insecure
Created by and starring Issa Rae, the series is about the black female experience, following two best friends —Issa (Rae) and Molly (Yvonne Orji) — in their late twenties, navigating the messy, often awkward, and certainly hilariousness of their personal and professional lives. The series masterfully tackles everything from class and race to mundane aspects of everyday life in a way that's endlessly captivating. Rudely overlooked last year, the series will *hopefully* finally be rewarded Emmys nominations for Season 2. Watch Insecure on HBO.
Total Damage: Nine hours.
Catastrophe
Created by and starring Rob Delaney and Sharon Horgan, the series follows an Irish woman and American man who meet and have a week-long affair in London, before going their separate ways. But after Sharon gets pregnant as a result of their affair, Rob moves to London and the near-strangers attempt to make their relationship work. The series is hilariously dry, often dark, and features the late Carrie Fisher at her best. Find it on Amazon.
Total Damage: About seven-and-a-half hours.
Miss Fisher's Murder Mysteries
Phryne Fisher is the most glamorous private detective in the history of television — and certainly 1920s Melbourne. The Australian series follows the titular Miss Fisher, a socialite with a penchant for solving crimes, much to the chagrin  (but, of course, not really)  of Detective Inspector Jack Robinson. To quote Stefan, this show has everything: An incredible female lead, a hot but exasperated leading man, murder, a fantastic supporting cast, and incredible period costumes and music. The series is *likely* over after three seasons, all is not lost as a Miss Fisher movie is happening, reuniting Phryne, DI Jack, Dot and the rest of our favorite crime-fighting Aussies. Find it on Netflix.
Total Damage: Just over 30 hours. A real challenge but it can be done. Good luck.