Show the world your love for National Pizza Day with these pie-inspired nails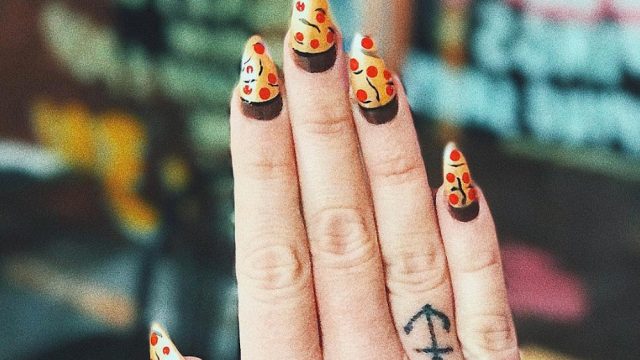 Pizza lovers rejoice, for National Pizza Day is here! Show the world your undying love for the 'za by wearing it on your fingers.
National Pizza Day falls on February 9th because there's a holiday for pretty much everything. We're not mad, though, as pizza brings joy to the lives of so many. And hey, if you don't get around to celebrating this month, National Pizza Month is in October.
These nail artists, "fashionizzas," and pizza lovers have cheese and toppings dripping from their fingertips. Whether your vibe is vegan, gluten-free, Chicago-style, street slice, or deep-dish with everything — you'll find a pizza nail to tickle your fancy. Check out some of our faves!
If you like your nail art a little understated (or have to keep things business casual for work), you might dig this simple accent nail.
These sexy coffin-shaped nails are dripping with detail!
Dig this cute all-over pattern on a short nail.
https://www.instagram.com/p/BKKXpDIgvi7
This lady gives pizza two thumbs up.
PIZZACHU.
Pointy nails make for excellent slices.
These 3D nails are out of this world! Don't forget the hot sauce and beer.
It's an IRL Teenage Mutant Ninja Turtle!
This indie nail polish brand has a polish that looks like cheese with pepperoni and spices in it.
The details on this slice are ridic.
We have positive feelings about these negative space nails.
Pink gives these painterly pizza nails an '80s edge.
https://www.instagram.com/p/BJBWz2xAA4D
This babe goes hard in the pizza. Pizza sweatshirt, pizza nails, pizza-pizza!
Is anyone else hungry right now???