Should you cancel your wedding due to coronavirus? Here's what you need to know about postponing your big day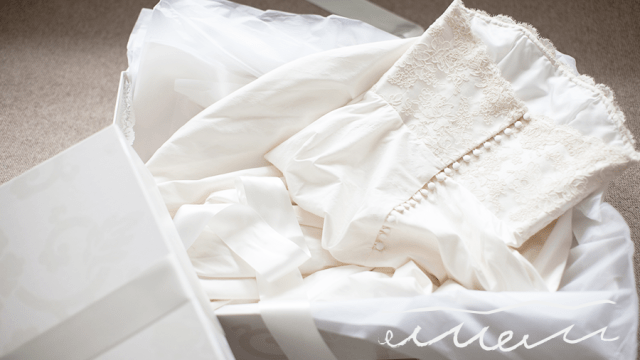 What was supposed to be the best day of many people's lives is quickly becoming the most stressful. Due to the spread of coronavirus (COVID-19), couples across the country (and the world, TBH) are having to cancel their weddings in an effort to do their part and help—as we've heard in countless news articles—to "flatten the curve." After months spent planning everything from the dress to the venue, couples with a wedding date in the next few months are having to deal with the fallout of cancellations and postponements.
Currently, we don't know if spring, summer, or fall weddings will be able to go on as planned, and there is no hard-and-fast cutoff date for when it will be safe to hold large gatherings again. Not to mention that, with all the time, effort, and money that goes into planning a dream wedding, making the decision to cancel or move it to a later date is more than difficult—it can be devastating.
That's why we tapped experts for their insight on when to cancel, how it may affect your plans, and what you can do to keep your wedding vision alive.
When will coronavirus be over?
According to Dr. Niket Sonpal, an N.Y.C.-based internist and gastroenterologist who is currently treating COVID-19 cases, no one really knows the answer to how long this virus will last. But, in all likelihood, some amount of mandatory social distancing, quarantining, and travel restrictions could remain in place for months to come.
"At this time, we do not know of a safe and effective vaccine, nor do we know if a safe and effective drug will work to eliminate the COVID-19 infection once it has occurred," Dr. Sonpal explains. "The meds currently being used are in the initial stages of being evaluated. In the absence of these, our best bet is based on prevention. Prevention, in this case, is social distancing."
Social distancing—as we've all experienced in the last few weeks—means hunkering down and limiting contact with other individuals as a way to reduce the spread of the virus. The federal government even went so far as to recommend that all people, including the young and healthy, avoid gathering in groups of more than 10 people in an effort to, you guessed it, flatten the curve.
Plainly speaking, limiting large gatherings limits the opportunities for transmission of the virus. Unfortunately, since weddings are often all-day affairs, with guest lists that can be pages and pages long, they far exceed the safety measures that national and local governments have put into place.
Because of this, Sonpal suggests that it would be safest for weddings scheduled between now and the fall to be postponed at this time.
What about wedding insurance?
Yes, this is a thing, and it's become more and more popular over the last couple of years. Wedding insurance policies are a subtype of special events insurance, and most are designed as liability policies. For example, you may use wedding insurance if someone is dancing too wildly and falls and breaks a leg, or if a candle falls over and does damage to the church, or—in some states—if a guest overindulges in alcohol and then gets into a car wreck when leaving the reception. In these instances, insurance helps prevent you from being liable for costs incurred by vendors or guests.
Typically, you should get wedding insurance (which you can buy through an insurance agency) as soon as you start writing checks to vendors. But if you're already in the midst of planning, it may not be too late. According to NerdWallet, some liability insurance policies can be purchased up until the day of the event; other times, venues require it for booking.
Many policies also include a cancellation option that could come into play if something happens beyond the couple's control (aka an external event) and the wedding can't take place.
"But be very careful before you assume anything is covered," Michael Giusti, senior writer for insuranceQuotes, tells HelloGiggles. "Couples need to read their policies carefully because while one policy may cover cancellations, others may just cover damage liability. When looking for wedding insurance, talk with your agent to make sure the thing that keeps you up at night will be covered."
According to WedSafe, a provider of wedding insurance, cancellation/postponement insurance can be purchased as early as two years before or as late as 15 days before your event.
Does that mean your wedding will be covered due to the coronavirus pandemic? It depends.
Giusti explains that, depending on the policy—and whether or not it was in place before this pandemic—if the policy included cancellations, it may come into play here. Just keep in mind that some policies do include a written exception that excludes epidemics.
"At this point, moving forward, couples should absolutely be pursuing wedding insurance given the size of investment the typical wedding represents," Giusti says. "However, most of the insurers I have spoken with in the last few weeks are so swamped they can't take calls, many are not writing new policies, and all new policies—if you are able to get one—will certainly have a specific exclusion for coronavirus, if not for all epidemics."
If you do have a wedding insurance policy in place, early communication is key to potentially being able to get some of your deposits back. Some policies require that you try to reschedule or relocate the event in order to get covered, so if you're planning on postponing, filing a claim as soon as possible would be your best bet. If you don't have wedding insurance, whether or not you'll be able to get some money back is at the discretion of the vendors and venues. We know, it's a bummer.
Do I have to sacrifice my dream wedding because I'm canceling?
Just because you might have to reschedule your late spring or early summer wedding due to coronavirus doesn't mean that all of your hard work and planning has to go out the window. Josh Spiegel, creative director for Brooklyn-based wedding and event company Birch Event Design, reassures us that while moving the season of your wedding might affect things like what kind of flowers are available (though faux flowers are always an option!) or whether you can have your ceremony outside versus inside, vendors and planners are being especially understanding at this time, and they want to work with you to make sure your vision still comes to life.
"The industry as a whole is coming together and being extremely positive and supportive," Spiegel says. "But being flexible is key, as clients, vendors, and venues are all needed to make comfortable compromises. My biggest piece of advice in navigating through all of this is to try to understand that everyone is going through this for the first time and we are all in this together."
He says that while some companies are insisting on a move fee for changing dates, other companies are able to move it without any issues. The main thing is communicating with your venue, vendors, and planners to make sure that you have all the facts and information necessary to move forward with pushing it to a later date. Of course, how much money you might lose and how much you might be able to get back depends on how flexible your vendors are.
We know it isn't easy. But, as Sonpal says, "If we do an amazing job at dropping the infection curve, then people will be able to walk down the aisle safely—and not just in sickness, but in actual health."