Should college Greek systems be disbanded for good? Some people think so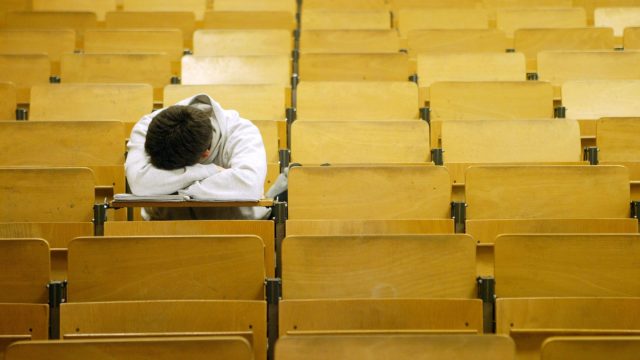 We already know fraternities make notoriously bad neighbors, but should college Greek systems be removed from the college experience permanently? Many seem to think so. Fraternities and sororities, or Greek letter organizations, are social groups at colleges and universities. The first fraternity in North America to incorporate most of the elements of today's fraternities was Phi Beta Kappa which was founded at the College of William and Mary in 1775. These days, fraternities and sororities are a standard on every college campus across the US, but a lot has changed since the beginning…and not necessarily for the better.
Today, when you think "college Greek system," you may immediately think about the many negative stereotypes associated with the organizations. Because the truth is, America's fraternities have a problem. It has become the norm to look away from issues in the past, even the ones that have lead to assault or death. Over 200 university hazing deaths have occurred since 1838, with 40 deaths from 2007 to 2017 alone, most of which were alcohol-related. Earlier this year, one story in particular touched many when it made headlines.
Heartbroken parents searched for answers and justice for their son, Tim Piazza.
In the early hours of February 3rd, Tim, a Beta Theta Pi pledge at Penn State University, buckled over in pain, clutching his head as he tried to stand up. He had been forced to drink a toxic amount of alcohol in an alleged hazing ritual known as "the gauntlet," according to reports. When he was able to find his footing, he then stumbled headfirst down a flight of stairs. Members of the fraternity picked up and carried his limp body to a couch, where they poured liquid on his face and slapped him in apparent attempts to wake him up.
Security-camera footage later showed Piazza repeatedly falling and hitting his head, and then lying on the ground alone, holding his stomach. By the time members of the frat finally sought medical help, according to the Centre County, Pennsylvania, grand jury findings, Piazza had suffered traumatic injuries to his brain and spleen. He died the next morning.
This isn't an isolated incident either. In 2014, 19-year-old pledge Tucker Hipps died after falling from a bridge during a pre-dawn run with Clemson University's Sigma Phi Epsilon fraternity, according to a wrongful-death lawsuit filed by his parents. They say he was a victim of hazing, an allegation the fraternity denied before settling the lawsuit this year. Eighteen-year-old Ryan Abele died in 2016 after falling down a flight of stairs when he was ordered to clean the basement of the Sigma Nu fraternity house at the University of Nevada, Reno, while "highly intoxicated," according to a lawsuit filed by his parents; the national fraternity later revoked the chapter's charter for alcohol and hazing violations. And in mid-September, Maxwell Gruver, an 18-year-old Phi Delta Theta pledge, died in what police are investigating as a possible fraternity hazing incident at Louisiana State University.
"[Students are] still dying and still getting sexually assaulted and still getting traumatically injured—and for reasons the fraternity industry could control but chooses not to, says Doug Fierberg, a lawyer who has represented dozens of families in wrongful death and injury lawsuits against fraternities.
Still, membership is surging. Participation is up. There has been a 50 percent increase in membership over last decade according to the North-American Interfraternity Conference. John Hechinger, a senior editor at Bloomberg News and the author of a new book, True Gentlemen: The Broken Pledge of America's Fraternities, described this time of year, when freshmen arrive at college campuses, as "a peak death season."
"They rush to decide what fraternity they'll be in, and then they pledge, he said, referring to the scene at fraternity and sorority houses across the country. "We're in that time when people are heading into the basement.
While several college admins have implemented bans on Greek life parties and activities after incidents were reported, it is still highly unlikely that any would move to permanently ban fraternities outright, experts say.
After Tim Piazza's death, Penn State University implemented new regulations for its Greek life and suspended some fraternities. NBC reports that prosecutors filed charges in the case last week against 17 people linked to the fraternity. A school spokeswoman said the university president would meet with his counterparts at other colleges in the Big 10 conference next year to discuss potential solutions.
It's clear the need for that dialogue is of the utmost importance based on recent events.
Just last year, UC Berkeley voluntarily suspended Greek life activities. In the last two months, Florida State University, Louisiana State University, and Texas State University all suspended Greek life activities as well, after each had a fraternity pledge die. LSU later allowed Greek life activities to resume. And this month, the University of Michigan's student-run Interfraternity Council suspended all Greek life social activities in the wake of allegations of sexual misconduct, hazing, and drug use, and Ohio State University suspended most of its fraternities Thursday amid a wave of investigations into member misconduct.
"That's a lot of schools to be shutting down Greek life all together at one time," said Hank Nuwer, a journalism professor at Franklin College in Indiana who has been researching hazing deaths since the 1970s.
Nuwer said that in the past, these Animal House kinds of incidents were often dismissed as a "boys will be boys" mentality, which is always a mentality that leads to awful sh*t.
"There was such defensiveness, and the big words being used were these were 'unfortunate accidents' and 'isolated incidents,'" said Nuwer, whose book, Hazing: Destroying Young Lives, is due out early next year. "That can't happen now because there's careful attention to minute-by-minute accounts."
Social media has played a huge role in propelling these incidents. "If you go back 20 years, a death in a fraternity might not become national news so quickly," Hechinger said.
But despite this, Hechinger said, "The bottom line is, most college fraternities are so central that they're here to stay," adding that the question is whether they will be properly regulated, not whether they will be banned.
A complete ban of Greek life could force frats to go underground where there will be absolutely no way to monitor their activities, which would be even more dangerous in the long run.
All is not lost, however: Experts say there are other methods of schools can take to reduce hazing and protect against alcohol-related deaths, such as banning alcohol and eliminating pledging (which Hechinger says "is just a polite way of saying hazing").
There is also a bit of light at the end of the proverbial tunnel: Nuwer revealed that, through his research, he has noticed a number of positive trends emerging. "There's a new wave of executives, but many are younger, and they've grown up through hazing education," Nuwer said. "They're more aware of dangers and less likely to cover up."
Fixing the issues present will be a slow process, but we're heartened that it is being addressed. Hopefully, there will be a significant decrease in these incidents across college campuses.