WANT/NEED: This t-shirt wants to know if you're in a fight, plus other stuff you'll actually want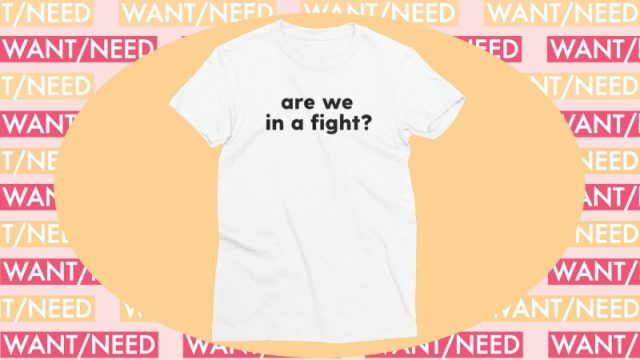 Welcome to Want/Need, a daily roundup of the things HelloGiggles' Editorial Director and Deputy Editor are madly in love with, and what we — you guessed it — WANT/NEED. Our recommendations will include (but are not limited to) the perfect sandal, mom jeans you should totally wear to the office, pretty water bottles, and lipsticks that will make you feel unstoppable. Check back every day for new picks and deals!
Mother Denim Crop Fray Jeans, $228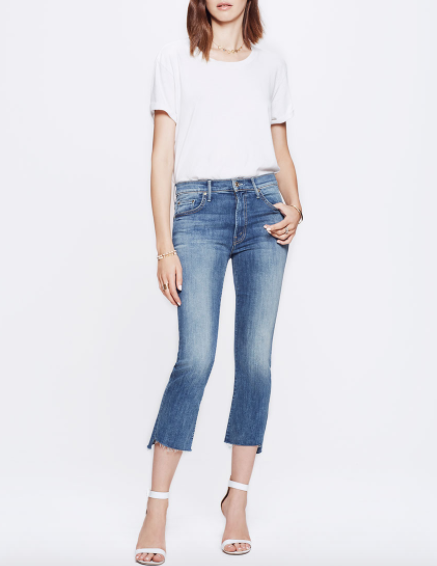 Video Producer Christina Wolfgram inspired me today. She's wearing blue jeans with raw hems, and they fit her perfectly. They're slightly "capri" style, which feels simultaneously fresh and also nostalgia-inducing (who didn't have a pair of bright capris in 6th grade?). These are similar jeans you can buy from Mother.
Fig + Yarrow French Green Clay Mask, $23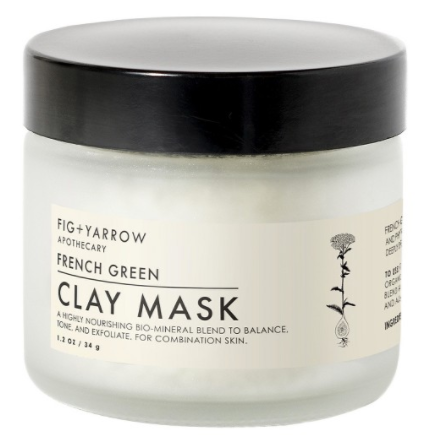 Slap "French" on the label, and I will spend all my money on it. Enter this French clay mask by Fig + Yarrow, sold at Target. You mix it up with either water or raw honey (I added both last night), play potions master, and apply the green goodness all over your face. And it does work. After washing off the mask with warm water, my skin felt cleaner and clearer and felt super soft.
Unrequited L.A. Probably Tee, $29.95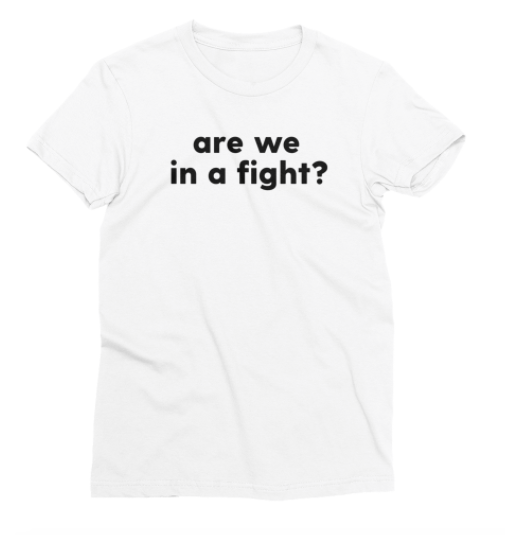 This new shirt company is my new favorite thing. It prints snappy, so-L.A. phrases and photos on t-shirts that will make your snort. I already bought three.
Jelly Sandals, $12.90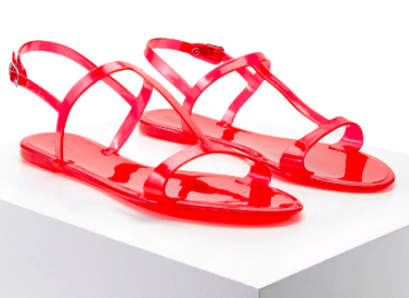 I always wanted a pair of jelly sandals as a little kid, and these red ones from Forever 21 are like the high-fashion, adult version. They also kind of make me have a craving for Fruit by the Foot. Clearly I'm having a '90s nostalgia moment.
Sea Sleeveless Top, $199 (was $295)
I'm a sucker for eyelet and ruffles, and this cobalt blue top from fashion label Sea is fancy enough to wear to a summer dinner party but also casual enough for a Sunday walk in the park. And it's on sale right now! Still a splurge, but a discount is a discount. And it's a deep discount!
Caudalie Instant Foam Cleanser, $28
It's hard for me to find a cleanser that checks all the boxes: soap-free, won't strip my skin, but still leaves me squeaky clean. Bonus points if it smells heavenly. This cleanser has everything in spades, and the scent makes me feel like I'm on a fancy lounge chair in a garden with cucumbers on my eyes.
*While every product on Want/Need is hand-selected by HelloGiggles editors, HG may earn affiliate commission on some products.