Anthropologie is essentially becoming a department store, let us rejoice!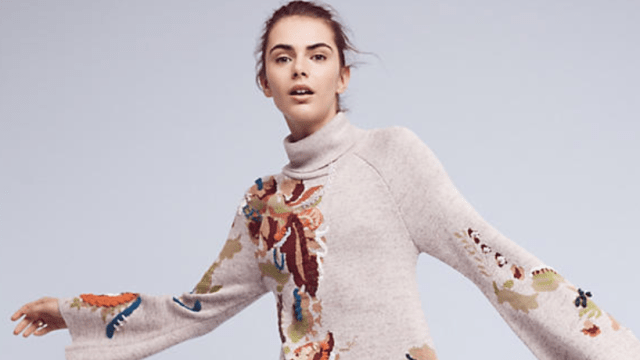 Rejoice! Our favorite retail wonderland expands!!
Anthropologie is getting bigger, much, much bigger, moving into larger spaces and offering more home and beauty, in addition to its already to-die-for apparel.
Anthropologie has recently reopened its Portland, OR and Newport Beach, CA locations with more than two and a half times the floor space of a standard store.
The megashops include full-scale rooms of furniture and decor (we might just move in) as well as beauty, intimates and shoe shops-within-shop.
The Urban Outfitters-owned retailer also recently opened a concept store in Walnut Creek, Calif. called Anthropologie & Co., that included a shoe salon (ooh fancy) and a "design center" featuring the store's wallpaper selection and fabric swatches for furniture.
We could turn our whole world into an Anthropologie! Floral and coral prints, lace and bows and pretty doorknobs everywhere!! The Business of Fashion nails the experience that is shopping in an Anthropologie:
"Walking into an Anthropologie store is a sensory experience, incomparable in its visual richness and tactile quality to that of most other retailers."
Four more locations will be renovated in the coming year, in King of Prussia, PA; Palo Alto, CA; Walnut Creek, CA; and Westport, CT. According to Fashionista, these new format stores might also include Anthropologie's wedding and outdoor living brands, the petite collection and/or some kind of dining option.
We love the idea of sitting down to some afternoon tea and biscuits or a craft cocktail in an Anthropologie. How refined!
https://www.youtube.com/watch?v=uhH9ewIEbnU?feature=oembed
So will Anthropologie be able to succeed in the superstore business? Given how we dream of immersing ourselves in the brand's love-of-all-things-pretty aesthetic every time we step inside one of its stores, we're pretty certain we might be able to keep the new business model afloat entirely by ourselves.