Just like we guessed, you can shop the famous Farsáli Unicorn Essence oil at Sephora
Chances are that if you've watched just about any beauty vlogs these past few months, then you've noticed that all the vloggers are OBSESSED with Farsàli's Unicorn Essence oil. This lovely serum is a total must-have, and luckily for us, we can now snag it at Sephora. Please excuse us, we're running out the door! Wait, come back, sit down. It obviously sold out immediately. Darn it! But we have a feeling it'll be back sooner than we think!
This water-based serum became a cult fave overnight thanks to its insane powers, it really does make you look like you've rubbed essence aux unicorn all over your skin! The secret is that it's loaded with four superfruit extracts that are chock-full of antioxidants that are known for their anti-aging properties and vitamin C, which helps you get that perfectly beautiful skin tone. And since it's water-based as opposed to oil-based, your skin easily soaks up the goodness and stays hydrated without leaving an oily residue.
Not only does it prep your skin for a smooth and even makeup application, it also fights damaging free radicals!
Farsali's Unicorn Essence Oil is now available at Sephora for $54.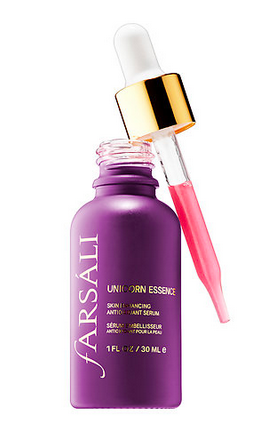 We'll take it!
As if the possibility of it coming back isn't enough, you can tide yourself over by grabbing Farsàli's Rose Gold Elixir at Sephora, because it just seems like it would be cruel to separate these two lovelies from each other! Might as well keep busy while we wait!
https://www.instagram.com/p/BP3GrxShUMy
Simply divine!
https://www.instagram.com/p/BQqnJJwhD_c
Head on over to Sephora and either pick up the Rose Gold Elixir to keep you busy or keep those eyes peeled for when the Unicorn Essence is restocked. Fingers crossed it comes true because we all deserve glowing, beautiful skin, wouldn't you agree?