Shonda Rhimes is working on EIGHT new series for Netflix — and they all champion women, both on screen and off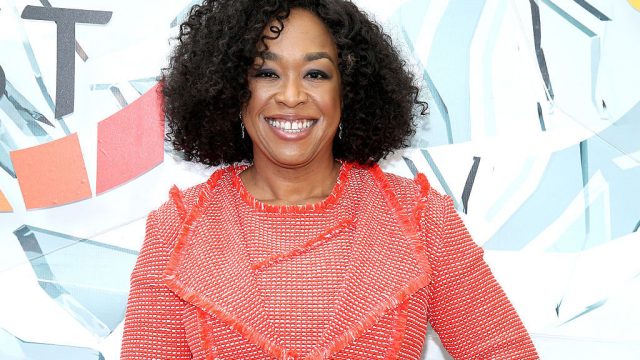 Last summer, the news that Shonda Rhimes was leaving ABC, home of Shondaland for the past 12 years, shocked television lovers across the globe. But the blow was quickly eased by the news that the powerhouse showrunner/producer would find a new home with Netflix. Now, we know that Rhimes is working on EIGHT new series for Netflix, which is even more Shondaland shows than ABC ever had on Thursday nights.
The best part is that like Scandal and How to Get Away with Murder, the upcoming Netflix shows put women both in front of and behind the camera. Rhimes' upcoming Netflix series sound even better than her ABC series, if that's even possible. Then again, we wouldn't expect anything else from Ms. Rhimes.
With the help of her collaborator, Betsy Beers, Rhimes will bring all of these shows to the streaming giant in the near future. Here's a look at the eight — yes, EIGHT — new series that Rhimes is working on for Shondaland 2.0, according to The Hollywood Reporter.
1Untitled Anna Delvey series
Rhimes herself will pen this series, which is based on the viral New York Magazine article "How Anna Delvey Tricked New York's Party People" by Jessica Pressler. The last time Rhimes wrote a pilot, as THR points out, was for Scandal in 2012.
2Untitled Bridgerton series
Rhimes' production company will also take on a series based on author Julia Quinn's series called The Bridgertons, which follows a high society family during the Regency era in England (the beginning of the 19th century). It's not your regular period drama, though, because Quinn's series uses a feminist lens in telling the Bridgerton family's romantic escapades, THR reports.
3The Warmth of Other Suns
This show is also based on a book, this time a nonfiction tome written by Isabel Wilkerson that won the Pulitzer Prize in 2010. It's about the Great Migration, during which a multitude of African-Americans moved away from the Jim Crow South to make lives for themselves in the North and the West. THR reports that playwright and actress Anna Deavere Smith will write and executive produce the upcoming show. Leave it to Rhimes to create both the show we deserve and desperately need.
4Pico & Sepulveda
This one is set in California back when California was Mexico during the 1840s. Well, until California became the U.S. in 1848 after the Mexican-U.S. War. We're sensing a theme here, and it's HISTORY, people. As THR reports, Emmy winner Janet Leahy will create and executive produce this one.
5Reset: My Fight for Inclusion and Lasting Change
Another show based on a nonfiction book, Reset tells the story that Silicon Valley "disrupter" (to use a tech term) Ellen Pao told in her memoir of the same name. If you ever wanted a feminist response to HBO's Silicon Valley, this would be it.
6The Residence
This one's yet another show based on a female-written nonfiction book, this time by Kate Anderson Brower. The book tells stories about the private lives of U.S. presidents and their families, as well as of the White House staff. This is the perfect show for everyone who desperately misses Scandal.
7Sunshine Scouts
Most people usually turn to Shondaland's Thursday night schedule for a good cry, but this half-hour show will be pure comedy. According to THR, the series will follow two snarky teenaged girls trapped together at the end of the world. It's being written and directed by Jill Alexander, so it's all around girl-powered fun.
8Hot Chocolate Nutcracker
Lastly, Shondaland will bring us this docu-series which Grey's Anatomy star Debbie Allen will executive produce and direct. Allen created an award-winning reimagining of The Nutcracker with the Debbie Allen Dance Academy, and this show will provide a behind-the-scenes look at the show. If you're a fan of The Nutcracker and retelling classic stories with all-black casts, this show will tickle your inner sugar plum fairy.
It's such a good day to be a Shondaland viewer. Then again, every day is, thanks to Shonda Rhimes' brilliance.